Upcoming Webinar: Aquatic Therapy for Lymphedema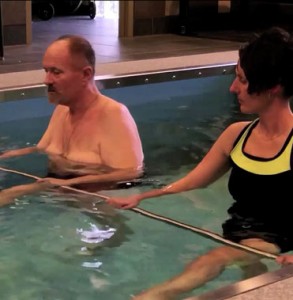 Join us on Tuesday, October 14 at 1:00pm for the webinar "Aquatic Therapy for Lymphedema" presented by Holly Bough, CPTA, ATRIC, Head of the Aquatic Therapy Program for Freeman Health Systems in Joplin, MO. Participants will learn how patients affected by Lymphedema can benefit from aquatic therapy. Lymphedema is swelling of tissue, normally of the arms and legs, which affects hundreds of millions of people worldwide. This webinar will explore what makes the water an ideal environment for the treatment of Lymphedema and how it can be used effectively to improve the lives of those living with this condition by reducing pain and improving strength, balance and energy levels.
Attendees will learn:
The properties of water that are beneficial for Lymphedema patients
The general and specific treatment goals for this patient population
The special circumstances that affect this patient population in rural areas
Specific exercises for both upper and lower extremities
The staff at Freeman Health Systems have seen many different cases in their pools with great success. Holly will provide comprehensive information on how they use their pool when treating lymphedema.
Register today for this webinar>>