Increase Patient Outcomes and Satisfaction
HydroWorx has combined the healing properties of water with our powerful therapy jets, underwater treadmill and massage system to lessen arthritic pain, chronic pain, fibromyalgia; enhance post surgery recovery; and bring relief for other health conditions.

Research shows that patients utilizing HydroWorx therapy have faster rehab outcomes with less pain. They enjoy it so much, they even want to continue on the HydroWorx after their therapy is over.
Benefits Of Aquatic Therapy For Healthcare
Underwater treadmills simulate appropriate walking mechanics and exercise with less pain sooner than land therapy.
The variable speed treadmill allows patients to progress at their own pace, with speeds ranging from .2 to 8.5 miles per hour.
Various exercises against the resistance therapy jets allow patients to increase strength and range of motion in their joints and muscles.
Our complete massage system allows patients to adjust the flow to trigger a deep penetrating massage on arthritic joints or a light massage to ease aching and sore muscles.
Adjustable floor technology, found in the 2000 and 1200 Series, allows patients or athletes to instantly and safely enter the water with no ladders or steps, eliminating any accessibility concerns.
Methods of Rehabilitation in Health Care Facilities
Aquatic therapy is a versatile treatment that can help patients improve acute or temporary pain associated with a surgery or healing injury. Additionally, aquatic therapy pools are also essential for helping patients find relief from chronic or long-term pain.
Post-surgical: Following surgery, aquatic therapy can be beneficial as it reduces strain and impact on the surgical site. Aquatic therapy also provides patients recovering from surgery with an increased range of motion, allowing them to perform various exercises to promote healing.
Injury-related: Aquatic therapy pools are one of the quickest ways to recover from an injury. Aquatic therapy allows you to keep pressure and strain off an injury while still performing stretches and exercises needed to promote healing.
Orthopedic: Aquatic wellness pools are an ideal way for those with various orthopedic conditions, including chronic back, hip or knee pain, to exercise without putting strain on sensitive joints.
Rheumatic: Many physicians recommend aquatic wellness pools to treat rheumatic conditions, including arthritis, osteoarthritis and rheumatoid arthritis. 
Benefits of Aquatic Therapy in Health Care Facilities
Aquatic therapy pools are one of the fastest methods of client rehabilitation that provides a range of benefits for those looking to strengthen muscles and decrease acute or chronic pain. Aquatic therapy is an innovative treatment modality using superior technology that allows patients to easily exercise in water if they can't perform these exercises on land.
Promotes joint flexibility: Water-assisted workouts offer a unique benefit because they reduce the overall effect of gravity on your joints, providing an increased range of motion. An aquatic therapy pool's warm water can also help relax sore, tight or stiff muscles and joints that may limit your range of motion.
Reduces pain: Aquatic wellness pools are a unique rehabilitation method for the health care industry to help reduce acute and chronic pain in patients. With less discomfort or pain, patients can focus fully on the recovery process. The warm water used in aquatic therapy can also help to increase the blood supply to sore muscles to promote relaxation.
Improves Balance: Water provides uniform pressure across the body, lowering your risk of slipping or falling. The buoyancy of aquatic therapy provides a lightweight sensation so you feel more in control of your body and have an easier time moving comfortably.
Strengthens muscles: Water provides resistance when performing exercises, making it an ideal way to strengthen weakened muscles. The water resistance paired with its buoyancy creates an ideal environment to exercise specific muscle groups with less stress on joints.
Decreases stiffness: Stiff joints, muscle spasms and rigidity can make it difficult to safely and comfortably exercise. Aquatic therapy pools can warm tight muscles and reduce stiffness throughout the body so patients can perform various exercises.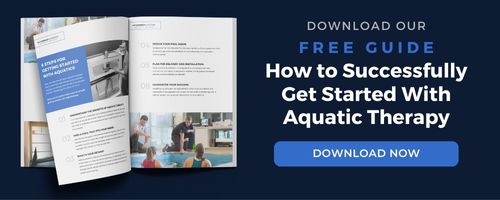 Now More Affordable than Ever!
If you felt that offering HydroWorx water therapy to your facility was too expensive in the past, we'd encourage you to look again. While maintaining the high level of quality you have come to expect from HydroWorx our products are now more affordable for a clinic owner. We even have great leasing programs! For a low monthly payment, profitability and increased patient outcomes of integrating HydroWorx to your clinic or hospital are easier than ever.
Finding ways to set your clinic apart from competitors is a key function to your facility's success. Offering aquatic therapy to your patients could be the solution you are looking for. Not only has it been proven to enhance rehab outcomes, but can also be a very profitable addition to your clinic's toolkit.

Why Consider HydroWorx?
We are committed to your success. We offer a Free Business Plan outlining everything a clinic owner needs to know to offer a profitable HydroWorx Aquatic Program.
We believe in research and evidence based practices. That's why we have more research than any other aquatic therapy manufacturer. Our video library also boasts over 100 clinical case studies made by clinicians and used by PTs like you.
Our products are designed by clinicians with rehab in mind. With standard features like an underwater treadmill, resistance jets, hydromassage, built in stairs, support bars and therapy platform, our pools are designed to offer maximum ROI in a small footprint.
Install above ground or in ground. We have options that require minimal construction and can easily be moved if you are leasing space.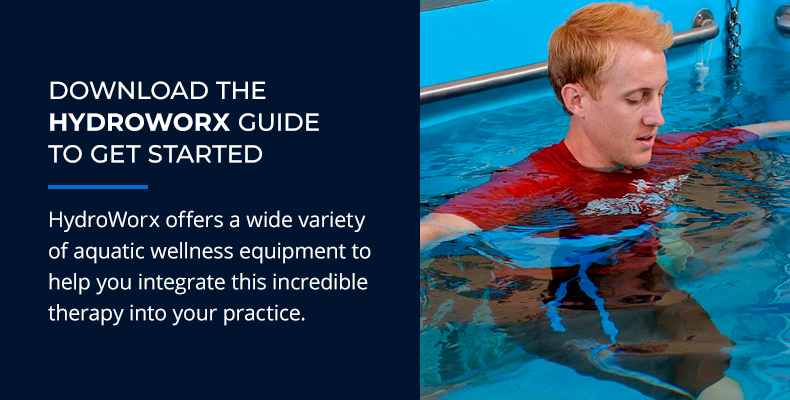 Download the HydroWorx Guide to Get Started
Aquatic therapy significantly benefits facilities offering physical therapy, athletic training and wellness programs. This gentle practice delivers health benefits in a relaxing setting, attracting new clients and patients who want to improve their wellness or recover from an injury quickly and effectively.
HydroWorx offers a wide variety of aquatic wellness equipment to help you integrate this incredible therapy into your practice. Download our guide, How to Successfully Get Started With Aquatic Therapy, to learn more.
Fill Out This Form To Download our Guide: "How to Successfully Get Started With Aquatic Therapy"