About HydroWorx
HydroWorx develops and manufactures aquatic therapy pools near Harrisburg, Pennsylvania. The entrepreneurial business consists of passionate people committed to innovating and servicing products that improve the lives of patients and athletes throughout the world. Here is our story . . .
The Genesis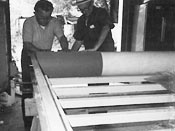 It's 1969. At thirteen years of age, while tossing a medicine ball at his school, Paul Hetrick violently struck his head on a porcelain water fountain. As a result, his brain swelled and his balance and muscle control were affected. Hetrick was confined to a wheelchair, having lost the use of his legs. The medical community was surprised when the young Hetrick recovered nine months later, largely by rehabbing in a pool at the local Hummelstown, PA Swim Club.
Flash forward to the spring of 1987. Dr. Paul Hetrick witnesses an underwater treadmill contraption at a local horse track. Hetrick's reaction to the horse treadmill was immediate and purposeful—he planned to employ this radical technology for his human patients but with key improvements to the design. He had been searching for new ways to rehabilitate his patients for years.
On Hetrick's urging and a handshake deal, he and the horse trainer set to work, tinkering on weekends at the trainer's shop in New Jersey. Ultimately, the pair developed a highly functional aquatic therapy machine that was installed at Hetrick's rehabilitation facility in Middletown, PA. It was the first of many versions of the HydroWorx prototype.
A Partnership Formed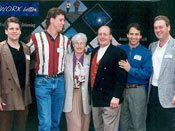 In 1993, Anson Flake met Dr. Hetrick and his partner, Dr. Stoner, for help with a chronic knee injury. Flake, 26, was an avid runner and cyclist and he began rehabbing in Hetrick's invention several days per week. After several months in the pool, Flake, an attorney, began writing a business plan to form a company around the invention. Hetrick thought the plan had potential and invited Flake to move into an empty room on the 3rd floor of Hetrick's clinic to focus on the startup. Their first task was to re-engineer the prototype and test the new design at Hetrick's rehabilitation clinic with patients and friends. Following a successful testing period, the men spent several years seeking FDA approval to market the machine and finding the capital to execute the business plan. It was a slow, painful process that nearly sank the startup business. In May of 1997, HydroWorx officially launched the company with a party of family and friends. Flake went full-time with HydroWorx, becoming its CEO, while Hetrick continued to expand his rehab practice and serve on HydroWorx's board. Early on, Flake found it difficult to convince sports and healthcare professionals to invest in the HydroWorx machine. It was a radically different aquatic concept and customers and cash were scarce during the late 1990's dot com craze. But finally in 1998, three orders were secured that lifted the business' outlook and gave it much needed momentum.
Key Believers Follow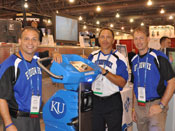 In 1998, Mike McHugh was captain of the Hershey Bears professional hockey club and was ready to retire after a solid 10-year pro hockey career. During his last year on the ice, McHugh suffered a knee injury that led him to Hetrick's invention. The water machine enabled McHugh to make a rapid recovery. When he retired shortly after the season, he came straight to HydroWorx, intending to assist the emerging enterprise. He became part-owner and a member of the sales team.
HydroWorx secured it's first sale to Beverly Healthcare in 1998. Rob Miller, Administrator of a Beverly facility in South Bend, Indiana, was constructing a state-of-the-art rehabilitation wing and he requested a high-tech therapeutic pool as a focal point for the new facility. Miller's physical therapist introduced him to the HydroWorx concept. After overseeing the construction and profitable launch of the new aquatic center, Miller joined HydroWorx as a part-owner and salesperson to the healthcare markets.
A Great Team is Built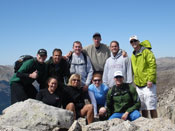 Since the first product was sold in 1998, the company has evolved from a handful of founders to a diversified business of elite engineers, designers, marketers and sales people based throughout the U.S. and Europe. In addition, HydroWorx boasts a world class group of steel craftsmen and mechanical and plumbing technicians, who build, install and service HydroWorx products in all 50 U.S. states and throughout the World.
Every day, over 30,000 athletes and patients use HydroWorx technology to recover from injuries and health conditions. We are deeply grateful for the opportunity to serve them and we look forward to serving you in the future.