Helping to establish validated research on the benefits of hydrotherapy is important to us. We strive to provide our customers with the most current research findings concerning water therapy and exercise. Below are the remarkable findings from these research studies, all utilizing the HydroWorx underwater treadmill.
Early Aquatic Physical Therapy Improves Function and Does Not Increase Risk of Wound-Related Adverse Events for Adults After Orthopedic Surgery: A Systematic Review and Meta-Analysis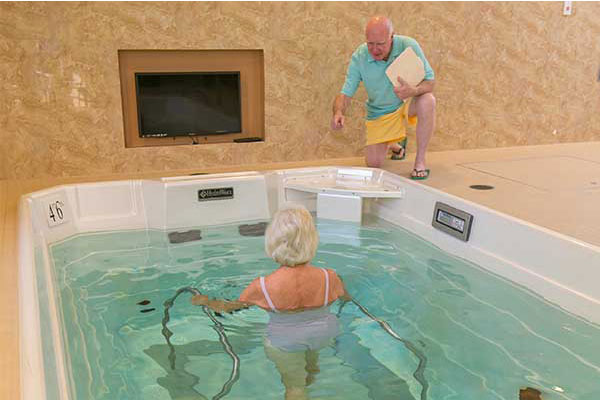 This meta-analysis from LaTrobe University set out to combine research from multiple studies to determine the effects of aquatic physical therapy on adverse events for adults. It was determined that after orthopedic surgery aquatic physical therapy improves function and does not increase the risk of wound-related adverse events and is as effective as land-based therapy in terms of pain, edema, strength, and range of motion in the early postoperative period.
---
High Intensity Interval Training for Osteoarthritis with HydroWorx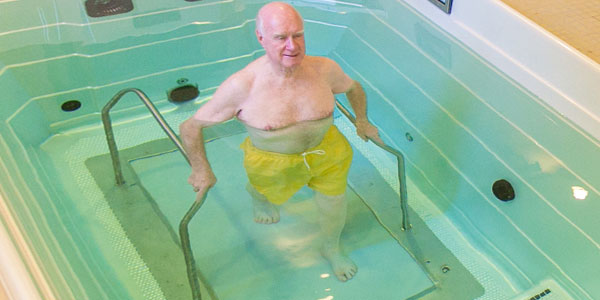 This study, conducted at Utah State University, set out to quantify the efficacy of a 6-week aquatic treadmill exercise program specifically for individuals with osteoarthritis (OA) on measures of pain, balance, function and mobility. It was determined that patients with OA display reduced joint pain and improved balance, function and mobility after participating in the program that incorporated a balance and HIIT training component. Adherence to the exercise was exceptional and no participants reported adverse eects, suggesting that aquatic treadmill exercise that incorporates high-intensity intervals is well-tolerated by patients with OA and seems to be effective at managing symptoms of OA.alls.
---
Health Benefits of Underwater Treadmill Exercise for Active Adults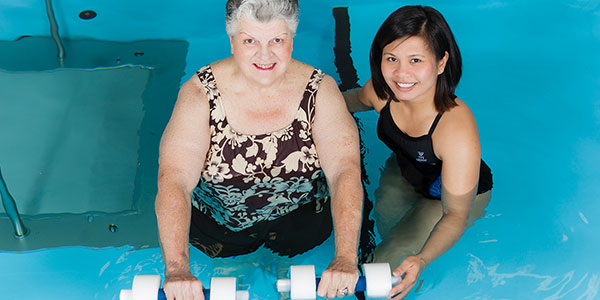 This study at the University of Wisconsin was conducted to assess the health benefits of hydrotherapy exercises in active adults. This five week study found that hydrotherapy is a positive way to improve flexibility, sleep patterns, and reduce muscle and joint pain in middle-aged and older adults with a history of orthopedic limitations and discomfort.
---
Effect of Aquatic Immersion on Static Balance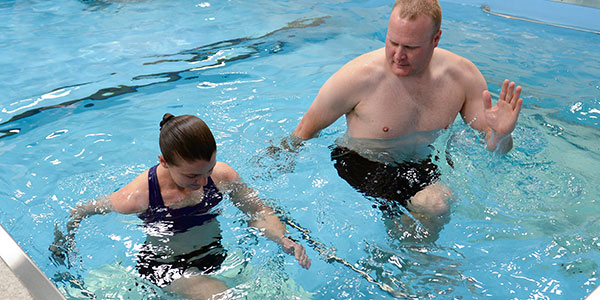 This study, conducted at Utah State University, compared static balance and limits of stability (LOS) in an aquatic environment as well as on land. It was determined that the inclusion of aquatic training is an important consideration as part of a comprehensive training and or rehabilitation program. Developing stability through exercises that are characteristically unstable improves neuromuscular coordination and postural control strategies as well as reduced risk for falls.
---
Metabolic Cost Comparison of Running on an Aquatic Treadmill with Water Jets and Land Treadmill With Incline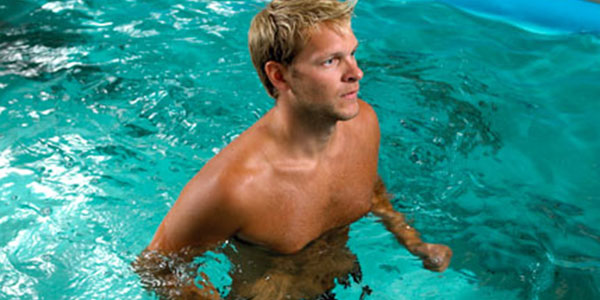 This study, conducted at Utah State University, compared the metabolic cost at specific inclines while running on a land treadmill to running speeds with selected jet resistance on an aquatic treadmill. The results showed that an increase in speed and incline on a land based treadmill shows a linear increase in the metabolic cost comparison, whereas on an aquatic treadmill it shows a more cubic change. Running with selected jet resistance on an aquatic treadmill results in greater change in metabolic cost than running on a land treadmill.
---
Land Versus Water Treadmill Running: Lactate Threshold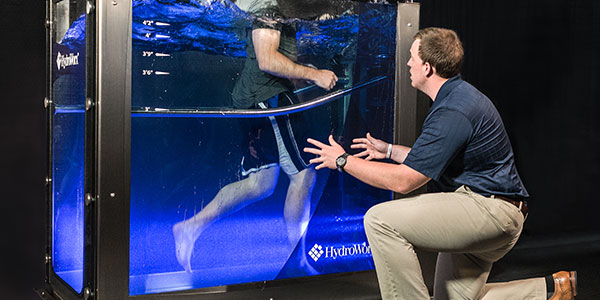 This study, conducted at Utah State University, was designed to compare if the lactic acid that builds up in your blood stream (lactate threshold (LT)) is different when running on land versus an aquatic treadmill. Results concluded that aquatic therapy is beneficial to achieve threshold-intensity training while lowering the stress on the joints that is caused by land running.
---
Acute Aquatic Treadmill Exercise Improves Gait and Pain in People with Knee Osteoarthritis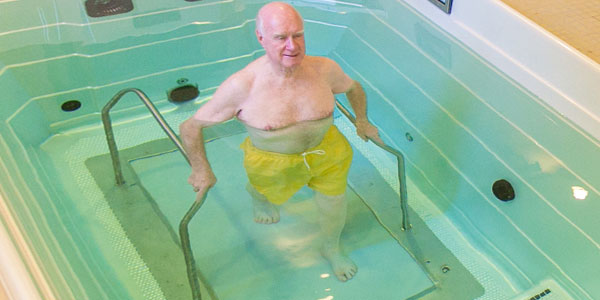 This study, conducted at Utah State University, examined the acute effects of aquatic and land treadmill exercise on gait kinematics as well as the level of disease-specific and movement related pain for individuals with osteoarthritis. At the end of the study, it was concluded that after an acute training period, the benefits of water-based therapy included joint angular velocity and arthritis related joint pain.
---
Aquatic Treadmill Training Enhances Strength and Lean Mass Gains When Combined with Resistance Training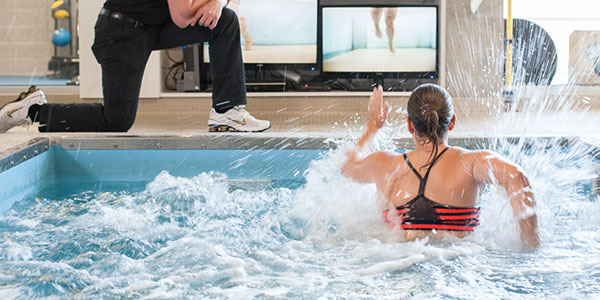 This study at Texas A&M University was conducted in order to explore the differences in soreness, inflammation, muscle-mass gain and loss of body fat between resistance training along, with land treadmill aerobic exercise and resistance training with underwater treadmill aerobic exercise. Results showed there was a benefit in almost every aspect to resistance training plus underwater treadmill. The benefits of water therapy on the underwater treadmill included reduced soreness, body fat and inflammation while also improving muscle mass and strength performance.
---
Knee Anterior Cruciate Ligament Recovery Program in the Warm Water Therapy Pool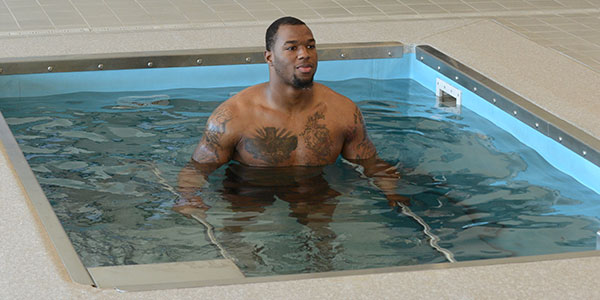 This study assessed if rehabilitation in an aquatic environment is ideal during all phases of ACL recovery post surgery. Participants in the water exercise group noted a greater joint effusion and greater self reports of functional improvement. Clinical results show that athletes who participate in water rehabilitation and land-based post rehabilitation have better scores on postural sway, indicating better balance and fewer episodes of re-injury.
---
Lean Body Mass Increases Following 12-Week Aerobic Training with Underwater but not Land Treadmill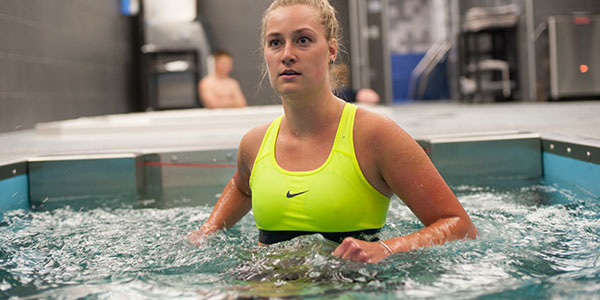 This study was conducted at Texas A&M University in order to compare the changes in body composition following twelve weeks of exercise training using either a land treadmill or an underwater treadmill. At the end of the study, aerobic exercise training on the <a href="https://www.hydroworx.com/about-hydroworx/superior-technology/underwater-treadmill/">underwater treadmill</a> showed similar decreases in weight, percent body fat, and fat mass as the land treadmills. The further benefits of hydrotherapy exercises included a lean body mass increase with underwater treadmill training, with gain seen mainly in the legs.
---
Underwater Treadmill Exercise as a Potential Treatment for Adults with Osteoarthritis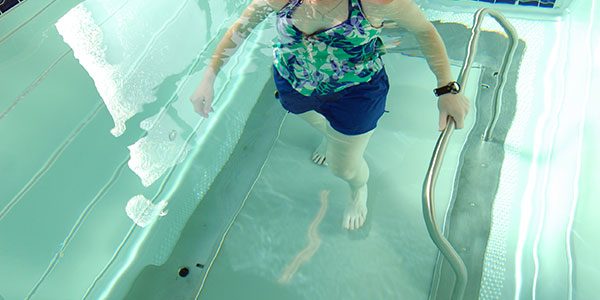 This study, conducted at Utah State University, examined the levels of perceived pain and mobility in osteoarthritis patients after using underwater and traditional land treadmills exercise. At the end of the study, patients diagnosed with osteoarthritis may receive the same aerobic conditioning with less joint pain and greater improvements in mobility by utilizing underwater treadmills as opposed to land treadmills. Patients also revealed that pain was 140% greater during land treadmill exercise sessions than during underwater treadmill exercise sessions.
---
Comparative Efficacy of Water and Land Treadmill Training for Overweight and Obese Adults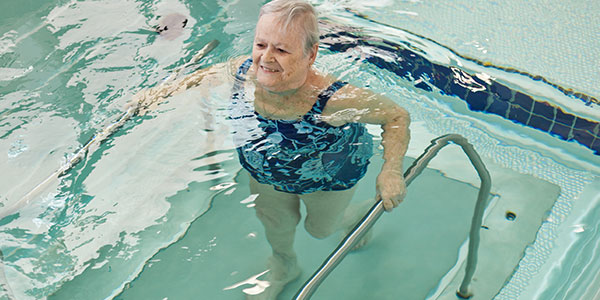 Conducted at Texas A&M University, this study explored the benefits of <a href="https://www.hydroworx.com/about-hydroworx/superior-technology/underwater-treadmill/">underwater treadmill exercise</a> training programs by comparing changes in physical fitness, body weight, and body composition in physically inactive, overweight, and obese men and women. During this twelve week study, the underwater treadmill was proven to be a viable training alternative to traditional land treadmill training for overweight users. The non-weight bearing exercise reduced pain and risk of injury in overweight and obese people.
---
Peak Cardiorespiratory Responses During Aquatic and Land Treadmill Exercise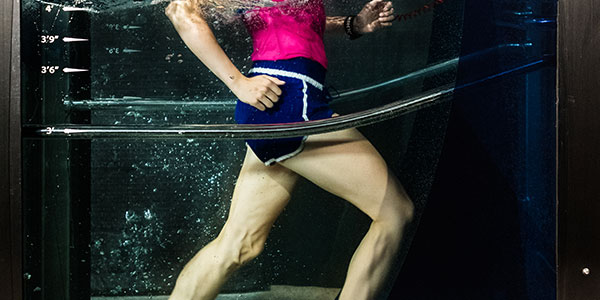 This University of Idaho study investigated the cardiorespiratory responses elicited during maximal-effort protocols using an underwater treadmill and a land treadmill. At the conclusion of the study, underwater treadmill and jets were found to elicit comparable responses to inclined land treadmill in fit individuals. Underwater treadmill training may be a viable training alternative to maintain or improve fitness levels for injured and healthy athletes alike.
---
Metabolic-Cost Comparison of Submaximal Land and Aquatic Treadmill Exercise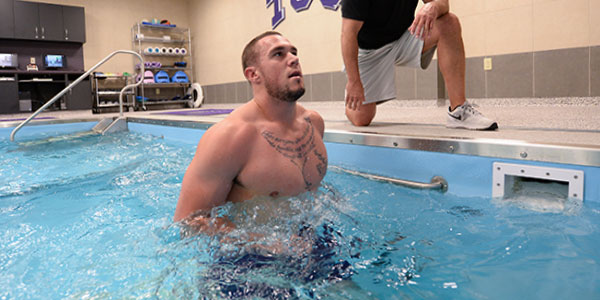 The purpose of this University of Idaho study was to evaluate the metabolic cost of varying aquatic treadmill exercise speed and resistance jet to compare with land treadmill conditions at similar running speeds. The study concluded that underwater treadmill training offers viable exercise alternatives to land treadmill running as a way to maintain or improve fitness for injured and healthy individuals.
---
Water Treadmill Parameters Needed to Obtain Land Treadmill Intensities in Runners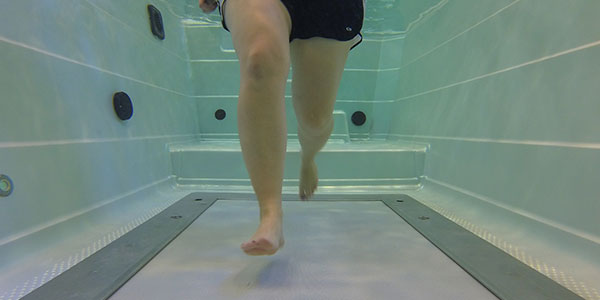 Conducted at Brigham Young University, the purpose of this study was to establish water treadmill running parameters with shoes and without shoes to obtain known land treadmill running cardiorespiratory responses. The study found that the water treadmill provides athletes an alternative method of training to maintain cardiovascular fitness without the weight bearing demands of land running. Subjects should select water treadmill speeds that elicit a heart rate response that is seven beats per minute less than typical training heart rate during land based running.
---
The Effect of Water Depth on Energy Expenditure and Perception of Effort in Female Subjects While Walking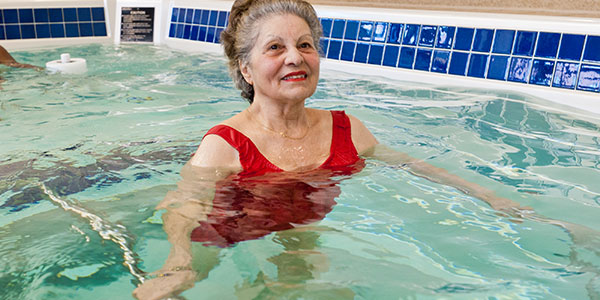 This study, conducted at the University of Idaho, compared energy expenditures, heart rate, and perceived effort during walking in water at several depths versus land in female participants. The results suggest water depth can be used to selectively adjust exercise intensity during water walking. Therefore, patients may see the benefits of hydrotherapy by substituting aquatic treadmill walking for land walking, which could be beneficial for overweight individuals as they strive to incorporate physical activity into their lifestyle.
HydroWorx — The Professional's Choice
A wealth of research showing the benefits of aquatic therapy makes it clear — a HydroWorx pool is a worthy addition to any clinic, rehab center or athletic training facility.
Some of the benefits of aquatic therapy with a HydroWorx pool include the following:
Faster recovery from surgery or injury
Increased flexibility
Better range of motion
Improved cardiovascular stamina
Lessening of symptoms associated with fibromyalgia, osteoarthritis and other chronic conditions
Advanced Features for Today's Clinicians
With the sophisticated features of a HydroWorx pool, your clients can take advantage of all the benefits aquatic therapy has to offer. Unique features of our products include:
A moveable floor that facilitates safer entry and exit for clients with mobility issues.
A variable-speed underwater treadmill to promote proper gait and posture while walking or running underwater.
Adjustable jets that let you create the proper amount of resistance for your patient and gradually increase it as the workout progresses.
Attachable deep-tissue massage hose for stripping lactic acid buildup, reducing soreness and muscle fatigue.
An available technology package for monitoring and recording patient biomechanics during therapy.
Safe accessibility with stairs
Underwater cameras
Get Started With HydroWorx Today
Aside from improved patient outcomes, there are several financial advantages associated with adding aquatic therapy to your treatment offerings. HydroWorx provides all of our customers with marketing and ROI consulting to ensure you get the most out of your purchase. Contact us today to learn more about the specific benefits of aquatic therapy for your patients, and about how a HydroWorx pool can help you grow your business.