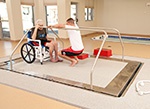 Create a Noticeable Difference in Your Residents' Well-Being
HydroWorx senior center therapy pools will help improve balance to reduce resident falls within your organization. Assisted living therapy pools also allow active residents the opportunity to continue to exercise with less pain, improve everyday activities for sedentary residents and lead to increased independence. By offering HydroWorx technology within your facility's wellness program, you are helping your residents become more active, healthy and independent; thus increasing their lengths of stay within assisted and independent types of living.
While walking on the underwater treadmill, it's virtually pain-free. Reduced body weight eases the pressure on joints so individuals can move freely.
The resistance of water provides up to 200 times more resistance than land. Our adjustable jets can provide additional resistance to increase balance and leg strength or challenge a patient post-surgery.
Our deep tissue massage eases sore muscles and achy joints and can manipulate scar tissue that may build up post-surgery.
Due to the comfort of warm water and the elimination of the fear of falling, patient compliance and rehab potential both increase.
Provide a safe and effective way to help your residents rehabilitate, become more active, and safely perform everyday tasks required for an independent lifestyle by integrating HydroWorx assisted living therapy pools with underwater treadmill and resistance jet technology in your facility.
Get A Product Comparison Guide
Increase Rehabilitation Outcomes and Resident Satisfaction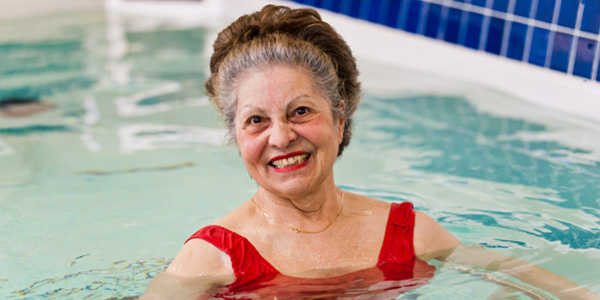 HydroWorx senior living physical therapy pools with underwater treadmill and resistance jet technology can allow for a variety of benefits for the rehabilitation patient by decreasing their short term rehab stay following a hospitalization, surgery, and/or injury. Patients are able to return home or back to independent/assisted living sooner, which can provide significant financial savings. What this means to your patients and their rehab programs:
Begin rehab sooner. Patients can begin aquatic therapy typically 3-4 days post surgery by waterproofing the wound with a bio-occlusive dressing. Warm water decreases swelling and discomfort allowing the patient to unload their body weight and move freely in the warm water. Speeding up recovery and minimizing the loss of range of motion and muscle.
There are no accessibility or depth issues with the 2000 or 1200 Series center therapy pools, allowing for resident comfort and compliance, and eliminating fear and traditional pool barriers.
The buoyancy of the water along with the safe speeds of the underwater treadmill, offer a way to strengthen legs and improve gait, easily accommodating patients at varying rehab levels.
Balance programs tailored to the individual can be provided in a safe and pain free environment. Individuals can confidently walk or work on balance and posture without the fear of falling or injury.
The hydrostatic pressure of water naturally decreases inflammation and increases circulation, helping eliminate muscle soreness.
Offering Aquatic Therapy & Wellness Can Impact Your Bottom Line
Offering aquatic therapy enhanced with underwater treadmill and resistance jet technology can have a significant impact to your facility. The safe and productive healing environment of a HydroWorx assisted living therapy pool has proven to help individuals rehab faster and stay well longer, benefitting both residents and facilities. For more information on how water therapy and wellness programs can impact your facility's bottom line,
Request our "Aquatic Toolkit for Senior Living Facilities" today!
Related blog posts:
Related Videos:
Shallow Water Vs Treadmill Research
Waterproofing Techniques
Aquatic Therapy and Dementia
Relevant Program Profiles:
Non-Profit CCRC – Therapy Services (Presbyterian Village North) Program Profile
Non-Profit CCRC – Falls Prevention (Lakeview Village) Program Profile
Non-Profit CCRC – Wellness & Therapy (Stonehill Franciscan) Program Profile
Skilled Nursing – Outpatient Therapy (Westview Health Care Center) Program Profile
What we've seen through the use of the underwater treadmill has been absolutely incredible. We had a woman who could not stand or walk for approximately more than 10 minutes a time and she was able to do 40 minutes on the treadmill and was gleaming from ear to ear.

Whole Person Wellness Services
Wiley Piazza, Director of Projects & Initiatives