What Makes Us Different?
Originally invented by a clinician, like our users, our therapy pools have been helping others achieve their personal goals since 1998. We believe in the importance of our underwater treadmill technology so much that it comes standard in all of our therapy products. As our history shows, our continued product innovation is guided by the best treating clinicians throughout the world.
Pullman Regional Hospital chose to replace our pool with a HydroWorx because it is the gold standard in the pool industry. We wanted the safety of having stairs with a railing, a built-in treadmill and a pool large enough to accommodate several people at a time. Since we work with a variety of patient types we needed a pool that can meet all those needs and HydroWorx is the one!


Pullman Regional Hospital
Carrie Coen, PT, DPT, Summit Therapy & Health Services Director

Product Innovation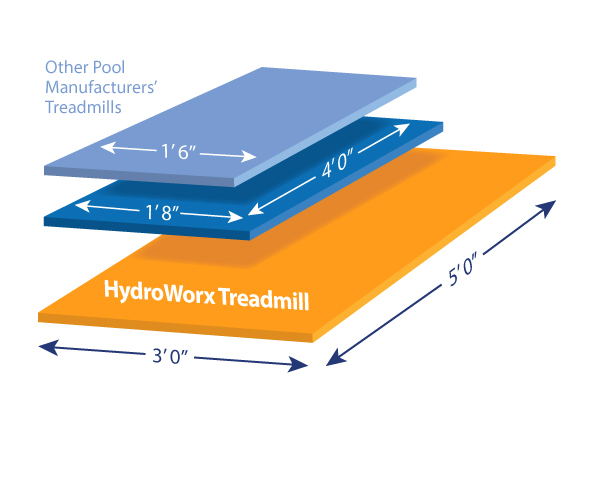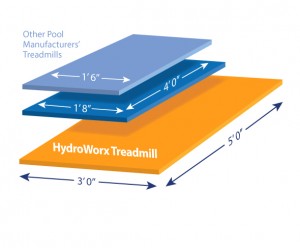 HydroWorx's patented, integrated underwater treadmill is revolutionizing physical therapy, sports medicine and conditioning. This feature comes standard in all of our therapy pools. These aquatic treadmills smoothly accelerate from .1 up to 10 miles per hour and allow the user to correctly simulate land-based walking, running or sports-specific activities but without the bodyweight and joint impact an individual experiences on land. There are many benefits of using an underwater treadmill, some of which include:
Promotes early range of motion
Initiates gait training in a low impact environment
Replicates the proper biomechanics of land-based movements to improve gait patterns
Improves cardiovascular stamina
Increases healing and strengthening of injured tissues
Impacts muscle strengthening
Customer Peace of Mind
We know how significant integrating a therapy pool into your facility can be. That's why we stay with you every step of the way. From poolroom design, marketing assistance and in-house customer service, we offer tools to ensure your program is successful. We are the only hydrotherapy company in the world to regionally service our products with our own highly qualified, regional technicians.
Science
Our organization's product development processes are firmly rooted in the principles of scientific discovery and controlled methodologies.  If research didn't show that our products have extreme benefit, we'd make changes accordingly.  Our clients feel good knowing that they're investing in a company that doesn't just operate in the world of theory, but has science on its side.
Education
We value education both internally and externally.  It's one of the reasons we're so passionate about offering all our customers (and non-customers) free webinars and white papers on a regular basis.  These webinars help physical therapists, clinicians, athletic trainers, wellness directors, strength and conditioning specialists and people from other related fields understand how they can best assist their patients, clients and athletes with water.
Life-Changing Results
Every day, HydroWorx equipment changes the lives of more than 23,000 people across the world.  We are enormously proud to say that we have helped paraplegics gain some movement, have assisted Olympic athletes in reaching for their dreams, and have improved the quality of life for those recovering from injuries, surgeries and medical conditions.
Addressing Your Specific Needs
Whether you treat a patient population that has limitations getting in and out of a pool, you are concerned about budget, limited room space, increasing patient compliance and wellness participation— we have a solution for you and we want to help you meet your needs.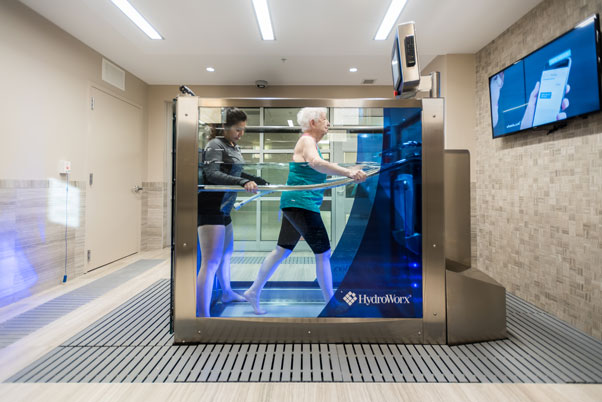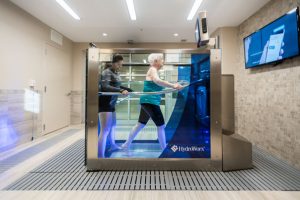 Prior to the 2005 season, a HydroWorx 500i was installed in the training room. Frankly, it was better than we anticipated. I don't think there is anything on the market that is better. I would enthusiastically recommend the company and the product to anyone looking for a therapy pool.

John Norwig, Head Atletic Trainer of The Pittsburgh Steelers
| Features | HydroWorx | Other Aquatic Therapy Providers |
| --- | --- | --- |
| Standard Underwater Treadmill | ✓ | No |
| Standard Underwater Resistance Therapy Jets | ✓ | Swim Current |
| Standard Deep Tissue Massage with Massage Hose | ✓ | No |
| In-House Customer Service & Service Technicians | ✓ | No |
| Project Design Team & Assistance | ✓ | No |
| Complimentary Marketing Assistance and Promotion | ✓ | No |
With our HydroWorx pools, we have greater functionality than we had previously. Now we have the ability to rehab athletes even faster using the integrated treadmill along with the directional resistance jets. The versatility we can achieve with HydroWorx takes our athletic training to a new level.

University of Texas
J. Allen Hardin, MT, MS, PCS, ATC, CSCS, Senior Associate Athletics Director of Sports Medicine &amp Sports Performance

REPLACEMENTS
A few of our customers that have replaced their existing pool with HydroWorx.
Arizona Cardinals
Houston Astros
Los Angeles Dodgers
Texas Rangers
Colorado State University
Michigan State University
Pittsburgh Steelers
Chicago White Sox
University of Texas
Cleveland Cavaliers
University of Georgia
Putnam Northern
WestChester BOCES
Carolina Panthers
Tampa Bay Rays
University of New Mexico
Elrod Physical Therapy
U.S. Naval Academy
Miami Heat
Pullman Regional Hospital
Jacksonville Jaguars
University of Central Florida
Duke University
Auburn University
Kansas City Royals
CompRehab- Wake Forest
Baptist Health
Arizona Diamondbacks
Seattle Mariners
Oregon State University
UPGRADES
A few customers who chose HydroWorx for their new facility over another aquatic therapy pool they used previously.
Kansas State University
Miami Marlins
Clemson University
Cleveland Cavaliers
Detroit Lions
University of Notre Dame
University of North Carolina
Cleveland Indians
Boston College
University of Mississippi
University of Kentucky
Cincinnati Reds
Philadelphia Eagles
University of Oregon
Louisiana State University
The Ohio State University
Pittsburgh Pirates
Peak Performance
Physical Therapy
Houston Rockets
Ball State University
Memorial Hermann Hospital
University of Tennessee
Boston Red Sox
Virginia Commonwealth University
Virginia Tech
Greenbrier Medical Institute
West Virginia University
Iowa State University
Chicago Cubs
University of Washington