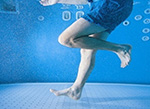 Aquatic Therapy and the Military
HydroWorx training and rehab helps our Nation's wounded warriors and veterans get back in the fight! From human performance and rehabilitation to services for veterans, HydroWorx military rehabilitation pools are a tool that can be used to enhance the quality of life for all.
GSA Approved Supplier # GS-03F-096GA
Therapy and Conditioning to Return to Active Duty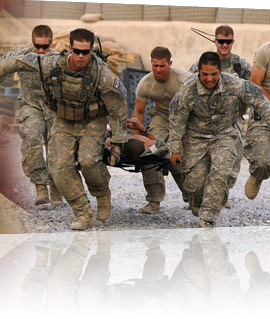 All warriors, especially the tactical athletes of the Special Operations community, are looking for tools during their rehabilitation process that will help return them to active duty. HydroWorx military rehabilitation pools have aided in the recovery of these brave men and women by offering the following advantages that land rehab and training do not:
Warriors are able to do exercises in the water that they are not able to do on land because of pain or functional limitations.
The non-weight bearing environment of water eases pressure on joints to move freely and expedite the functional processes of rehab.
HydroWorx therapy allows you to intensify the work performed without increasing the risk of pushing the warrior beyond the limits of the rehab progression.
Unlike anti-gravity or traditional land running, the hydrostatic pressure of water naturally decreases inflammation and increases circulation, never leaving muscle soreness.
HydroWorx Military and Veteran Therapy Pools Lead to Increased Patient Outcomes and Satisfaction
HydroWorx has combined the healing properties of water with our powerful therapy jets, underwater treadmill and massage system to lessen arthritic pain, enhance post surgery recovery and bring relief for other health conditions. Research shows that individuals utilizing HydroWorx veteran therapy pools have faster rehab outcomes with less pain. They enjoy it so much they want to continue on the HydroWorx after their therapy is over and their mental outlook is improved. Here's why:
Wounded warriors and veterans can simulate appropriate walking mechanics and exercise with less pain and sooner than land therapy with the HydroWorx underwater treadmill.
The variable speed treadmill included on all our military and veteran rehabilitation pools allows individuals to progress at their own pace, while the buoyancy of the water eliminates the fear of falling or re-injury.
Various exercises against the resistance therapy jets allow patients to increase strength and range of motion in their joints and muscles.
Our complete massage system is adjustable to trigger a deep penetrating massage on arthritic joints or a light massage to ease aching and sore muscles.
Adjustable floor technology, found in the 2000 and 1200 Series military and veteran therapy pools, allows wheel chair bound warriors or veterans to instantly and safely enter the water with no ladders.
For proof of these results and incredible patient satisfaction, watch over 100 video case studies created by clinicians like you in our video library.
Provide World-Class Care to America's Injured Warriors
We make it our mission to support in the quest to Provide World-Class Care to America's Injured Warriors. Through our efforts, we have helped to raise over $400,000 for the Special Operations Military Community, which has helped over sixty (60) Special Operations Warriors have the opportunity to heal themselves.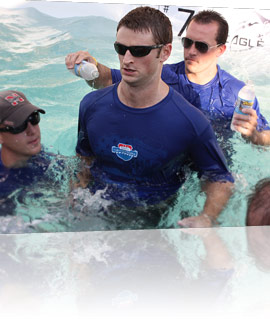 We are proud to have HydroWorx military rehabilitation pools at the following government locations:
Naval Special Warfare Group 4
Naval Hospital Jacksonville
Tampa Polytrauma Rehabilitation Center
Special Boat Team 22
North Carolina Veterans' Homes
Kinston & Swannanoa
Fort Belvoir Army
Minneapolis VA Health Care System: Spinal Cord Injury & Disorder Center
Wounded Warrior Program at Naval Hospital Camp Pendleton
NASA
Hanover Army Base
Bangor Maine Veterans' Home