A Guide To Aquatic Therapy For Military Members & Veterans
HydroWorx is proud to provide world-class care to military members and veterans throughout the country. Our products are used to treat recovering warriors preparing for active duty or returning to civilian life. These brave men and women do so much for our country, and we are honored that they utilize HydroWorx's water solutions to improve their lives. We want to take a moment to thank all who devote their lives to ensuring our safety and freedom.
Benefits of Aquatic Therapy For Veterans
Significant research shows the benefits of water submersion and the healing properties water has with rehabilitation. All of our products combine the physiological benefits of water with unique technology to provide optimal treatments and outcomes. Our HydroWorx 1200 and 2000 Series pools are popular for military installations because they include moveable floors with variable floor depths, ensuring all levels of participates the opportunity to safely and comfortably rehabilitate. Additional technology included in our products such as the underwater treadmill, camera systems, jets, and massage hose provides the highest quality of aquatic therapy, allowing participants to reach their goals. Some of the benefits our veterans have experienced while utilizing our water solutions include:
Using the variable floor depth to allow for zero entry for patients with physical limitations or in wheelchairs.
Utilizing warm water and buoyance to decrease their pain while exercising.
Increasing their confidence and outlook while they quickly regain strength and ability.
Using the visual feedback from the underwater cameras to enhance their treatments.
Utilizing the treadmill and jets to challenge them in a safe environment.
Decreasing stress and anxiety with the deep tissue massage hose.
Improves gait and pain for veterans with knee osteoarthritis. 1 in 4 veterans suffer from osteoarthritis.
Government Locations With HydroWorx Products
We are honored to partner with the military and offer our unique water solutions to rehabilitate and train these extraordinary individuals. HydroWorx is proud to have our products enhancing lives in the following government locations:
Naval Special Warfare Group 4
Naval Hospital Jacksonville
Tampa Polytrauma Rehabilitation Center
Special Boat Team 22
North Carolina Veterans' Homes
Kinston & Swannanoa
Fort Belvoir Army
Minneapolis VA Health Care System: Spinal Cord Injury & Disorder Center
Wounded Warrior Program at Naval Hospital Camp Pendleton
NASA
Hanover Army Base
Bangor Maine Veterans' Home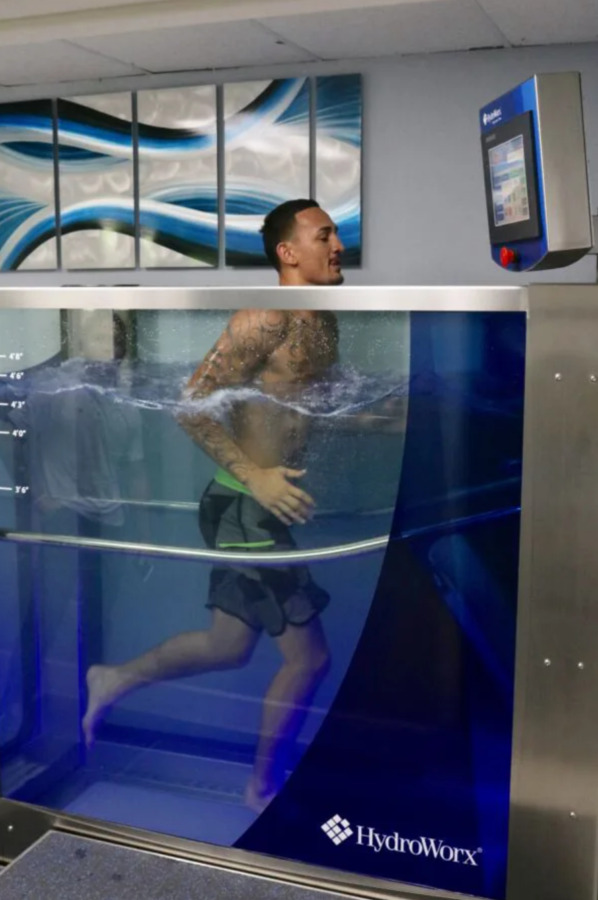 Case Studies
Check out our partnership with the United States military in greater depth.
HydroWorx Allies With SOCUM
The U.S. Special Warfare Combatant-craft Crewmen and the U.S. Navy SEALs, whom many consider the toughest and most elite combined combat force in the world, have commissioned HydroWorx aquatic therapy technology to help keep America's Special Operations Forces healthy, fit and "at the razor-sharp tip of the spear", where there is no room for illness or error. SEAL Teams, SEAL Delivery Vehicle Teams, and Special Boat Teams comprise the elite combat units of Naval Special Warfare, a service component of the United States Special Operations Command (SOCOM). These Teams are organized, trained, and equipped to conduct a variety of clandestine missions which include unconventional and riverine warfare, direct action, special reconnaissance, foreign internal defense, counter terrorism, leadership interdiction, maritime interception, and search and rescue missions. Their highly-trained specialists are deployed worldwide in support of National Command Authority objectives—and now they've acquired a new addition to their aquatic training arsenal.
The Naval Special Warfare Personnel and Operators at the Naval Amphibious Base Little Creek near Norfolk, Va. have purchased the world's first mobile poolroom-on-wheels. This high-tech unit contains a HydroWorx 500 Series therapy and exercise pool, which arms the Navy with the ability to rehabilitate, test, and exercise all east coast SEALs and SWCCs.
Ground-based gait training and combat-rehabilitation activities can be easily duplicated on HydroWorx's variable speed underwater treadmill. Underwater cameras and a flat screen viewing monitor greatly enhance NSW instructors' diagnostic capabilities when evaluating a soldier's underwater gait pattern. Strategically-placed, high-powered, 200-speed water jets can be used for demanding resistance-based rehabilitation and training—something the SEALs and SWCCs are well-suited to, since they are expected to push their bodies past the ultimate human limits of endurance and pain.
SEAL instructors relentlessly drill the soldiers to ensure that the troops will never quit while engaged. SWCCs train similarly; moreover, they pilot specialized, low-profile watercrafts at breakneck speeds down narrow, winding rivers or open ocean, transporting SEALs to and from hostile situations and operating nearly every weapon with a trigger that the military has to offer. Their bodies are pummeled unremittingly by choppy waters and seas, withstanding bone-jarring wave shocks of 10- 15 g's with peaks of 20 g's. Fortunately, such demanding discipline and rigor can be offset by aquatic physical therapy and deep-tissue massage; SEALs and SWCCs can now enlist the therapeutic qualities of the HydroWorx pool. Despite the fact that an NSW soldier's closest ally is the water, soldiers can utilize the pool's raised rear platform for drills when additional body-weight loading is desired. A state-of-the-art heating and cooling unit allows for fully-automated water temperatures, a luxury for individuals accustomed to training and combat in turbulent, frigid waters and the harshest, most demanding conditions imaginable.
The inclusion of HydroWorx technology at the Little Creek Amphibious Naval Base proves the government's continued focus on keeping the Navy's two Special Operating Forces trained to perfection and near-mythical in worldwide fighting status.
HydroWorx & The Naval Hospital In Jacksonville
The Naval Hospital in Jacksonville, Florida installed a HydroWorx InstaFit therapy pool as part of a $35 million addition in 2010. The plug-and-play system is housed in the new Physical Therapy Department supporting health care and rehabilitation services for men and women in the military.
The portable, flexible design of the hydrotherapy pool will enable the hospital to place the spa virtually anywhere convenient to those needing instant access to the benefits of aquatic therapy. Military families, retirees, and active duty personnel can take advantage of the InstaFit's underwater treadmill for cardiovascular strengthening, muscle building and post surgical rehabilitation. Resistance jets and massage hoses, included in the exercise spa, enhance performance training and offer deep tissue stimulation.
The Naval Hospital serves a wide range of general and specialized inpatient and outpatient health care needs. The Navy's largest Family Physician Training Program is located at the hospital. Along with the new Physical Therapy space and HydroWorx rehab pool, the facility will add a surgical suite and administrative area. The $35 million expansion underway at the Naval Hospital follows a $19 million addition to outpatient services in 1989.
Contact HydroWorx Today
To learn more about how active military members, injured warriors, and veterans utilize our cutting-edge aquatic therapy technology visit our military industry page or contact us today!