Whatever Your Industry, There is a HydroWorx Therapy & Fitness Pool Designed Specifically for Your Needs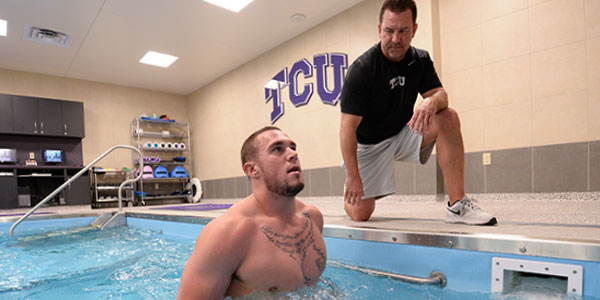 We believe that nearly anyone can benefit from water therapy and conditioning. From Healthcare and Senior Living to Sports Medicine and Military, we have a HydroWorx product designed with your specific needs in mind. Choose your industry below to learn how not only your patients, residents, athletes or wounded warriors can benefit from water therapy–but also your business!
Industries That Can Benefit From Aquatic Therapy Pools
Aquatic therapy allows people who are injured or otherwise unable to perform exercises on land to easily perform these movements in water. Performed in warm water, aquatic therapy can provide a relaxing and comfortable environment for someone with pain or aching joints to exercise properly. Many industries can benefit from aquatic wellness pools, so look for yours below to see what advantages you can enjoy.
Benefits of Aquatic Therapy Pools for Healthcare Facilities
Aquatic therapy pools can benefit healthcare facilities by combining the calming effects of water with an underwater treadmill, therapy jets and massage system to relax stiff joints and other injuries. Aquatic pools for healthcare facilities can help patients rehab from orthopedic injuries or surgeries or also exercise while minimizing pain associated with fibromyalgia, arthritis or other medical conditions.
Finding unique ways to set your healthcare facility apart from competitors provides patients with state-of-the-art treatments and helps ensure your facility's success. Aquatic therapy can help patients recover more quickly and experience less pain throughout the treatment and exercise process, earning your facility a positive reputation.
Benefits of Aquatic Therapy Pools for Senior Living Facilities
Help your residents improve their well-being and general health with an aquatic wellness pool. Aquatic therapy for senior facilities can help residents improve their balance, reducing potential falls and accidents. Exercise pools for senior living communities allow residents to continue exercising comfortably and lead a healthy, active lifestyle.
With a safe form of exercise, your residents can maintain their strength and independence to perform daily tasks, giving your staff more time to provide care to all your residents. Aquatic wellness pools also add a unique element to your facility, making it a top choice to consider for future residents.
Benefits of Aquatic Therapy Pools for Athletes
Athletes can benefit from aquatic therapy pools when they are recovering from an injury or strain. Aquatic therapy allows athletes to continue exercising safely without putting pressure or too much weight on an injury. A reduced-weight-bearing environment is ideal for helping athletes recover and rehabilitate after an injury. Aquatic wellness pools for athletes offer hydrostatic pressure, which can help to reduce inflammation naturally. 
Your facility will appeal to recovering athletes looking for safer, effective and unique rehabilitation and performance training options with these pools. Boast your facility's active recovery equipment as a benefit for athletes who are looking to return to sport as soon as they can.
Benefits of Aquatic Therapy Pools for Military Injuries
Aquatic therapy for the military provides a unique form of training and rehabilitation to help wounded warriors and veterans regain their strength and heal from an injury properly. HydroWorx aquatic therapy pools can provide an engaging workout without causing strain or damage to a healing injury.
When you offer aquatic therapy to military members and veterans, you help them regain their quality of life. Become a sought-after facility for active and past personnel with the integration of HydroWorx therapy wellness pools.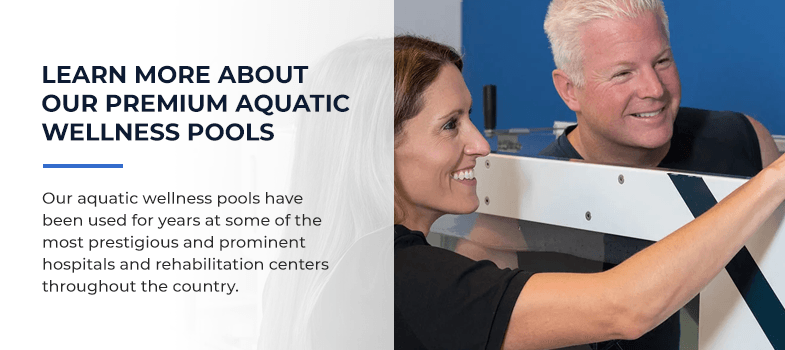 Learn More About Our Premium Aquatic Therapy Pools
At HydroWorx, our aquatic therapy pools feature superior design and performance to help medical professionals elevate the physical rehabilitation process. Our aquatic therapy pools have been used for years at some of the most prestigious and prominent hospitals, senior living communities, sports teams, military hospitals and rehabilitation centers throughout the country. We are the only hydrotherapy and conditioning pool company that makes research a priority, providing you with recently published research and protocols about the benefits of aquatic wellness pools.
Browse our products today to learn more and contact us online or call 800.753.9633.