HydroWorx is trusted by some of the top athletic teams and facilities across the globe. Find out which teams trust HydroWorx to care for their athletes and learn more about the projects we have completed below.
Table of Contents (Jump To The Content You Want):
University Of Kentucky
Athletes at the University of Kentucky are enjoying the same training room advantages that a growing number of elite professional and amateur athletes enjoy. The university installed a high-tech pool with an underwater treadmill built by HydroWorx as part of their $27.5 million, 92,300 square foot practice facility expansion to Memorial Coliseum.
Since 1998, HydroWorx has been solidifying its reputation among some of the nation's top athletic trainers as a force in the aquatic therapy arena. The University of Kentucky, despite being the winningest program in college basketball history, believed they are falling behind when it came to practice facilities. "We must have the vision and commitment to maintain our status as the best. Right now, we are behind with respect to practice facilities. This facility will provide first class space for both basketball programs, including a state-of-the-art training room, weight room, film room and administrative offices."
The HydroWorx 2000, one of three commercial underwater treadmill pool models installed at the facility, allows injured athletes to duplicate dry-land running or walking form but at a fraction of their real weight. In the near weightless environment of an underwater treadmill, an injured athlete can walk or run without over-taxing the joint. Other features, such as an underwater video camera and computer monitors allow trainers to easily and accurately diagnose problems and document a patient's path toward recovery. The result is typically a speedier, more complete recovery from injury or surgery. That is a bottom bottom-line issue and it is precisely why growing numbers of pro sports teams, universities, and even the U.S. Navy Seals, have invested in HydroWorx pools.
Michael Johnson Performance Center

It's the perfect marriage of technology and training: Michael Johnson Performance Center (MJP) and the HydroWorx 500 Series performance and rehab pool complete with underwater treadmill.
Johnson, the American sprinter who stunned the world at the 1992, 1996 and 2000 Olympics, has embraced the use of this innovative athletic equipment to help patrons of his world-class facility get stronger after injuries, safely avoid overuse strains and effectively increase their abilities.
"Our objective is to help athletes at any level achieve their full potential. It's important for us to provide as many resources as possible to be the best for our athletes… and we need the best equipment and tools to do that. HydroWorx is known for its quality and innovation."

Michael Johnson
At MJP, athletes focus on increasing their athleticism (e.g., speed, agility, strength, power) via nutrition, injury rehab, injury prevention and mental strength programs. By providing the HydroWorx underwater treadmill as a method of recovery and cross-training, Johnson and his team of experts can promise athletes exceptional workouts without the physical stressors of land-based running or sprinting. As Johnson notes, "When our athletes get a session in the HydroWorx, they feel fresher – it's a welcome change for them."
Lance Walker, CSCS, PT, Director of Performance at MJP, sees the HydroWorx as the next generation of aquatic therapy and training. First introduced to aquatic therapy when therapists were only using what he deems "old-school" shallow water hydrotherapy methods, Walker has seen how the multi-depth HydroWorx has changed the face of active recovery strategies and re-generation techniques.
"HydroWorx has become a key piece of our methodology. We're able to get athletes to do some power training they might not otherwise be able to do, and helping to expedite inter-session recoveries. The strategic use of HydroWorx has, in some cases, rewritten the progression for some athletes. [They can] do things in the pool that they couldn't do on land. What we've seen is a quicker return to function."

Lance Walker
For their part, HydroWorx is thrilled to be an integral piece of MJP's programming. "Partnering with Michael Johnson Performance Center will allow many more athletes to experience the unique benefits of the HydroWorx underwater treadmill," says Anson Flake, CEO, HydroWorx. "We're pleased to have this opportunity to help MJP achieve its objectives through advanced rehabilitation and training technologies."
Since 2001, Johnson and MJP have prepared some of the top NFL draft prospects for the NFL combine. NFL players, including Pro Bowlers and first round draft picks choose MJP each off-season to improve their speed, power, agility and to raise their game.
Aston Villa Football Club

Premier League football club Aston Villa has joined Manchester United and Chelsea FC in utilizing HydroWorx aquatic therapy pools in its new, state of the art training facility. HydroWorx pools are used worldwide by physiotherapists, athletic trainers and sports performance coaches to help their athletes recover quickly from injuries and for conditioning with low impact.
Former Aston Villa Operations Director, Steve Stride, said in a recent interview (with www.av.co.uk) that the facilities at their new Bodymoor Health Training Ground, "Will provide the very best players with everything they could wish for at a Premiership football club".
Aston Villa purchased three HydroWorx units: the HydroWorx 2000, the Thermal Plunge and the Polar Plunge. HydroWorx technology combines the well-known therapeutic effects of warm water with a built-in, underwater treadmill that allows athletes to walk or run naturally just as they would on dry land. The variable speed underwater treadmill, directional water jet system and underwater video feedback allow users to exercise at various intensities with less stress on the joints. The end result is speedier, more effective rehabilitation.
One of the founding clubs of the Football League in 1888, Aston Villa was purchased in 2006 by Cleveland Browns owner Randy Lerner (the Browns also utilize a HydroWorx pool in their facility). With Lerner's help, the £13 million Bodymoor Health Training Ground officially opened July 5th, just in time for the start of the new season.
Bradley Athletic Facility
Bradley's new athletic facility a mix of old school and state of the art. Bradley's state-of-the-art $50 million athletics palace is, at once, new and old school.
New school technology and comfort coupled with strong nods toward old school designs, traditions and history. It's a formula that's worked well in recent years with modern sports stadiums, particularly baseball parks.
And it should be a big hit with fans of the Braves who may miss the aura of Robertson Memorial Field House, but prefer to forget how drafty/sweltering the old barn usually was. Not to mention its hard, backless bleachers and impossible parking.
Bradley officials showed off their new facility to the media, walking through most of 165000 square footage of state-of-the-art eye candy that should vault BU athletics forward exponentially.
"There are a lot of different touches throughout the building that give nods to the Field House," said BU athletics director Michael Cross. "The top of the building has a domelike structure that reflects the Field House. There's the archway design in the atrium (and actual hardwood sections from the Field House floor laid in different parts of the new building)."
"Heritage Hall (a museum-like room that celebrates the school's athletic history, complete with Field House artifacts). The lettering font in the entry facade and other places is of the Field House.
"All of these pieces together make this a Bradley facility. It honors Bradley and represents Bradley in a first-class matter."
Added Shelley Epstein, associate vice president for communications: "The outside look is very similar to the (newly constructed) Markin Center and (under construction) Alumni Center with that graystone academic look."
"When you walk into this facility for the first time and have an opportunity to see what's been built here, the word that I would use to describe it is breathtaking," Cross said.
The 4,200-seat arena, despite astoundingly clear video boards and a well-balanced color scheme, is too small to be considered grandiose in and of itself. It's the less visible things that give this building its modernistic feel.
Like the well-appointed player lounges and video viewing rooms for the basketball and volleyball teams. And the video cameras installed in the men's basketball practice wing (controlled by remotes in the video editing room down the hall) that can make a just-completed play accessible on a coach's nearby laptop in seconds.
Then there's the cutting-edge underwater treadmill in the training room. And the training room itself, three times the size of its Haussler Hall forerunner.
A large glass-enclosed Braves Club room overlooks the arena court on one corner while a similarly enclosed room with a patio overlook of Main Street encompasses another corner.
The latter, complete with video capability, will be used for pre-game functions, meetings or receptions.
"The facility is a splendid space that will serve as a focal point for this campus and this community for decades to come," Cross said. "It's on par with anything that's out there nationally. We've been given a tremendous gift and now we have an obligation to use it to its full potential."
University Of Minnesota
For the Golden Gophers the 2017 Spring Football Season marked the last year without an onsite advanced facility that includes hydrotherapy products. Thanks to intense fundraising and critical knowledge of aquatic therapy's value, this top-league school embarked on an exciting project known as the Athletes Village.
The University of Minnesota's Athletes Village includes spaces for student athletes from across the educational institute's rosters. Football players, basketballers, cross country and track and field athletes have homes where they can not only train, but get incredible recuperation and rehab offerings without leaving campus.
Currently, aquatics plays a huge role for the Gophers' hockey team. Jeff Winslow, their men's ice hockey Associate Athletic Trainer, has been a fan of the teams since he was young. Now, he works with his players to keep them in tiptop shape for practices and play throughout the year. One of the attributes his center has is HydroWorx Polar Plunge and ThermalPlunge pools. These products are available within their renovated hockey-focused facility and are utilized daily by players for a variety of purposes.
"Several players come in before practice as part of our warming-up protocol; they really enjoy getting their extremities into the tubs and using the jet massage hoses to warm up whatever body parts they feel need work. After practice, [about] half the team gets into the cold tub… they love using the tubs for recovery, aside from injury, on the weekends, especially! We play games on Friday and Saturday; Sunday is reserved for treatments."

Jeff Winsolw
After seeing how the HydroWorx hydrotherapy Plunge units and the 750 Series have been key components in keeping hockey players fresh and healthy, the University is invested in a HydroWorx 2000 Series pool for the Athletes Village. The HydroWorx 2000 is equipped with a full moveable underwater treadmill floor, resistance jets, support bars and massage capabilities. Although the HydroWorx 2000 will be primarily used by the Gophers' football program, it's going to be available for physical and athletic therapy.
Notes Winslow, "I plan on using it [the HydroWorx 2000] when I have rehab projects. The fact that you can adjust the weight load, combined with the buoyancy is going to provide great middle ground when trying to help someone back from an injury or extremity surgery."
Fortius

Winter athletes do some crazy stuff, right? One hundred and eighty feet of slopestyle air, freeriding 96 MPH down an icy mountain, and g-forces so strong you can't raise your head? Broken wrists. Broken legs. Smashed ribs. That's pretty much the norm. Yet top winter athletes somehow find the moxie to rehab, then hop back on their gear of choice and try again.
Helping in this critical rehab effort—you might even say a hotbed for Canada's top athlete rehab—is Fortius Sport and Health in Burnaby, British Columbia. The $61 million facility includes a HydroWorx 2000 Series pool with an underwater treadmill, the first in western Canada.
Fortius is inspired by the notion that sport and exercise medicine can play a leadership role not only in injury prevention and injury management, but preventative approaches to true health care. It's an athlete development centre and was founded by leading names in the sports and exercise medicine world, who work together as a fully integrated team. The vision from the beginning was to build a comprehensive athlete development, sport medicine, science and training centre that would offer everything athletes and other individuals needed to optimize their performance, including the top of the line aquatic modality.
NFL Teams: Atlanta Falcons, Baltimore Ravens, & Las Vegas Raiders
In 2019 The Atlanta Falcons, the Baltimore Ravens and the Las Vegas Raiders made it 27 of 32 professional football teams in the U.S. who rely on HydroWorx aquatic therapy pools to care for their elite athletes.
"Our customers depend on our hydrotherapy solutions to accelerate healing," said Timothy McCarthy, Chief Executive Officer for HydroWorx. "Whether it's for routine conditioning or rehabilitation, sports medicine professionals rely on our advanced technologies and unique use of water to keep their players healthy in order to achieve their potential and get them back in the game."
"We welcome these three new teams to our professional football family. For the growing lineup of all our professional and college sports customers, it's really the quality and speed of recovery and rehabilitation that makes HydroWorx the market leader for [sports] aquatic therapy solutions."

Nicholas DiNubile, M.D. – HydroWorx Board Member & Former 76ers Team Physician
Success for hydrotherapy requires a detailed understanding of team needs and objectives. At the outset and over the long term HydroWorx engages with each team to identify the best solutions for thermal, polar and other water-based therapies – and the best fit for training facilities, stadium and other installations.
"In addition to other products, all these teams selected our 2000 Series for its advanced performance – variable water depth, moveable floor, an 8'x12' underwater treadmill, resistance jet technology and computer and camera systems," said McCarthy. "While the Raiders and Falcons were new stadiums and/or training facilities, the Ravens actually upgraded to HydroWorx technology solutions from a different hydrotherapy provider's product."
The Philadelphia Eagles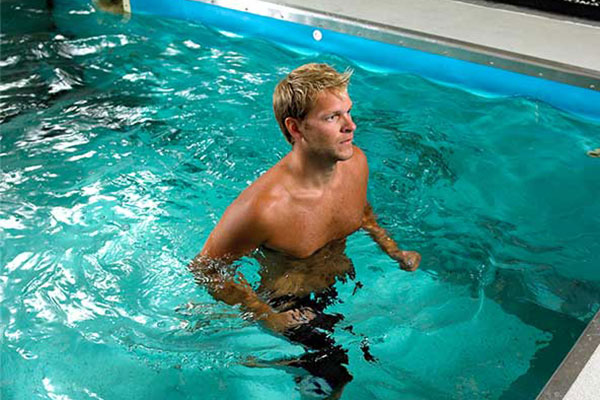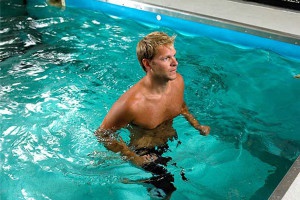 A large percentage of football training rooms use HydroWorx products in their recovery and rehab efforts. Rick Burkholder, ATC, renowned Kansas City Chiefs athletic trainer and former Eagles head athletic trainer, utilized the Eagles' HydroWorx 2000 almost exclusively as he developed an aggressive rehabilitation program for wide receiver Terrell Owens to rehab his surgically-repaired ankle in seven weeks, then return for the championship in 2005. Quarterback Donovan McNabb also anchored his 2002 fractured fibula rehab in the unweighted environment of the same pool.
"Our large athletes need to perform sports-specific activities in unweighted or semi-weighted conditions. HydroWorx makes this happen."

Rick Burkholder, Former Eagles Head Athletic Trainer
"The HydroWorx pools without a doubt are the most versatile pieces of equipment that we have in our training room," stated another athletic trainer. "The applications are virtually limitless."
C.F. Pachuca Football
The addition of new customer C.F Pachuca extends HydroWorx's impressive reach into international markets, one that includes first-class athletic facilities across Europe, Canada and Australia. Mexico's national champion football team selected HydroWorx aquatic unit for its superior training and rehabilitation therapy.
The 500 Series conditioning and therapy pool chosen by the program will accelerate muscle recovery and increase fitness levels with the goal of getting players off the sidelines and back onto the field in top physical condition. A variable-speed underwater treadmill, moveable floor, and resistance jets to supplement competitive training, are all part of the comprehensive 500 Series package.
Over the last decade, the C.F. Pachuca club boasts one of the most successful football records in Mexico, winning five national championships as well as a multitude of other titles. Based in Pachuca, Hidalgo, the club is one of many prominent sports teams incorporating HydroWorx pools into their athletic training program. England's Manchester United FC and Chelsea FC are just a few examples of premier clubs that have selected HydroWorx aqua therapy for their world-class athletes. The delivery of the unit in June 2009 marks the second HydroWorx pool to arrive in Mexico.
The Andrews Institute

Dr. James R. Andrews, widely regarded as one of the top orthopedic and sports medicine authorities in the world will equip his newest sports medicine facility with a treadmill pool from HydroWorx.
The Andrews Institute, a $30 million, 143000 square-foot facility in Gulf Breeze, Florida incorporates three HydroWorx pools. The main feature is a HydroWorx 2000 rehabilitation and training pool.
The institute is a joint venture between Andrews and Baptist Health Care and is designed to be a world-class research and treatment center for orthopedics and sports medicine.
"HydroWorx pools will be utilized at the new Andrews Institute to accelerate the rehabilitation process for our athletes and patients following surgery and provide low-impact sports performance training. The utilization of hydrotherapy enables the athlete to rehab much quicker due to the buoyancy of water. The HydroWorx pools allow the best reliability and performance associated with hydrotherapy. HydroWorx truly stands out in the field."

Dr. James R. Andrews
Dr. Andrews is world-renowned in orthopedics and sports medicine. His work with high-profile athletes like Roger Clemens, John Smoltz, and Jack Nicklaus is well known. A founding member of the Alabama Sports Medicine and Orthopedic Center and the American Sports Medicine Institute in Birmingham, Alabama, Andrews is also a medical advisor to several universities and professional athletic programs.
Manchester United

Manchester United, in the UK, is one of the most popular and successful sports teams in the world. Manchester United has been a formalized team for 136 years and during that time they have collected 62 trophies, including a record 20 English League titles. The 20th English League title happened at the close of the 2012-2013 season. HydroWorx happened to be visiting the club around this time and sat down with John Davin, one of the club's physiotherapists, the day after the team secured their 20th title.
The HydroWorx aquatic therapy pool with underwater treadmill is frequently used by members of the Manchester United club. Davin shares that he tries to get athletes in the water as soon as possible following an injury. This allows for an increased range of motion and decreased swelling, and it allows the athletes to correct their gait imperfections immediately. This is important as it prevents the athletes from overcompensating for their injury and subsequently developing a limp. Davin adds that working in an aquatic environment is beneficial for his athletes because walking on the underwater treadmill mimics the same gait pattern used when walking on land, but without the added pressure on the joints. Additionally, swelling is often reduced as a result of the water's natural hydrostatic pressure.
"We have noticed that if we spend a good amount of time, 30 to 40 minutes of work in the water, any swollen knees or ankles have significantly reduced when we take them out again."

John Davin
In addition to using their HydroWorx pool for rehabilitation and therapy, the team also uses the pool for conditioning and training workouts. Because of water's added resistance, the athletes are able to get an intense cardiovascular workout in the pool while being unloaded.
Minnesota Wild
Innovation in athletic training, design and municipal use. That's what we see as we take a look at the brand-new practice facility for the Minnesota Wild in Saint Paul, Minnesota.
In the spring of 2017, the Saint Paul Port Authority and partners broke ground to renovate a former Macy's department store into a six-level commercial destination and the Wild's new practice facility. Ten months later the space hosted its first official Wild practice.
The new TRIA Rink at Treasure Island (its official name) demonstrates a commitment from the Wild and the city of Saint Paul to cutting-edge athletic training, design and municipal use.
Athletic Training
The HydroWorx 750 Series pool, HydroWorx PolarPlunge and ThermalPlunge provide the aquatic therapy offered at the new facility.
"The advantages of aquatic therapy include faster post-surgical rehabilitation, reduced inflammation, increased joint range of motion, pain relief and enhanced mobility."

"Just to give you some history, before we got the pools in this new practice facility, all we had was a hot tub. We traveled to a local outpatient sports medicine clinic to use their HydroWorx pool. Now we're lucky enough to have them on-site. This will help many more players."

John Worley, Head Athletic Trainer For The Minnesota Wild
The pools are housed in a fully-tiled pool room which includes a "video wall" where players can watch, by virtue of an underwater camera, their movement as they rehab and train underwater.
Other benefits of the new training space include a weight room three-times the size of their former training area at Xcel Energy Center, a 40-yard dash track, Peloton bikes and much more.
Design
This facility isn't just functional. Check out a short video of project lead Jamie Spencer walking through this stunning space and pointing out, at about minute 2:50, the fully-tiled, state-of-the-art HydroWorx pool room.
The entrance, an exact replica of the entrance to the Xcel Energy Center, gives players the "game-day" vibe. A posh players' lounge, gas fireplace, chef's kitchen, gaming room and steam room with 9-foot ceilings demonstrate the ownership's commitment to player health and happiness. See photos of the new space!
General manager Paul Fenton, as quoted on nhl.com, said "The investment that Craig (Leipold, owner) put into there…how beautiful it is, the different types of machinery that's in there…is going to make it just a great place for our players to train and get better."
Municipal Use
What does the world do with its floundering old big box stores? Turn them into multi-use, multi-tenant leased commercial destination complexes! TRIA Rink is on the 5th floor of the Treasure Island Center, which is now positioned to rejuvenate the center of downtown Saint Paul. The arena was constructed as part of a redevelopment effort of Saint Paul and shows another outstanding model of retail space re-use.
We are proud to be part of both the Wild's and downtown Saint Paul's rehabilitation efforts!
The New York Giants
The NY Giants signed on with HydroWorx, and installed the company's 2000 Series, as well as a Thermal and Polar Plunge in their new training facility. The $1.4 billion Meadowlands NFL Football Stadium project is the home field for 2012 World Champs, as well as the New York Jets.
Housed in their state-of-the-art training hub will be the HydroWorx 2000. Deemed as the "crown jewel" of aquatic therapy pools, the 2000 features an adjustable floor with variable water depths, a treadmill that smoothly increases from 0 to 8.5 mph in .2 mph increments, resistance jets, and an underwater camera and monitoring system. The Giants also utilize a Thermal and Polar Plunge. This technology is the premier method for rapid recovery of muscles and joints.
Attack Athletics

For 15 years Tim Grover, founder of Attack Athletics, trained one of the greatest names in basketball – Michael Jordan. Today he is delivering injury rehabilitation and longevity training to athletes in a new 60000 sq. ft. sports performance and training facility in Chicago. It is at this location that Attack Athletics will feature a HydroWorx 2000 pool to support their training and rehab goals.
"We are incredibly excited to see HydroWorx pools and technology continuing to be used at the highest level of Professional and Collegiate Basketball Facilities. Using the pool as both a rehabilitation and training tool for the highest caliber athletes. We are excited to see how Tim (Grover) and their group at Attack will utilize our pools to raise the bar to even another level and anticipate exciting feedback and results for future case studies," says HydroWorx VP, Rob Miller.
The New York Mets
Just beyond the outfield fence of Shea Stadium, Citi Field became the new home of the NY Mets in 2009. Housed in the new stadium is the HydroWorx 2000 featuring a floor that doubles as a variable-speed treadmill that can rise to floor level for easy access by injured or even wheelchair-bound athletes. The floor can then be lowered to any depth up to six feet and can function at any range of speed up to 8.5 mph.
Key to the NY Mets training and conditioning are two Thermal and Polar Plunges, installed to assist in recovery and revitalization. Temperatures at 50 degrees in the Polar Plunge help control joint inflammation and enhance muscle recovery. Thermal heating units are engineered to relax tight muscles and stimulate the release of endorphins. Each pool features strategic jets and powerful massage hoses to isolate trigger points on the athlete. Also key to the HydroWorx pools is the underwater camera that allows trainers to observe movements and diagnose gait irregularities in real time.
Oklahoma State University
The largest collegiate sports donation in history has been bestowed on Oklahoma State University and HydroWorx was chosen to provide our expertise in a portion of the new facilities. Oilman turned investor, Boone Pickens, donated $165 million to his alma mater to be used solely for Cowboy athletics. Wisely invested in Pickens' BP Capital Hedge Fund (and a lofty $31 million added to the pot from OSU's Golf Foundation) the total available is expected to be over $250 million. The money will provide new arenas for track, baseball, tennis, women's soccer, and equestrian teams. The largest expenditure, however, will be over $150 million for a one-of-a-kind football stadium, indoor practice fields and a top-notch training and athletic medicine facility. It is in this impressive structure that HydroWorx will install their 2000 Series pool.
"I have been a strong proponent of aquatic therapy for the last 18 years. Aquatic therapy provides a giving environment that allows the athlete to progress at their own speed and creates the perfect environment to promote healing in most musculoskeletal and orthopedic injuries. The buoyancy obtained with aquatic therapy eliminates the stress of weight bearing, but also provides uniform resistance to exercise to promote an increase in circulation and positive stress on the cardiovascular system. The HydroWorx 2000 allows you to vary the depth of the treadmill thus controlling the buoyancy and hydrostatic pressure which both provide optimal conditions to decrease joint inflammation.

The HydroWorx 2000 utilizes all the benefits of aquatic therapy and combines them with a superb treadmill system promoting functional rehabilitation which no other pool provides. The 2000 will not only allow us to provide optimal rehabilitation services to all our student athletes, but also provide excellent low stress conditioning exercise that has proven to decrease body fat and increase lean muscle mass. With the HydroWorx pool system we will have superb rehabilitation, conditioning and educational opportunities for not only the student athlete, but the athletic training students in our accredited athletic training program. The only limit to what the clinician can accomplish with the HydroWorx pool system is the limit of their imagination."

Terry Noonan, Head Athletic Trainer at Oklahoma State
St. Georges Park National Football Center
The international sport and ultra-popular pastime of professional football (known as soccer in America) recently became even more exciting with the opening of the expansive St Georges Park National Football Centre. The 300+ acre facility, located in Burton upon Trent, Staffordshire, England, is set to offer professional footballers advanced training techniques, including hydrotherapy training and rehabilitation in a HydroWorx pool with underwater treadmill.
"Aquatic therapy is an essential part of our daily player management at Chelsea Football Club. All players who sustain an injury move through water based therapy as a part of their progression, and the HydroWorx 2000 device is an essential part of this progression. The HydroWorx allows us to introduce high quality, functional multi-directional movement and conditioning work significantly earlier than we could normally introduce on land, which for us results in earlier return to training and playing. We also use the HydroWorx as part of our recovery system for fit players, the combination of functional movement and the properties of water being an ideal combination in contributing to optimal recovery."

Chelsea Football Club Medical Department
The HydroWorx pool installed at St Georges' uses the same technology to train elite footballers as has already been used by players from Aston Villa F.C., Manchester United F.C. and Chelsea F.C. Its state-of-the-art design includes a moveable floor, an 8'x12' underwater treadmill, resistance jet technology, and computer and camera systems. By harnessing water's natural powers, the HydroWorx unit allows football professionals to safely – and effectively – cross-train for games, and recover from injuries.
Missouri Western State University
Missouri Western State University, the new home of the Kansas City Chiefs' summer training camp, will be the new home for two hydrotherapy pools from HydroWorx, a respected innovator in aquatic therapy. The arrival of the Polar Plunge and Thermal Plunge pools is part of a milestone $10 million donation by the Chiefs for upgrades and a new indoor practice facility on the Missouri campus.
Missouri Western provides its college football athletes and professional partners the ultimate environment for recovery and revitalization. The combination of warm and cold water therapy will assist players in controlling joint inflammation, enhance muscle recovery and aid in general pain management. The Thermal and Polar Plunge pools are also uniquely designed to allow rehabilitation and conditioning for multiple athletes simultaneously.
The Kansas City Chiefs have embraced the opportunity to leave a legacy on the Missouri campus. The indoor facility, which broke ground earlier this summer, will open with two theatre-style lecture rooms plus an additional 13 meeting rooms. A new locker room, weight room and training room will be part of the practice facility. Like their new partners at Missouri Western, the Chiefs house a suite of three deluxe pools from HydroWorx at their NFL sports complex.
Canada Olympic Park
Canada Olympic Park was originally created for the 1988 Winter Games in Calgary, Alberta, where hundreds of athletes from 57 different countries competed for gold. Although those games have come and gone, Canada Olympic Park is still going strong. Now owned and operated by Winsport, a non-profit organization dedicated to becoming the world's leading sport institute, the facilities serves as a multi-purpose competition and training centre for Canada's most advanced athletes.
Recently, the Markin MacPhail Centre was completed and with it, WinSport now offers state-of-the-art hydrotherapy and year-round rehabilitation and medical services for both the high performance athlete and the average individual looking to reach a performance goal. The goal of this new centre is to provide a sport institute model including the best equipment, tools and people.
"The new facility offers an amazing array of tools to serve our patrons, including four hockey rinks, multi-use meeting spaces and a medicine clinic, which features a HydroWorx aquatic therapy pool with an underwater treadmill."

Natasha Slack, WinSport Medicine Clinic Manager
"We have toured a few of the best professional teams' facilities in the US," remarked Kevin Wagner, BSc. (PT), "and were very impressed with what we saw offered through the HydroWorx tubs. We wanted to bring a form of hydrotherapy to our facility that was more than just whirlpools. We have found the combination of relaxation the water provides and the unloading of the joints increases our ability to get athletes into a good movement pattern and back to their sport faster."
The aquatic environment which includes a HydroWorx 750 Series Pool with an underwater treadmill as well as hot and cold plunge pools, provides the benefits of the natural properties of water for rehabilitation, recovery, regeneration and performance training, both for high performance athletes and the general public.
The Philadelphia Phillies

The regular season schedule is a marathon in Major League Baseball, consisting of 162 grueling games. Athletic trainers and team doctors are constantly searching for methods to keep their athletes healthiest; teams able to keep their best players on the field are invariably the most successful teams. Aquatic therapy has proven to be among the most effective means of keeping athletes in top physical condition and HydroWorx sets the benchmark for quality in sports rehabilitation and training.
HydroWorx co-founder and president, Anson Flake proclaimed, "HydroWorx is honored to be a part of the aquatic therapy success this outstanding Phillies ball club has enjoyed. The team utilizes a HydroWorx 2000 series underwater treadmill pool and a ThermalPlunge pool for rehab and conditioning in the clubhouse facility at state-of-the-art Citizens Bank Park."
The 43,500 seat park is a fan favorite with fun features concessions, real grass, angled seating, rooftop bleachers, and a modern design that hitters thrive in. Philadelphia faithful are thrilled that the team's players can rebound from the daily grind on the diamond using HydroWorx aquatic therapy technology. A study done at Texas A&M University proved that participants who ran in a HydroWorx pool improved their overall health and fitness without the joint trauma and wear-and-tear that one normally experiences working out on land.
Philadelphia's players rehabilitate and exercise HydroWorx-style year round. Flake was quick to point out, "We're humbled that the Phillies also included a HydroWorx 500 Series underwater treadmill at their Spring Training facility in Clearwater, FL".
The Washington Nationals
The $611 million ballpark for Major League Baseball's Washington Nationals is one of the best stadiums in the MLB. The 41,000 seat stadium will include a training site featuring a HydroWorx 1000 pool, as well as the company's unique recovery and rehabilitation tools, the Thermal and Polar Plunge pools.
The HydroWorx 1000 series features the industry leading underwater treadmill and powerful water jets strategically placed for resistance training and rehabilitation. The effectiveness of HydroWorx pools has been supported by scientific research, and backed by elite trainers and rehabilitation specialists worldwide.
Also key to HydroWorx pools is the ability to adjust treadmill speeds in .2 mph increments up to 8.5 mph. While training or in rehab, team trainers will be able to monitor athletes in real time with the underwater camera and monitoring feature of the HydroWorx pool.
The Nationals are also adding to the recovery and revitalization of their athletes by utilizing HydroWorx's Thermal and Polar Plunges. These unique pools provide warm water from 94-104 degrees and opposing polar temperatures at 50 degrees. Jets and powerful massage hoses assist deep tissue therapy and help control joint inflammation and enhance muscle recovery.
The Tampa Bay Rays
A $27.2 million renovation to the Port Charlotte Sports Park was started in 2007 and will included upgrades to seating, entry plazas, suites, press areas, clubhouse, administrative offices, practice fields and new training facilities. Here is where a HydroWorx 1100 and Thermal and Polar Plunges were installed to serve the needs of athletes beginning in spring 2009.
The 1100 features an underwater treadmill with integrated variable speeds that smoothly increase from 0 to 7.5 mph in safe .2 mph increments. The treadmill surface has a cushioned low-impact design with excellent traction. Resistance jets and multiple water depths are also key components of a HydroWorx pool. Thermal and Polar Plunges have been invaluable to customers with their ability to control joint inflammation and enhance muscle recovery.
Syracuse University
Athletes at Syracuse University benefit from HyrdroWorx products, with the 2000 Series and Thermal and Polar Plunges featured in their training facility. Alumni Carmello Anthony, who took the Orangemen to the 2003 NCAA Basketball Championship, donated $3 million to the University to enhance their new basketball complex. With the NBA star's donation, Syracuse will add the latest in aquatic tools to the Lampe Athletic Complex, as well as two practice courts, locker rooms, and offices for men's and women's basketball.
Kansas State University
Kansas State University completed a $125 million athletic facilities upgrade in 2014.
A large part of that upgrade was a brand new football stadium. As you can imagine with any brand new Division I football facility, it featured the latest and greatest of just about everything, including multiple HydroWorx therapy pools.
With this new Football Complex, the Wildcats more than doubled the amount of space for student-athletes and coaches, providing access to world-class equipment and facilities and creating a more efficient experience to train, study and compete.
Their new strength and conditioning center doubled the size of their current weight room, giving their athletes the best experience for training. Their athletic training center features a state-of-the-art hydrotherapy room with two HydroWorx 1200 Series pools and two Plunge pools. This football stadium is now the second location on the Wildcats campus that features HydroWorx therapy pools. They currently have a HydroWorx 2000 Series and a Plunge pool in their basketball arena.
"K-State Athletics is extremely proud of our relationship with HydroWorx and its state-of-the-art hydrotherapy products. Our new facility provides our Sports Medicine staff with the resources to assist our student-athletes during their rehabilitation and physically challenge them in a less strenuous environment."

Matt Thomason, MS, ATC, LAT, Director of Sports Medicine
The Episcopal School of Dallas
The Episcopal School of Dallas, one of 18 schools competing in the Southwest Preparatory Conference, provides students with an elite combination of aquatic conditioning and training options.
The Stephen B. Swann Athletic and Wellness Center, where the pools are housed, is a showcase for athletic training and nutrition. An emphasis on overall student wellness is the vision for the Center, complete with chef-prepared dishes and extensive exercise facilities. Dr. Kenneth Cooper and the respected Cooper Clinic of Dallas are associated with the wellness aspect of the Center.
As part of the athletic program, students have access to leading-edge warm and cold water therapy. Powerful massage hoses, resistance jets, and a flexible pool design will allow multiple athletes to warm-up, recover, and rehabilitate using the trainer's choice of aquatic temperature. HydroWorx demonstrated ability to accelerate muscle recovery and return athletes to the playing field quickly is one reason world-class professional and collegiate players, from around the world, train in their suite of pools.
Appalachian State University
Three HydroWorx pools are housed in the Mountaineers' Kidd Brewer Stadium Athletic Complex. With the 1000 Series pool, ground-based gait training and sport-specific activities are easily duplicated by ASU athletes on the variable speed underwater treadmill. The pool's high-powered water jets are strategically placed for resistance training and deep tissue massage. Several athletes receive treatment at one time with multiple workstations and a variable water depth feature. The pool's state-of-the art heating unit provides fully-automated water temperatures. Next to the 1000 Series pool is the HydroWorx ThermalPlunge and PolarPlunge pools, enabling warm and cold water therapy as well as contrast therapy. This state-of-the-art facility stands behind the home side of Kidd Brewer Stadium, nestled in the Blue Ridge Mountains of Boone, North Carolina.
The complex opened at the inception of the 2009 football season. All students have access to the benefits of the new hydrotherapy and training rooms; the strength and conditioning room is also open to the campus. The three-peat national champion football squad takes advantage of a new equipment room, locker rooms, and team meeting rooms.
The inclusion of HydroWorx technology in the Kidd Brewer Stadium Athletic Complex demonstrates the university's incredible drive to stay atop the competition.
Penn State University
Penn State University chose the HydroWorx 600 Series underwater treadmill to enhance hydrotherapy in the Louis and Mildred Lasch Football Building. The nationally ranked football team use the variable speed treadmill as part of their aquatic conditioning for the Nittany Lion's legendary athletic program.
The University has also invested in a HydroWorx 1200 Series pool for their hockey team, located in the Pegula Hydrotherapy Center.
The HydroWorx underwater treadmill offers players the latest in cutting-edge fitness and therapy. Advantages of the pool include a deep tissue massage hose essential for reducing lactic acid and quick muscle recovery, coupled with a resistance jet for superior conditioning. The pool's low impact design and varying water depths maximize rehabilitation while minimizing time away from the playing field due.
Brigham Young University
BYU is one of only two Mountain West Conference schools and one of only two state schools to have an underwater treadmill on its campus. New Mexico and Utah State also have them.
The treadmills are gradually gaining popularity across the country. Most professional athletic organizations have at least one, as do many major college programs like LSU, Texas and Ohio State.
BYU head football trainer Kevin Morris made a big push to have BYU's Hydroworx 1000 Series pool installed when the school built its athletic complex because he knew the benefits.
"Physiologically, I don't think it makes players heal any quicker, but they are able to perform running mechanics and functional activities quicker, which allows them to return to the field quicker," Morris said. "Before, you would just put them on a bike. But biking and running are two completely different things."
The underwater treadmill is not just for football at BYU. There is a waiting list hours long posted on the door every day with athletes from every sport wanting to use it.
The treadmill reaches speeds up to 7 1/2 miles per hour, and because of their buoyancy in the water, athletes are supporting only 10-25 percent of their normal body weight.
Having less stress placed on an injury allows the athletes to stride normally, and the compression of the water reduces swelling in the joint.
Trainers can make players perform most of the same athletic movements they would on the field, and jets in the pool can provide resistance training.
Two underwater cameras capture every move and display the images on two monitors nearby.
Utah State athletic trainer Dale Mildenberger visited BYU last year to look at its underwater treadmill, and the Aggies purchased two for their new athletic training facility, which opened Aug. 20.
They even one-upped the Cougars. Along with a Hydroworx 1000, they purchased a Hydroworx 2000. The 2000 model is the Rolls Royce of underwater treadmills. It has an adjustable floor and can train multiple athletes at the same time.
"I think the more we learn to use it and the more experience we have with it, the more things we will discover we can do," Mildenberger said. "The 2000 model is a very useful piece of equipment, and to be quite honest, I expect there will be several sold because we got one."
Tennessee University
The University of Tennessee's facility has added a new element for campus athletes. The University has chosen HydroWorx to provide four pools for their new facility. A 7500 sq ft athletic training room and 3500 sq ft hydrotherapy space were built with one thing in mind: allowing their athletes to return to their respective sports faster than ever.
The hydrotherapy room includes 2 HydroWorx 1200's with dual flat screen monitors on each, HydroWorx PolarPlunge and ThermalPlunge pools with heaters and chillers. There will also be a 45 ft lane pool which will include 2 sets of steps, a 4 ft and a 5 ft lane, and a deep 7 ft well at the end. This well will allow non-weightbearing activities while the user's body is submerged in water. All 5 units include technology for auto-fill, auto-chem, and UV light. The entire floor below is reserved for maintenance access to the pools within.
The athletic training room includes a separate space for treatment, rehab, and taping. There is also a physicians suite, conference room, storage room, 6 offices, as well as a 5 person work station for graduate assistants.
Treatment area includes – 10 Chattanooga Adapta hi-low tables, all new modalities, hausman mega carts, under counter freezer and under counter ice maker
Rehab area includes – Proprio 5000 balance unit, MRS Functional Squat machine, new Biodex System 4 PRO, new Alter G, new React Quadmill, new Woodway treadmill, 3 new Lifefitness 95e Bikes, 2 new Scifit UBE's, new Cybex Arc trainer, new MR Cube, and new Chattanooga DTS traction unit.
Physicians area includes – 2 exams rooms equipped with xray view boxes, overhead exam lights, and desktop PC's for MRI viewing; Fuji FCR Go2 Xray unit, Sonosite Diagnostic Ultrasound, Welch Allyn ECG labtop, State licensed Pharmacy, Medical records room with high density storage, drug testing room, 2 offices
"Our new sports medicine facility will include many new state-of-the-art evaluation, treatment, and rehabilitation tools which will increase our efficiency and effectiveness of returning our student-athletes to optimum health in a timely manner. We are excited at the opportunity to add four new HydroWorx units to our facility, and we anticipate that they will greatly enhance our ability to meet our student-athletes recovery and rehabilitation needs."

Jason McVeigh, University Director of Sports Medicine
Oklahoma Thunder
The Oklahoma Thunder basketball organization has selected a full roster of first-class concepts in nutrition, hydrotherapy, technology, and learning as part of their vision for the Integris Health Thunder Development Center. After a year of research and evaluation, the NBA organization made the obvious choice for aquatic training; the selection of flagship hydrotherapy pools from industry leader, HydroWorx.
The Thunder management team scouted top-flight programs across a wide spectrum of athletics to determine which ideas and concepts should be included in the new Integris Health Thunder Development Center. The ThermalPlunge, 2000 Series and PolarPlunge pools chosen by the organization will support the Center's objective to become one of the premier facilities in the league for athletic training and development.
The integration of Plunge pools into the program will offer players access to cold or warm water therapy to accelerate rehabilitation and recovery. The 2000 Series, an elite training tool, packs the most advanced technology available into aquatic therapy. An adjustable floor and flexible water depth, variable speed underwater treadmill, two industrial strength resistance jets, and the ability to accommodate up to six athletes in one session are all part of this powerful fitness arsenal.
Liberty University
The Liberty University Athletic Training Staff, in conjunction with its Team Physicians, make up the Liberty University Sport Medicine Network, which works toward the prevention, treatment and rehabilitation of athletic injuries.
The Athletic Training Staff includes nine full-time Certified Athletic Trainers (ATC) who work out of five functional athletic training rooms. This allows Liberty University's Sports Medicine Network to provide optimal medical care for the University's athletic medical needs. The capstone of the Sports Medicine facilities is the 3,200 square foot Football Training Room located in the Football Operation Center. This facility includes two plunge pools, a HydroWorx underwater treadmill and a doctor's exam room.
Four additional facilities are at the disposal of the Athletic Training Staff. The Field House at Williams Stadium, located at the south end of the football complex, houses the Williams Stadium Training Room which focuses on the treatment of the Wrestling team along with Men's Soccer, Track and Field, Cross Country, Tennis, Golf and Cheerleading. The Hancock Athletic Training Room, dedicated to caring for Women's Soccer and Softball, is located in the upper level of the 8000-plus square foot University Athletics Weight Room. The Vines Center Athletic Training Room, located adjacent to the locker rooms, is utilized by the Men's and Women's Basketball teams as well as the Volleyball team. The final training room is located in the Crowder-Muckel Fieldhouse neighboring Worthington Stadium and it is attentive to the needs of the Baseball team.
In conjunction with services available through Team Physicians at University Health Services, the Liberty University Athletic Training staff utilizes two hospitals, Lynchburg General Hospital and Virginia Baptist, for any emergency or general medical needs. Liberty is also fortunate to have team orthopedic services from Central Virginia Orthopaedics along with assistance and consultation from Rehab Associates of Central Virginia.
Focusing on the overall well-being and health of the Student Athlete, along with the personnel and services available, The Liberty University Athletic Training staff continues to implement new techniques and ideas to offer the best possible medical attention to its athletes.
Liberty University currently offers a major in athletic training which was CAATE accredited in April 2004. On average there are 15-20 athletic training students in the program. A majority of these graduating seniors go on to successfully complete the national certification exam, while others opt to pursue careers in other related medical fields. For more information on the Athletic Training Educational Program at Liberty University, please click here.
Pittsburgh Penguins
The Pittsburgh Penguins will showcase a new training facility amidst first-class environmental design when they take the ice next season. The Stanley Cup champions will face-off on the new location of center ice, the marquee Consol Energy Center. An upgrade in aquatic rehabilitation equipment will also take place inside the facility as players gain access to a superior combination of therapy pools from HydroWorx.
A renowned provider of exercise pools to professional sports organizations, HydroWorx will install the PolarPlunge, ThermalPlunge and 1200 Series aquatic training spas as part of the new multi-purpose arena. The combination of warm and cold water therapy options coupled with the 1200 Series' moveable floor, underwater treadmill and resistance jets will solidify the Penguins' athletic program as a leader in professional sports training.
Black, gold and green could be the new colors of the Southwestern Pennsylvania team as the Consol Energy Center aims to achieve the first LEED Gold rating in the National Hockey League. Touted as a centerpiece for driving future economic development, the facility is expected to attract top-notch concerts and family shows to the state-of-the-art venue, as well as seating for more than 18000 Penguin ticket holders.
University Of Virginia
The rally cry of "Wahoo" can be heard across the hills on a football Saturday, but for now the cheers may be the athletes benefiting from the HydroWorx 1200 installed in the Cav's recently upgraded football training facility.
The University of Virginia Cavaliers have chosen the HydroWorx 1200 to assist trainers in their efforts to get athletes back on the field in the shortest time possible with less stress and more rapid healing. Athletes will also utilize the pool for conditioning.
The 1200 Series provides moveable floor technology that meets the athlete at floor level and can be lowered to any depth up to six feet. The variable speed underwater treadmill can reach speeds of 8.5 mph. Other amenities such as directional water jets, hydromassage hoses, and underwater video feedback are hallmark features of HydroWorx technology.
The Calgary Stampeders
The Calgary Stampeders, with 12 Western Division titles and six Grey Cup Championships, have added two HydroWorx world-class fitness pools.
The Stampeders can now choose between two industry-leading alternatives in hydrotherapy to accelerate athlete recovery and rehabilitation. A variable speed underwater treadmill, combined with the option for multiple water depths in the 500 Series, offers each player the ability to create a custom program tailored to their specific needs. The deluxe Polar Plunge provides a consistent therapeutic temperature of 50 degrees to reduce joint inflammation and aid in muscle recovery. This powerful duo assists athletes in returning to the field as quickly as possible and in top competitive condition.
McMahon Stadium, the location of the HydroWorx pools, hosts more than 35000 football fans and is the fifth-largest stadium in Canada. The venue touts the Calgary Winter Olympics as one of its historical tenants and in the decade of the 1990s, marquee players the likes of Doug Flutie, Jeff Garcia, and Terry Vaughn took to the field.
The Steadman-Hawkins Clinic
The Steadman-Hawkins Clinic's primary goal is to deliver the highest standard of orthopedic care and personal attention to each and every patient seeking their help. By installing a HydroWorx underwater treadmill pool into their facility they have just made that goal a certainty.
The HydroWorx pool will be utilized at the Steadman-Hawkins Clinic to accelerate the rehabilitation process for injured professional athletes as well as those who just want to walk again without pain.
Dr. Hawkins is a founding member of the American Shoulder and Elbow Surgeons, a consultant to the United States Ski Team and Canadian Ski Team. He is also the National Medical Director for the U.S. Disable Ski Team, and the Head Team Physician for the 1998 and 1999 Super Bowl Champion Denver Broncos and, just recently, appointed as Medical Director for the Colorado Rockies Baseball Team.
Listed as one of the 100 of America's Best Doctors, Dr. Hawkins was also named in the National Society of Who's Who in Executives and Professionals.
HydroWorx is no stranger to attracting elite customers from various fields. Not only have HydroWorx pools attracted customers from over 85 various professional and collegiate sports teams, but Dr. James Andrews – world renown orthopedic surgeon, as well.
Dr. James Andrews will equip his newest sports medicine facility with a treadmill pool from Middletown-based HydroWorx.
The Andrew's Institute, a $30 million, 143000 square-foot facility in Gulf Breeze, Fla. near Pensacola, will feature 3 HydroWorx pools when it opens in October, 2006.
The utilization of hydrotherapy enables the patient to rehab much quicker due to the buoyancy of water. The HydroWorx pools allow the best reliability and performance associated with hydrotherapy. HydroWorx truly stands out in the field.

Dr. James Andrews.
EXOS
Athlete's Performance, now EXOS, is home to a HydroWorx pool equipped with an underwater treadmill and resistance jets. This pool has be utilized time and time again for athletes preparing for competition as well as recovering from an injury, surgery or a tough workout. In episode two of "Pressure Points: The Evolution of an NFL Draft Pick," the HydroWorx pool is utilized by QB Aaron Murray who is recovering from an ACL tear and reconstructive knee surgery. Using aquatic therapy for an ACL recovery can greatly enhance the overall rehabilitation due to the reduction of stress on the athletes' joints as well as the safe and therapeutic environment that a warm water therapy pool can provide.
White Sulphur Springs
It's referred to as "America's Resort." They've been serving guests at the 11,000-acre campus in White Sulphur Springs, West Virginia since George Washington commanded the colonial armies. For 240 years the natural mineral springs and beautiful views have drawn the world's most celebrated guests, including 27 US Presidents. This renowned property offers 710 rooms, 33 suites, 10 lobbies, and 40 meeting rooms. The Greenbrier is a National Historic Landmark and a world-class resort.
In 2014 the resort purchased a HydroWorx 1200 Series pool. This aquatic addition serves as the state-of-the-art centerpiece in the new Greenbrier Sports Performance Center, designed to attract football teams for spring training. Since its inception, the Center has hosted the New Orleans Saints and the Houston Texans, both with multi-year contracts.
The HydroWorx 1200 was chosen by the Greenbrier staff for its fully adjustable treadmill floor, providing access without ladders or steps. The treadmill floor increases from 0 to 8.5 mph in 0.2 mph increments on a treadmill surface that is cushioned with a low-impact design and excellent traction for conditioning or rehabilitation.
"When the NFL teams come, they bring their whole training staff," stated Ryan McClung, site engineer for the Greenbrier. "We try to stay out of the area unless they need us, so we don't see much of what goes on with the pool, but the feedback has been excellent."
The Greenbrier is showing its athletic venue prowess in other ways, too. Under the direction of Jim Justice—Greenbrier owner, West Virginia Governor, and high school basketball coach—they've added not only a sports performance center, but also a tennis stadium and in 2011 their 104 year-old Old White TPC became a stop on the PGA Tour.
McClung continued, "We've done a lot in the area of sports performance and venues, and we'd like to do even more. It's all about the timing but there's been a real commitment to the athletic world."
Last fall, Serena and Venus Williams and others from the USTA battled at Center Court at Creekside, the resort's tennis venue, during an exhibition tournament. The majesty of this venue and patrons' tennis viewing experiences led architect Matt Rosetti to call the Greenbrier "one of the finest sporting resorts in the US."
University of Akron
The University of Akron football team will have another reason to celebrate in the Endzone, the aptly named player's facility, with the arrival of two premier fitness pools from HydroWorx. The high-tech exercise spas will enhance the progressive sports medicine operation that supports the Zips championship athletic program.
Athletic training is an integral component of sports medicine at the University of Akron. The recent transition to an on-campus football practice facility and new field house in the InfoCision Stadium demonstrates the University's commitment to student-athlete health care, safety and rapid rehabilitation. The selection of HydroWorx advanced technology Polar and ThermalPlunge pools serves to further elevate the high standards set by the Zips' athletic program. Massage hoses and spa jets integrated into the pools allow trainers to work with athletes in the removal of lactic acid. The ability to target specific trigger points also helps to repair muscle break down and accelerates full muscle recovery. The additional equipment and technology inside Akron's 3500-square foot sports medicine center positions the University as one of the most modern campuses in the Mid-Atlantic Conference and one of the best in the country.
The investment of $55 million into the InfoCision Stadium at Summa Field was part of a wider initiative at the University of Akron, called the "New Landscape for Learning" campus. This $300 million program included the construction of nine new buildings, extensive renovations and numerous capital improvements.
Auburn University
A HydroWorx 600 Series therapy pool, a PolarPlunge pool and two ThermalPlunge pools are now speeding recoveries and bolstering conditioning of Auburn 's athletes.
Auburn had originally installed a SwimEx therapy pool in their facility in 2001. Since then, having realized the advancements that have been made in hydrotherapy, the school was prompted to upgrade to the best water rehabilitation equipment available – the HydroWorx pools. The Auburn athletic department requested that HydroWorx extricate the original SwimEx pool and replace it with the more advanced HydroWorx technologies.
The Auburn Athletic Complex renovations are estimated to cost 1.7 million dollars and will be completed June 15th, 2008. Since opening in 1989, it has housed all of Auburn 's football operations. The comprehensive 88000 square foot facility includes the athletic training room, equipment room, and football locker room. It also houses the Jonathan Bell Lovelace Athletic Museum , the Auburn Athletics Hall of Fame, and the Rane Reception Room.
Palm Beach Institute of Sports Medicine
Palm Beach Institute of Sports Medicine has added the HydroWorx 500 Series exercise spa to expand the facility's comprehensive therapy services. With two treatment centers in Boca Raton, Florida, the Institute delivers a wide range of first-class options for its clientele including, physical therapy, sports performance therapy, full turn golf and accelerated post surgical recovery.
The 500 Series spa uniquely complements a broad spectrum of treatment choices for personal training and rehabilitation available at the Palm Beach Institute. A variable speed underwater treadmill and resistance jets cater to a range of individual needs, from reduced chronic back pain and arthritis management to enhanced cardiovascular performance. The adjustable massage hose integrated into the exercise spa delivers a focused deep tissue massage to accelerate recovery. Aquatic therapy offers athletes and traditional clientele additional advantages, including the ability to improve balance and core stabilization, as well as, establish a pain free routine often not possible in land-based exercises.
Valdosta State University
Valdosta State University, located in sunny South Georgia, is home to many exciting programs and opportunities. "Valdosta State University offers the best of both worlds- the extensive academic, cultural and social opportunities of a major university, and the small classes and close personal attention found at smaller institutions." Valdosta offers numerous ways and experiences for students to learn both in and out of the classroom with many study abroad programs for both graduate and undergraduates.
Another very significant and important part of this University is their athletic program. The Blazers recently became HydroWorx customers and shared a little bit about their exciting new addition to the facility. An article posted on their athletic page titled, "State of the Art HydroWorx Therapy Pool Installed This Week," highlights their newest feature of the program, an aquatic therapy pool.
"The Valdosta State Athletic Department is proud to announce the addition of a new, state-of-the-art HydroWorx therapy and rehabilitation pool which has been installed in the athletic training room of the Blazer Athletic Field house. Installation was completed this week (August 9th) and the VSU Athletic Training Staff plans to make use of the pool this fall."
The Blazers are now proud owners of a HydroWorx 750 Series pool which features an underwater treadmill, resistance therapy jet technology and an underwater video monitoring system. We are proud to be a part of the Blazer's athletic program.
Peak Performace Physical Therapy
It's no secret that the goal of any physical therapy clinic is to offer clients the most effective techniques and equipment, positive outcomes and great service. That's the reason New York based Peak Performance Physical Therapy chose to partner with HydroWorx to offer aquatic therapy options that fit the organization's philosophy of providing patients with top-notch service and exceptional outcomes.
Owner of Peak Performance Physical Therapy, Joseph Sullivan, PT, OCS, CSCS (an HSS Credentialed Advanced Hip Clinician) has been a driving force to get individuals healthier using water-based therapy practices. With his years of experience working with patients from elite athletes with sports injuries to adults recovering from surgical procedures, he feels certain that the HydroWorx therapy pool that Peak Performance offers is second to none in terms of features and benefits.
During an exclusive interview with our team members, Sullivan pointed out several of the unique aspects of the HydroWorx aquatic therapy pool that have assisted him and his colleagues in their mission to help clients:
The pool shape. Because the HydroWorx therapy pool is wider and longer than other therapy pools, it enables Peak Performance to more fully use the therapy space. The physical therapist are able to treat two patients simultaneously without either patient feeling "crowded". Owing to such increased efficiency, Peak Performance is becoming busier and busier, and the pool is reportedly utilized to capacity on a regular basis.
The treadmill. The floor of the HydroWorx pool has an embedded underwater treadmill which can be used to simulate land-based walking, jogging and running in a secure, forgiving aquatic atmosphere. Even patients who have weight-bearing limitations can safely use the underwater treadmill because up to 90 percent of their body weight can be offset by the buoyancy of the water.
The HydroWorx reputation. As Sullivan notes, many professional athletes speak highly about their experiences with HydroWorx products. This positive international reputation enables patients of Peak Performance to feel like they are getting the best-of-the-best when it comes to physical therapy and aquatic exercise. After all, if NFL stars and Olympians consistently turn to HydroWorx equipment to get back in the game or perform at their best, there's little doubt that it's a proven technology.
Utah State University
Those who have visited or are familiar with Utah State University are very aware of the beauty this campus holds. Located in Logan, Utah just 15 minutes away from two mountain ranges, this University is breathtaking. In addition to the landscape, building structure and geographic location, USU, provides "top-notch academics, nationally recognized research, Division I athletics and more than 200 student clubs and organizations- all on the oldest residential campus in the state."
Not only is it home to all of the above, but USU elected to construct one of the most advanced and effective collegiate training facilities in the country, including two HydroWorx pools (500 Series and 2000 Series pool) and a cold PlungePool.
In addition to this breathtaking athletic facility, Utah State is also home to the Utah State Research Lab where numerous studies of all subject matters have been conducted. One study in particular that was done in the Research Lab is titled, "Underwater Treadmill Exercise as a Potential Treatment for Adults with Osteoarthritis", that was conducted and performed by William M. Denning, Eadric Bressel, and Dennis G. Dolny.
This study, conducted at Utah State University, examined the levels of perceived pain and mobility in osteoarthritis patients after using underwater and traditional land treadmills exercise. Nineteen patients, diagnosed with osteoarthritis in the knee, hip or ankle participated in the study. Each individual performed three consecutive exercise sessions on a HydroWorx treadmill and a land treadmill. Each exercise period was 20 minutes and consisted of four- five minute stages. Joint pain was measured immediately before and after each exercise session.
At the end of the study, patients diagnosed with osteoarthritis may receive the same aerobic conditioning with less joint pain and greater improvements in mobility by utilizing underwater treadmills as opposed to land treadmills. Patients also revealed that pain was 140% greater during land treadmill exercise sessions than during underwater treadmill exercise sessions.
West Bromwich Albion
More and more we are beginning to see highly competitive athletic programs turning to new innovative technology and equipment for training. The West Bromwich Club is included in the elite list of athletic organizations that have added the HydroWorx technology to their facilities. Steven Reid, star defender for West Bromwich, unfortunately suffered a minor hamstring injury in a game a few weeks ago resulting in the need for HydroWorx aquatic therapy. Reid, a huge advocate for hydrotherapy, is no stranger to the pool's healing powers. He has utilized the pool previously for rehabilitation as well as fitness training.
Head of Medical Services for the team, Mark Gilett, discusses why aquatic therapy is beneficial for their program. He shares with BBC Sports that for players, such as Steven Reid, who have small muscle injuries, the pool allows players to remain mobile and active unlike waiting a day or two to begin land rehabilitation. Reid made use of the pool as soon as he suffered the hamstring injury, allowing him to get back to the playing field faster.
Texas Christian University
The HydroWorx 3500 Series pool is being used extensively at Texas Christian University. Texas Christian University, founded in 1873 and home to almost 10,000 students, is located in Fort Worth, TX. The TCU Horned Frogs officially became a member of the Big 12 in 2012 and is one of just 10 football programs nationally to reach a bowl game in 14 of the last 15 seasons. The new training room that opened in the south end of the Amon G. Carter Stadium in 2012 saw some exciting new improvements, including the 3500 Series pool along with a PolarPlunge and ThermalPlunge pool. Combined with a pristine setting, these pools give TCU an impressive hydrotherapy room for their athletes.
The HydroWorx pools have become the most widely used modality in our facility. Having the dual independent treadmills in the rehab pool along with the additional workout space we can perform therapy on multiple athletes at different levels of rehab at one time. And the plunge pools are a critical tool in our daily pre and post-practice treatment plans. This combination of elite pools from HydroWorx allows our staff to provide our athletes with the gold standard of hydrotherapy. HydroWorx has made a difference at TCU.

David Gable, Head Athletic Trainer, Texas Christian University
Colorado State University
Colorado State University in Fort Collins, CO was originally founded as the "Colorado Agricultural College" in 1870 and is now among the nation's leading research universities.
Not only does this school have a great deal to offer in terms of academics and extra-curricular activities, but it is located in an amazing part of the country. CSU sits on nearly 5,000 acres of land that houses the main campus, foothills campus, agricultural campus, and mountain campus. Additionally, CSU has 4,600 acres for research centers and state forest services stations.
Also among this impressive mix of buildings is their astounding football facility with elite features like the Market Hall of champions, players' lounge, barbershop, and state-of-the-art hydrotherapy room.
Their hydrotherapy room features multiple plunge pools for hot and cold water therapy and a 2000 underwater treadmill.
See how their hydrotherapy room fits into the context of their entire building in this facility fly-through:
"There's a lot more space for trainers to work with athletes rehabilitating injuries, more tables for trainers to tape ankles before practices or for athletes to lie on afterward while icing sore knees…
But the biggest improvement is the new hydrotherapy room, which includes a pool with a treadmill across the bottom with a height adjustment that allows trainers to put athletes in the water for rehab exercises at various depths.

Terry DeZeeuw, Senior Associate Athletic Director for Health and Performance
…We can put somebody at any specified depth (in the pool), do 50 percent weight-bearing, 75 percent, 25 percent weight-bearing exercises, agilities, and plyometrics at a very early stage in the recovery process, so we can start functional activity from a rehab standpoint a lot sooner," says Terry DeZeeuw, Senior Associate Athletic Director for Health and Performance.
Creighton University
Athletic facilities are becoming bigger and filled with more amenities all the time. The new Championship Center at Creighton University, is no exception.
Athletic Director Bruce Rasmussen says that for "student-athletes, recruits, parents, and coaches, this facility provides Creighton with a 'wow factor' to help recruit, retain, develop, and graduate students." How could it not be with the new state-of-the-art amenities and features within the new building?
A few weeks ago the facility was opened to the media for a comprehensive tour. The first stop was the main atrium with a wall of 12 TVs, which can be configured many different ways. Another stop on the tour was the video and lecture room for coaches and student-athletes to watch game film as well as host team activities. The Creighton Championship Center also contains conference rooms, suites for coaches, locker rooms, players' lounge and the training center.
The locker room boasts a 94″ touch screen TV with the players' lounge right next door. The lounge features seven large TVs as well a nutrition station and gaming area. These athletes truly have everything they could ever want or need in this new athletic building.
But wait, there's more! The Wayne and Eileen Ryan Athletic Training Center sits right next to the practice courts and the locker room. The training center features a hydrotherapy room which includes a HydroWorx 2000 Series pool with a ColdPlunge and ThermalPlunge pool, all utilized for rehabilitation and recovery.
The Creighton University Athletic Medicine Staff is excited about the opportunity to utilize HydroWorx pools as a key component of the new Championship Center. HydroWorx will give us the opportunity to provide more dynamic rehabilitation and treatment for our athletes. They will be in a position to functionally train post-injury in a quicker time frame and the underwater treadmill will also allow them to condition in a low-impact environment. It will be a valuable asset to our student-athletes and medical team.

Benjamin McNair, Head Athletic Trainer of Creighton University
Their brand new HydroWorx therapy pool is already reaping benefits for a sophomore point guard. The athlete dislocated his right kneecap in the game against Xavier on March 1st. "I'm an advocate [referring to the underwater treadmill]," he said after undergoing his first on-court workout this week. "I love it. I don't know if I was the first person here to use it, but I definitely was one of the first two or three." He has been able to do a lot more in the pool than he could do on land which has been helping to accelerate his recovery time frame. Although the whole rehabilitation time frame seems lengthy, he has been making great progress over the past four months. His first on-court activity (last week) consisted of some agility work as well as light shooting drills, all with McNair supervising.
Butler University
When a re-do was needed to Hinkle Fieldhouse—crucial upgrades to seating, locker rooms, training facilities and rehab equipment—invoking "change" without losing "charm" was key. Since the Hinkle is a registered historic site, designers were left to work within the framework of the existing structure.
"To keep within the preservation laws, we had to work within the walls we had," said Galloy, former Bulldog linebacker who returned to his alma mater in 2010 after a stint at San Diego State University, "but building out a new sports medicine facility and equipping it with aquatic therapy were primary objectives.
"We took what was the old pool wing—built in about 1920 and closed down in 2002—and created roughly 4,500 square feet for a new weight room, study rooms, offices and a state-of-the-art sports medicine facility. I really advocated for not only a warm water therapy pool with treadmill and jets, but also a cold plunge pool."
The crowning features of the remodeled facility are the new HydroWorx 750 Series therapy pool with underwater treadmill and resistance therapy jet technology and a HydroWorx PolarPlunge pool, both offering student athletes a more advance recovery.
The addition of the pools will be a boost for the athletic department, as a recruiting tool and as an aide to player comfort.
"Not only are the HydroWorx pools great for rehabbing our players, but they absolutely serve as a recruiting tool as well," continued Galloy. "Now, we bring all prospective student-athletes through the sports medicine facility, showing the athletes that we're serious about keeping them healthy and that if they do sustain an injury, we've got all of these resources to get them back as quickly, safely, and in the best shape possible."
Galloy oversees all the university's sports medicine, but works directly with the athletes participating in golf, football, and men's basketball—a program that's seen tremendous success in recent years, making the NCAA tournament four of the last six years and competing in the finals twice, a remarkable feat for a school of roughly 4,000 students. Butler lost a buzzer-beater to Duke in the 2010 NCAA Finals which, some say, led to the 41% increase in freshmen applications the next fall.
"We compete with in-state basketball powerhouses like Indiana, Purdue, and Notre Dame for the best athletes," continued Galloy. "We want these guys to know we're investing in their health and that, when they choose Butler, they will receive care equal to or better than any other university. Strong aquatic therapy programs are becoming the 'norm' at schools in-state and across the country."
Athletes and fans have enjoyed the Hinkle Fiedlhouse for nearly 100 years. With a firm commitment to technology, training, and health, the historic arena is sure to delight its users—both athletes and fans—for many years to come.
Baylor University
Chartered in 1845 by the Republic of Texas, Baylor University was one of the first educational institutions west of the Mississippi. True to its courageous beginnings, Baylor continues to blaze the trail of advancement, teaming up with HydroWorx—whose therapy pools dot the campus—to offer their student-athletes the best in athletic care and treatment.
"We use the pools for all athletes—both indoor and outdoor," stated Mike Sims, Baylor's Head Athletic Trainer and Assistant Athletic Director. "Our training and conditioning staff really encourages the athletes to get in the pools. On especially hot days, we actually require pool use from our football players. We've found the cool water (of the PolarPlunge, kept at a cool 50 degrees) helps tremendously with muscle recovery times."
Sims—in his 34th year of service to Baylor's student athletes— places top priority on providing the Bears with the best, most technologically advanced equipment. Two side-by-side HydroWorx 1200 Series pools and plunge pools augment training efforts in The Simpson Center (a multi-sport facility). The pool's moveable floors and resistance jets for low-impact, pain-free conditioning provide trainers a valuable tool to improve their athletes' performances. Running against the resistance of the water enables athletes to build power, using water's property of viscosity to achieve a greater workout in a shorter period of time without the joint stress produced on land. Additionally, the hot and cold plunge pools create the ultimate muscle recovery and revitalization environment.
"The plunge pools have really helped us with managing our overuse problems," continued Sims. "With athletes dedicated to working out year-round now—doing the same sport, the same movement over and over—injuries are inevitable. The pools are a great recovery tool, whether it's an overuse problem or an acute injury.
"Initially it takes some cajoling to get the athletes into that cold water but then they start to see the overwhelming benefits and even wait in line or call on days off to get into the pool. They see the benefits and they feel better."
Baylor's newly-completed McLane Stadium—boasting two more plunge pools—provides an eye-popping view for motorists along I-35. At the stadium, athletes will use the Thermal and Polar Plunges to reduce core temperatures, revitalize muscle, and ease the aches on game days.
"There are many products in the marketplace to choose from, all of which have their advantages. We choose the HydroWorx pools simply for the quality of the product. They are very durable and help us achieve exceptional results," added Sims.
We are proud to be a part of so many wonderful colleges and universities, such as Baylor University, and wish you all luck in your current and upcoming seasons!
Georgia State University
Currently, the Division 1 University, located in Atlanta, GA, offers 16 competitive teams on which students can play. From football to tennis, the institution's diversity of athletics means one thing: plenty of young people require training, conditioning and rehabilitation throughout the school year. Many of these athletes aspire to take their games to the professional level. Even if they don't, the HydroWorx pool can come into play for any athlete recovering from injuries or just trying to cross-train to improve performance.
Take the case of the 350-pound offensive lineman who had foot surgery. Once the athlete receives the approval from his doctor to begin rehabilitation, he will be in the pool. At that point, Murphy and his team will help the football player get back his range of motion and normalize his gait. And thanks to the buoyancy of the water, those 350 pounds will feel as little as 70 pounds depending upon the water level.
A Modern Facility with Industrial Ambiance
The HydroWorx pools are housed in Georgia State University's football facility sports medicine area, an old industrial building with an urban loft look. The open ceilings and polished concrete floors create a modern, yet classic, ambiance that's different from the architecture on the rest of the campus.
The therapy pool compliments the style of the sports medicine facility as it creates a comfortable environment in which athletes can walk, run, jog and rehab. As Murphy explains, he's found the pools to be useful for a wide range of recovery purposes, from athletes with shoulder trauma to those who have had ACL tears.
Emotional and Physical Healing for Superior Performance
Beyond the purposes of injury rehab and extra conditioning, their pools also play a psychological role, especially for athletes who cannot successfully practice on land. The ability to move in the water when they are prohibited to do so on land, provides the athletes with the boost they need to stay on track and get back on the court, field or gridiron.
We at HydroWorx congratulate, thank and support Georgia State University, and encourage everyone to celebrate the successes of their athletes and staff members.
University of Alabama
The University of Alabama Football team and their fellow students start to slowly flood Colleges and Universities throughout the nation they are greeted with new policies and guidelines to help prevent the spread of illness. Students have found campuses looking a little different this year as the "new normal" around campus begins to develop. While we recognize that sports seasons look a little different this year, we are happy to hear that many of our customers are starting their pools back up in some capacity.
The University of Alabama recently posted a behind-the-scenes look at their brand new hydrotherapy room on Twitter. This video was one of several in a series of behind-the-scenes looks at the new athletic facilities around campus.
Jeff Allen. Associate AD, Sports Medicine and Jeremy Gsell, Director of Football Rehabilitation shared the new aquatic therapy space that the University of Alabama Football renovated which includes the HydroWorx 3500i and the HydroWorx 1200. This new pool room was part of a $600 million campus-wide project and initiative to update the athletic facilities.
The aquatic therapy room design at this facility is stunning and extremely functional because it includes glass walls and doors surrounding the aquatic therapy room which helps:
Jeremy and his training staff have sightlines on players who are in the training and conditioning room even if the staff is in the aquatics room
The aquatic room feels more open and inviting because it is not completely closed off from its surroundings
The video showcases natural light coming into the pool room which can make the room feel like its own oasis
"We chose HydroWorx technology for our new facility because we wanted a space to provide the best hydrotherapy rehabilitation to multiple athletes at the same time. The combination of technology in these two pools provides that for us. We feel that the ease of use, access, and immediate feedback is something we could only get from HydroWorx."
We know that utilizing our hydrotherapy systems to treat athletes for soreness and injuries is important and extremely beneficial for our customers. Much like everything else, guidelines and policies may be put in place to increase safety and stop the spread of the virus in those treatment areas. We know there are many schools safely returning athletes to school. Athletes and athletic trainers can wear masks in and around the pools depending on proximity to others, level of exertion and school policy.
Fort Mercy Scott
The program at Fort Mercy Scott consists of physical therapy patients who can benefit from aquatic therapy, as well as fitness members who are able to use the underwater treadmill as a part of their membership. The versatility of the product means that it can be used for an aging adult recovering from knee surgery to an elite athlete such as Devonte Wilson, who uses it for strength and conditioning benefits.
Athletes, such as Devonte, with full mobility can run at 10mph with resistance jets to get an extremely challenging workout without the impact on their joints that would occur on land. Yet, some individuals use aquatic exercise just to gain the benefits of the warm water, hydrostatic pressure and buoyancy or even a deep tissue massage.
Take, for instance, this amazing story from Mercy Health for Life of a patient who was paralyzed in a roadside accident in 2002. By utilizing this technology, Pechone Stepps is finding ways to improve his walking skills despite being confined to a wheelchair on land.
The staff at Mercy Fort Scott has discovered that although other facilities may offer aquatic therapy or aquatics in some capacity, the advantage really comes with having the added technology of the underwater treadmill and the privacy and individualized care in a comfortable environment rather than in a full class setting.
University of Maine
As part of a University of Maine exercise science class, an undergraduate, two graduate students, and Professor Robert Lehnnhard, studied the cardiovascular conditioning, as well as the low-impact rehabilitation that an underwater treadmill can provide.
The study involved 12 athletes from the University of Maine hockey team. Data regarding oxygen consumption, lactic acid buildup, heart rate, and calories consumed was collected.
Professor Robert Lehnhard said, "If you go to the gym or the rec center and get on a stationary bike, or if you get on an elliptical machine and put in your body weight, they'll tell you how hard you've worked. With this new underwater treadmill, those types of data don't exist. Nobody had ever determined the difference in metabolic impact from two miles per hour to three miles per hour. That's an important part of rehabilitation."
When athletes rehab, they want to get back to their previous level of performance without losing cardiovascular strength and endurance.  Lower limb injuries are among the toughest.  The underwater treadmill lowers impact on both joints and muscles.
Lehnhard feels that nonathletes could benefit the most from underwater treadmills.  He says that these people are not accustomed to repeated impact on their joints.  The adjustable jets and current available in these innovative pieces of equipment, allow the normal person to experience just that.
University of South Dakota
Vermillion, South Dakota lies atop a bluff in the far corner of the state where Iowa, Nebraska, and South Dakota converge. It's known for friendliness, its rich Native-American history, and as the home of the University of South Dakota (Go Coyotes!). We know it best for its collegiate hydrotherapy program.
The leaders of this emerging program are Bruce Fischbach, head athletic trainer/assistant athletic director and Kylea Sheley, athletic trainer and aquatic guru.
Fischbach has been running the athletic training department for 32 years and he's seen their staff more than quadruple in size. Two years ago they moved into the state-of-the-art in the Sanford Athletic Training Room in the Sanford Coyote Sports Center, featuring three HydroWorx pools. But it's not just their modalities that will propel this program. These athletic trainers are passionate about water.
"Water has always been important here. When I started at USD, we had two old-school whirlpools. Every morning I would fill them up, one hot, one cold. A few years ago it came time to design and build the Sanford Orthopedics Sports Medicine Center (SOSMC) and we wanted to really expand our use of hydrotherapy."
ground-breaking aspect of the Coyotes' training program is its involvement with the university's physical therapy and occupational therapy school. When the SOSMC was built two years ago, the physical therapy (PT) program vacated its former home in USD's Sanford School of Medicine to become neighbors, modality partners and collaborators with the athletic training department.
Athletic trainer and recipient of the 2018 Harry E. Settles Contributor of the Year, Kylea Sheley, appreciates the cooperation between the PT students, their faculty and the athletic training department.
"The PT students and staff have technology that we don't have access to and on the reverse side, we have the hydrotherapy capabilities. It's great for their neuro patients to utilize the pool and see some variety in treatment modalities. The warm water relaxes their muscle tissue and the underwater treadmill allows them some positive strength gains."
Even more than physical benefits are the mental or emotional gains achieved for both the student-athletes and clinic patients, believes Sheley. She's seen the interaction between student-athletes and clinic patients as a powerful life-building tool for both. She says the students gain great appreciation for the life-long challenges that some of their peers may experience; the clinic patients love rubbing shoulders with the student-athletes, many of whom provide significant entertainment for Vermillion, South Dakota's 10,000 'Yote faithfuls.
Because of the additional space—both inside the new pools and in the hydrotherapy room itself–student-athletes no longer wait for an acute injury to utilize the pools.
A favorite example of how they've seen water change lives comes from a member of the women's basketball team. A player with no less than six previous knee surgeries approached her final surgery—addressing an OCD lesion—just after the HydroWorx 2000 arrived in the training room.
"Before she was fully weight-bearing, we put her in the pool, very cognizant to protect that repair. She soon began running in the water, getting her legs in shape and building cardio endurance. When we cleared her to go full weight-bearing she was ready to go and could do those functional activities with the team. She had confidence. We would have been in a very different situation without the underwater treadmill."
This student-athlete began the season in the best shape of her life, Sheley explained, and went on to win several post-season all-conference accolades.
Chicago Cubs
After 100 years at Wrigley Field, in 2016 the Cubs built a new state-of-the-art clubhouse with cutting edge technology across the board. One key feature, integral for rehabilitating injured players and providing conditioning opportunities, is their remodeled aquatic therapy space featuring a HydroWorx 2000 Series underwater treadmill therapy pool with resistance jets, PolarPlunge pool and ThermalPlunge pool.
In an exclusive interview with Tyler Dailey of Chicago-based W-T Engineering, who led the Cubs' renovation project and worked tirelessly with the architects from VOA, as well as HydroWorx technicians, he pointed out some key elements to the clubhouse redesign. He also gave a true insider's look at what it takes to fortify a winning MLB team and prepare them for great achievements.
Contact Us
For more information or to get a HydroWorx product for your facility, contact us today!