HydroWorx is trusted by some of the top athletic teams and facilities across the globe. Find out which teams trust HydroWorx to care for their athletes and learn more about the projects we have completed below.
Table of Contents (Jump To The Content You Want):
University Of Kentucky
Athletes at the University of Kentucky are enjoying the same training room advantages that a growing number of elite professional and amateur athletes enjoy. The university installed a high-tech pool with an underwater treadmill built by HydroWorx as part of their $27.5 million, 92,300 square foot practice facility expansion to Memorial Coliseum.
Since 1998, HydroWorx has been solidifying its reputation among some of the nation's top athletic trainers as a force in the aquatic therapy arena. The University of Kentucky, despite being the winningest program in college basketball history, believed they are falling behind when it came to practice facilities. "We must have the vision and commitment to maintain our status as the best. Right now, we are behind with respect to practice facilities. This facility will provide first class space for both basketball programs, including a state-of-the-art training room, weight room, film room and administrative offices."
The HydroWorx 2000, one of three commercial underwater treadmill pool models installed at the facility, allows injured athletes to duplicate dry-land running or walking form but at a fraction of their real weight. In the near weightless environment of an underwater treadmill, an injured athlete can walk or run without over-taxing the joint. Other features, such as an underwater video camera and computer monitors allow trainers to easily and accurately diagnose problems and document a patient's path toward recovery. The result is typically a speedier, more complete recovery from injury or surgery. That is a bottom bottom-line issue and it is precisely why growing numbers of pro sports teams, universities, and even the U.S. Navy Seals, have invested in HydroWorx pools.
Michael Johnson Performance Center

It's the perfect marriage of technology and training: Michael Johnson Performance Center (MJP) and the HydroWorx 500 Series performance and rehab pool complete with underwater treadmill.
Johnson, the American sprinter who stunned the world at the 1992, 1996 and 2000 Olympics, has embraced the use of this innovative athletic equipment to help patrons of his world-class facility get stronger after injuries, safely avoid overuse strains and effectively increase their abilities.
"Our objective is to help athletes at any level achieve their full potential. It's important for us to provide as many resources as possible to be the best for our athletes… and we need the best equipment and tools to do that. HydroWorx is known for its quality and innovation."

Michael Johnson
At MJP, athletes focus on increasing their athleticism (e.g., speed, agility, strength, power) via nutrition, injury rehab, injury prevention and mental strength programs. By providing the HydroWorx underwater treadmill as a method of recovery and cross-training, Johnson and his team of experts can promise athletes exceptional workouts without the physical stressors of land-based running or sprinting. As Johnson notes, "When our athletes get a session in the HydroWorx, they feel fresher – it's a welcome change for them."
Lance Walker, CSCS, PT, Director of Performance at MJP, sees the HydroWorx as the next generation of aquatic therapy and training. First introduced to aquatic therapy when therapists were only using what he deems "old-school" shallow water hydrotherapy methods, Walker has seen how the multi-depth HydroWorx has changed the face of active recovery strategies and re-generation techniques.
"HydroWorx has become a key piece of our methodology. We're able to get athletes to do some power training they might not otherwise be able to do, and helping to expedite inter-session recoveries. The strategic use of HydroWorx has, in some cases, rewritten the progression for some athletes. [They can] do things in the pool that they couldn't do on land. What we've seen is a quicker return to function."

Lance Walker
For their part, HydroWorx is thrilled to be an integral piece of MJP's programming. "Partnering with Michael Johnson Performance Center will allow many more athletes to experience the unique benefits of the HydroWorx underwater treadmill," says Anson Flake, CEO, HydroWorx. "We're pleased to have this opportunity to help MJP achieve its objectives through advanced rehabilitation and training technologies."
Since 2001, Johnson and MJP have prepared some of the top NFL draft prospects for the NFL combine. NFL players, including Pro Bowlers and first round draft picks choose MJP each off-season to improve their speed, power, agility and to raise their game.
Aston Villa Football Club

Premier League football club Aston Villa has joined Manchester United and Chelsea FC in utilizing HydroWorx aquatic therapy pools in its new, state of the art training facility. HydroWorx pools are used worldwide by physiotherapists, athletic trainers and sports performance coaches to help their athletes recover quickly from injuries and for conditioning with low impact.
Former Aston Villa Operations Director, Steve Stride, said in a recent interview (with www.av.co.uk) that the facilities at their new Bodymoor Health Training Ground, "Will provide the very best players with everything they could wish for at a Premiership football club".
Aston Villa purchased three HydroWorx units: the HydroWorx 2000, the Thermal Plunge and the Polar Plunge. HydroWorx technology combines the well-known therapeutic effects of warm water with a built-in, underwater treadmill that allows athletes to walk or run naturally just as they would on dry land. The variable speed underwater treadmill, directional water jet system and underwater video feedback allow users to exercise at various intensities with less stress on the joints. The end result is speedier, more effective rehabilitation.
One of the founding clubs of the Football League in 1888, Aston Villa was purchased in 2006 by Cleveland Browns owner Randy Lerner (the Browns also utilize a HydroWorx pool in their facility). With Lerner's help, the £13 million Bodymoor Health Training Ground officially opened July 5th, just in time for the start of the new season.
Bradley Athletic Facility
Bradley's new athletic facility a mix of old school and state of the art. Bradley's state-of-the-art $50 million athletics palace is, at once, new and old school.
New school technology and comfort coupled with strong nods toward old school designs, traditions and history. It's a formula that's worked well in recent years with modern sports stadiums, particularly baseball parks.
And it should be a big hit with fans of the Braves who may miss the aura of Robertson Memorial Field House, but prefer to forget how drafty/sweltering the old barn usually was. Not to mention its hard, backless bleachers and impossible parking.
Bradley officials showed off their new facility to the media, walking through most of 165000 square footage of state-of-the-art eye candy that should vault BU athletics forward exponentially.
"There are a lot of different touches throughout the building that give nods to the Field House," said BU athletics director Michael Cross. "The top of the building has a domelike structure that reflects the Field House. There's the archway design in the atrium (and actual hardwood sections from the Field House floor laid in different parts of the new building)."
"Heritage Hall (a museum-like room that celebrates the school's athletic history, complete with Field House artifacts). The lettering font in the entry facade and other places is of the Field House.
"All of these pieces together make this a Bradley facility. It honors Bradley and represents Bradley in a first-class matter."
Added Shelley Epstein, associate vice president for communications: "The outside look is very similar to the (newly constructed) Markin Center and (under construction) Alumni Center with that graystone academic look."
"When you walk into this facility for the first time and have an opportunity to see what's been built here, the word that I would use to describe it is breathtaking," Cross said.
The 4,200-seat arena, despite astoundingly clear video boards and a well-balanced color scheme, is too small to be considered grandiose in and of itself. It's the less visible things that give this building its modernistic feel.
Like the well-appointed player lounges and video viewing rooms for the basketball and volleyball teams. And the video cameras installed in the men's basketball practice wing (controlled by remotes in the video editing room down the hall) that can make a just-completed play accessible on a coach's nearby laptop in seconds.
Then there's the cutting-edge underwater treadmill in the training room. And the training room itself, three times the size of its Haussler Hall forerunner.
A large glass-enclosed Braves Club room overlooks the arena court on one corner while a similarly enclosed room with a patio overlook of Main Street encompasses another corner.
The latter, complete with video capability, will be used for pre-game functions, meetings or receptions.
"The facility is a splendid space that will serve as a focal point for this campus and this community for decades to come," Cross said. "It's on par with anything that's out there nationally. We've been given a tremendous gift and now we have an obligation to use it to its full potential."
University Of Minnesota
For the Golden Gophers the 2017 Spring Football Season marked the last year without an onsite advanced facility that includes hydrotherapy products. Thanks to intense fundraising and critical knowledge of aquatic therapy's value, this top-league school embarked on an exciting project known as the Athletes Village.
The University of Minnesota's Athletes Village includes spaces for student athletes from across the educational institute's rosters. Football players, basketballers, cross country and track and field athletes have homes where they can not only train, but get incredible recuperation and rehab offerings without leaving campus.
Currently, aquatics plays a huge role for the Gophers' hockey team. Jeff Winslow, their men's ice hockey Associate Athletic Trainer, has been a fan of the teams since he was young. Now, he works with his players to keep them in tiptop shape for practices and play throughout the year. One of the attributes his center has is HydroWorx Polar Plunge and ThermalPlunge pools. These products are available within their renovated hockey-focused facility and are utilized daily by players for a variety of purposes.
"Several players come in before practice as part of our warming-up protocol; they really enjoy getting their extremities into the tubs and using the jet massage hoses to warm up whatever body parts they feel need work. After practice, [about] half the team gets into the cold tub… they love using the tubs for recovery, aside from injury, on the weekends, especially! We play games on Friday and Saturday; Sunday is reserved for treatments."

Jeff Winsolw
After seeing how the HydroWorx hydrotherapy Plunge units and the 750 Series have been key components in keeping hockey players fresh and healthy, the University is invested in a HydroWorx 2000 Series pool for the Athletes Village. The HydroWorx 2000 is equipped with a full moveable underwater treadmill floor, resistance jets, support bars and massage capabilities. Although the HydroWorx 2000 will be primarily used by the Gophers' football program, it's going to be available for physical and athletic therapy.
Notes Winslow, "I plan on using it [the HydroWorx 2000] when I have rehab projects. The fact that you can adjust the weight load, combined with the buoyancy is going to provide great middle ground when trying to help someone back from an injury or extremity surgery."
Fortius

Winter athletes do some crazy stuff, right? One hundred and eighty feet of slopestyle air, freeriding 96 MPH down an icy mountain, and g-forces so strong you can't raise your head? Broken wrists. Broken legs. Smashed ribs. That's pretty much the norm. Yet top winter athletes somehow find the moxie to rehab, then hop back on their gear of choice and try again.
Helping in this critical rehab effort—you might even say a hotbed for Canada's top athlete rehab—is Fortius Sport and Health in Burnaby, British Columbia. The $61 million facility includes a HydroWorx 2000 Series pool with an underwater treadmill, the first in western Canada.
Fortius is inspired by the notion that sport and exercise medicine can play a leadership role not only in injury prevention and injury management, but preventative approaches to true health care. It's an athlete development centre and was founded by leading names in the sports and exercise medicine world, who work together as a fully integrated team. The vision from the beginning was to build a comprehensive athlete development, sport medicine, science and training centre that would offer everything athletes and other individuals needed to optimize their performance, including the top of the line aquatic modality.
NFL Teams: Atlanta Falcons, Baltimore Ravens, & Las Vegas Raiders
In 2019 The Atlanta Falcons, the Baltimore Ravens and the Las Vegas Raiders made it 27 of 32 professional football teams in the U.S. who rely on HydroWorx aquatic therapy pools to care for their elite athletes.
"Our customers depend on our hydrotherapy solutions to accelerate healing," said Timothy McCarthy, Chief Executive Officer for HydroWorx. "Whether it's for routine conditioning or rehabilitation, sports medicine professionals rely on our advanced technologies and unique use of water to keep their players healthy in order to achieve their potential and get them back in the game."
"We welcome these three new teams to our professional football family. For the growing lineup of all our professional and college sports customers, it's really the quality and speed of recovery and rehabilitation that makes HydroWorx the market leader for [sports] aquatic therapy solutions."

Nicholas DiNubile, M.D. – HydroWorx Board Member & Former 76ers Team Physician
Success for hydrotherapy requires a detailed understanding of team needs and objectives. At the outset and over the long term HydroWorx engages with each team to identify the best solutions for thermal, polar and other water-based therapies – and the best fit for training facilities, stadium and other installations.
"In addition to other products, all these teams selected our 2000 Series for its advanced performance – variable water depth, moveable floor, an 8'x12' underwater treadmill, resistance jet technology and computer and camera systems," said McCarthy. "While the Raiders and Falcons were new stadiums and/or training facilities, the Ravens actually upgraded to HydroWorx technology solutions from a different hydrotherapy provider's product."
The Philadelphia Eagles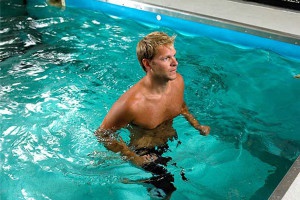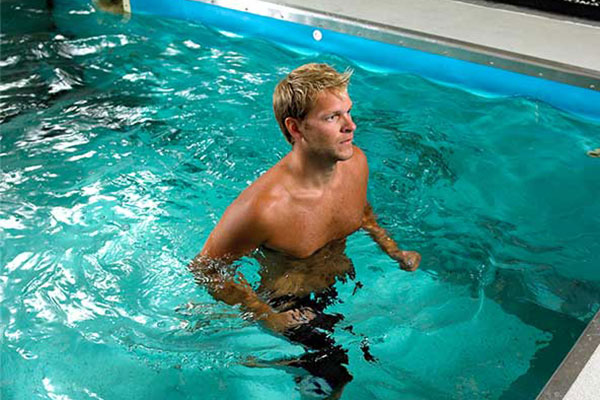 A large percentage of football training rooms use HydroWorx products in their recovery and rehab efforts. Rick Burkholder, ATC, renowned Kansas City Chiefs athletic trainer and former Eagles head athletic trainer, utilized the Eagles' HydroWorx 2000 almost exclusively as he developed an aggressive rehabilitation program for wide receiver Terrell Owens to rehab his surgically-repaired ankle in seven weeks, then return for the championship in 2005. Quarterback Donovan McNabb also anchored his 2002 fractured fibula rehab in the unweighted environment of the same pool.
"Our large athletes need to perform sports-specific activities in unweighted or semi-weighted conditions. HydroWorx makes this happen."

Rick Burkholder, Former Eagles Head Athletic Trainer
"The HydroWorx pools without a doubt are the most versatile pieces of equipment that we have in our training room," stated another athletic trainer. "The applications are virtually limitless."
C.F. Pachuca Football
The addition of new customer C.F Pachuca extends HydroWorx's impressive reach into international markets, one that includes first-class athletic facilities across Europe, Canada and Australia. Mexico's national champion football team selected HydroWorx aquatic unit for its superior training and rehabilitation therapy.
The 500 Series conditioning and therapy pool chosen by the program will accelerate muscle recovery and increase fitness levels with the goal of getting players off the sidelines and back onto the field in top physical condition. A variable-speed underwater treadmill, moveable floor, and resistance jets to supplement competitive training, are all part of the comprehensive 500 Series package.
Over the last decade, the C.F. Pachuca club boasts one of the most successful football records in Mexico, winning five national championships as well as a multitude of other titles. Based in Pachuca, Hidalgo, the club is one of many prominent sports teams incorporating HydroWorx pools into their athletic training program. England's Manchester United FC and Chelsea FC are just a few examples of premier clubs that have selected HydroWorx aqua therapy for their world-class athletes. The delivery of the unit in June 2009 marks the second HydroWorx pool to arrive in Mexico.
The Andrews Institute

Dr. James R. Andrews, widely regarded as one of the top orthopedic and sports medicine authorities in the world will equip his newest sports medicine facility with a treadmill pool from HydroWorx.
The Andrews Institute, a $30 million, 143000 square-foot facility in Gulf Breeze, Florida incorporates three HydroWorx pools. The main feature is a HydroWorx 2000 rehabilitation and training pool.
The institute is a joint venture between Andrews and Baptist Health Care and is designed to be a world-class research and treatment center for orthopedics and sports medicine.
"HydroWorx pools will be utilized at the new Andrews Institute to accelerate the rehabilitation process for our athletes and patients following surgery and provide low-impact sports performance training. The utilization of hydrotherapy enables the athlete to rehab much quicker due to the buoyancy of water. The HydroWorx pools allow the best reliability and performance associated with hydrotherapy. HydroWorx truly stands out in the field."

Dr. James R. Andrews
Dr. Andrews is world-renowned in orthopedics and sports medicine. His work with high-profile athletes like Roger Clemens, John Smoltz, and Jack Nicklaus is well known. A founding member of the Alabama Sports Medicine and Orthopedic Center and the American Sports Medicine Institute in Birmingham, Alabama, Andrews is also a medical advisor to several universities and professional athletic programs.
Manchester United

Manchester United, in the UK, is one of the most popular and successful sports teams in the world. Manchester United has been a formalized team for 136 years and during that time they have collected 62 trophies, including a record 20 English League titles. The 20th English League title happened at the close of the 2012-2013 season. HydroWorx happened to be visiting the club around this time and sat down with John Davin, one of the club's physiotherapists, the day after the team secured their 20th title.
The HydroWorx aquatic therapy pool with underwater treadmill is frequently used by members of the Manchester United club. Davin shares that he tries to get athletes in the water as soon as possible following an injury. This allows for an increased range of motion and decreased swelling, and it allows the athletes to correct their gait imperfections immediately. This is important as it prevents the athletes from overcompensating for their injury and subsequently developing a limp. Davin adds that working in an aquatic environment is beneficial for his athletes because walking on the underwater treadmill mimics the same gait pattern used when walking on land, but without the added pressure on the joints. Additionally, swelling is often reduced as a result of the water's natural hydrostatic pressure.
"We have noticed that if we spend a good amount of time, 30 to 40 minutes of work in the water, any swollen knees or ankles have significantly reduced when we take them out again."

John Davin
In addition to using their HydroWorx pool for rehabilitation and therapy, the team also uses the pool for conditioning and training workouts. Because of water's added resistance, the athletes are able to get an intense cardiovascular workout in the pool while being unloaded.
Minnesota Wild
Innovation in athletic training, design and municipal use. That's what we see as we take a look at the brand-new practice facility for the Minnesota Wild in Saint Paul, Minnesota.
In the spring of 2017, the Saint Paul Port Authority and partners broke ground to renovate a former Macy's department store into a six-level commercial destination and the Wild's new practice facility. Ten months later the space hosted its first official Wild practice.
The new TRIA Rink at Treasure Island (its official name) demonstrates a commitment from the Wild and the city of Saint Paul to cutting-edge athletic training, design and municipal use.
Athletic Training
The HydroWorx 750 Series pool, HydroWorx PolarPlunge and ThermalPlunge provide the aquatic therapy offered at the new facility.
"The advantages of aquatic therapy include faster post-surgical rehabilitation, reduced inflammation, increased joint range of motion, pain relief and enhanced mobility."

"Just to give you some history, before we got the pools in this new practice facility, all we had was a hot tub. We traveled to a local outpatient sports medicine clinic to use their HydroWorx pool. Now we're lucky enough to have them on-site. This will help many more players."

John Worley, Head Athletic Trainer For The Minnesota Wild
The pools are housed in a fully-tiled pool room which includes a "video wall" where players can watch, by virtue of an underwater camera, their movement as they rehab and train underwater.
Other benefits of the new training space include a weight room three-times the size of their former training area at Xcel Energy Center, a 40-yard dash track, Peloton bikes and much more.
Design
This facility isn't just functional. Check out a short video of project lead Jamie Spencer walking through this stunning space and pointing out, at about minute 2:50, the fully-tiled, state-of-the-art HydroWorx pool room.
The entrance, an exact replica of the entrance to the Xcel Energy Center, gives players the "game-day" vibe. A posh players' lounge, gas fireplace, chef's kitchen, gaming room and steam room with 9-foot ceilings demonstrate the ownership's commitment to player health and happiness. See photos of the new space!
General manager Paul Fenton, as quoted on nhl.com, said "The investment that Craig (Leipold, owner) put into there…how beautiful it is, the different types of machinery that's in there…is going to make it just a great place for our players to train and get better."
Municipal Use
What does the world do with its floundering old big box stores? Turn them into multi-use, multi-tenant leased commercial destination complexes! TRIA Rink is on the 5th floor of the Treasure Island Center, which is now positioned to rejuvenate the center of downtown Saint Paul. The arena was constructed as part of a redevelopment effort of Saint Paul and shows another outstanding model of retail space re-use.
We are proud to be part of both the Wild's and downtown Saint Paul's rehabilitation efforts!
The New York Giants
The NY Giants signed on with HydroWorx, and installed the company's 2000 Series, as well as a Thermal and Polar Plunge in their new training facility. The $1.4 billion Meadowlands NFL Football Stadium project is the home field for 2012 World Champs, as well as the New York Jets.
Housed in their state-of-the-art training hub will be the HydroWorx 2000. Deemed as the "crown jewel" of aquatic therapy pools, the 2000 features an adjustable floor with variable water depths, a treadmill that smoothly increases from 0 to 8.5 mph in .2 mph increments, resistance jets, and an underwater camera and monitoring system. The Giants also utilize a Thermal and Polar Plunge. This technology is the premier method for rapid recovery of muscles and joints.
Attack Athletics

For 15 years Tim Grover, founder of Attack Athletics, trained one of the greatest names in basketball – Michael Jordan.  Today he is delivering injury rehabilitation and longevity training to athletes in a new 60000 sq. ft. sports performance and training facility in Chicago.  It is at this location that Attack Athletics will feature a HydroWorx 2000 pool to support their training and rehab goals.
"We are incredibly excited to see HydroWorx pools and technology continuing to be used at the highest level of Professional and Collegiate Basketball Facilities. Using the pool as both a rehabilitation and training tool for the highest caliber athletes.  We are excited to see how Tim (Grover) and their group at Attack will utilize our pools to raise the bar to even another level and anticipate exciting feedback and results for future case studies," says HydroWorx VP, Rob Miller.
The New York Mets
Just beyond the outfield fence of Shea Stadium, Citi Field became the new home of the NY Mets in 2009.  Housed in the new stadium is the HydroWorx 2000 featuring a floor that doubles as a variable-speed treadmill that can rise to floor level for easy access by injured or even wheelchair-bound athletes.  The floor can then be lowered to any depth up to six feet and can function at any range of speed up to 8.5 mph.
Key to the NY Mets training and conditioning are two Thermal and Polar Plunges, installed to assist in recovery and revitalization.  Temperatures at 50 degrees in the Polar Plunge help control joint inflammation and enhance muscle recovery.  Thermal heating units are engineered to relax tight muscles and stimulate the release of endorphins.  Each pool features strategic jets and powerful massage hoses to isolate trigger points on the athlete.  Also key to the HydroWorx pools is the underwater camera that allows trainers to observe movements and diagnose gait irregularities in real time.
Oklahoma State University
The largest collegiate sports donation in history has been bestowed on Oklahoma State University and HydroWorx was chosen to provide our expertise in a portion of the new facilities. Oilman turned investor, Boone Pickens, donated $165 million to his alma mater to be used solely for Cowboy athletics. Wisely invested in Pickens' BP Capital Hedge Fund (and a lofty $31 million added to the pot from OSU's Golf Foundation) the total available is expected to be over $250 million. The money will provide new arenas for track, baseball, tennis, women's soccer, and equestrian teams.  The largest expenditure, however, will be over $150 million for a one-of-a-kind football stadium, indoor practice fields and a top-notch training and athletic medicine facility.  It is in this impressive structure that HydroWorx will install their 2000 Series pool.
"I have been a strong proponent of aquatic therapy for the last 18 years.  Aquatic therapy provides a giving environment that allows the athlete to progress at their own speed and creates the perfect environment to promote healing in most musculoskeletal and orthopedic injuries. The buoyancy obtained with aquatic therapy eliminates the stress of weight bearing, but also provides uniform resistance to exercise to promote an increase in circulation and positive stress on the cardiovascular system.  The HydroWorx 2000 allows you to vary the depth of the treadmill thus controlling the buoyancy and hydrostatic pressure which both provide optimal conditions to decrease joint inflammation.

The HydroWorx 2000 utilizes all the benefits of aquatic therapy and combines them with a superb treadmill system promoting functional rehabilitation which no other pool provides.  The 2000 will not only allow us to provide optimal rehabilitation services to all our student athletes, but also provide excellent low stress conditioning exercise that has proven to decrease body fat and increase lean muscle mass.  With the HydroWorx pool system we will have superb rehabilitation, conditioning and educational opportunities for not only the student athlete, but the athletic training students in our accredited athletic training program.  The only limit to what the clinician can accomplish with the HydroWorx pool system is the limit of their imagination."

Terry Noonan, Head Athletic Trainer at Oklahoma State
St. Georges Park National Football Center
The international sport and ultra-popular pastime of professional football (known as soccer in America) recently became even more exciting with the opening of the expansive St Georges Park National Football Centre.  The 300+ acre facility, located in Burton upon Trent, Staffordshire, England, is set to offer professional footballers advanced training techniques, including hydrotherapy training and rehabilitation in a HydroWorx pool with underwater treadmill.
 "Aquatic therapy is an essential part of our daily player management at Chelsea Football Club. All players who sustain an injury move through water based therapy as a part of their progression, and the HydroWorx 2000 device is an essential part of this progression. The HydroWorx allows us to introduce high quality, functional multi-directional movement and conditioning work significantly earlier than we could normally introduce on land, which for us results in earlier return to training and playing. We also use the HydroWorx as part of our recovery system for fit players, the combination of functional movement and the properties of water being an ideal combination in contributing to optimal recovery."

Chelsea Football Club Medical Department
The HydroWorx pool installed at St Georges' uses the same technology to train elite footballers as has already been used by players from Aston Villa F.C., Manchester United F.C. and Chelsea F.C.  Its state-of-the-art design includes a moveable floor, an 8'x12' underwater treadmill, resistance jet technology, and computer and camera systems.  By harnessing water's natural powers, the HydroWorx unit allows football professionals to safely – and effectively – cross-train for games, and recover from injuries.
Missouri Western State University
Missouri Western State University, the new home of the Kansas City Chiefs' summer training camp, will be the new home for two hydrotherapy pools from HydroWorx, a respected innovator in aquatic therapy. The arrival of the Polar Plunge and Thermal Plunge pools is part of a milestone $10 million donation by the Chiefs for upgrades and a new indoor practice facility on the Missouri campus.
Missouri Western provides its college football athletes and professional partners the ultimate environment for recovery and revitalization. The combination of warm and cold water therapy will assist players in controlling joint inflammation, enhance muscle recovery and aid in general pain management. The Thermal and Polar Plunge pools are also uniquely designed to allow rehabilitation and conditioning for multiple athletes simultaneously.
The Kansas City Chiefs have embraced the opportunity to leave a legacy on the Missouri campus. The indoor facility, which broke ground earlier this summer, will open with two theatre-style lecture rooms plus an additional 13 meeting rooms. A new locker room, weight room and training room will be part of the practice facility. Like their new partners at Missouri Western, the Chiefs house a suite of three deluxe pools from HydroWorx at their NFL sports complex.
Canada Olympic Park
Canada Olympic Park was originally created for the 1988 Winter Games in Calgary, Alberta, where hundreds of athletes from 57 different countries competed for gold. Although those games have come and gone, Canada Olympic Park is still going strong. Now owned and operated by Winsport, a non-profit organization dedicated to becoming the world's leading sport institute, the facilities serves as a multi-purpose competition and training centre for Canada's most advanced athletes.
Recently, the Markin MacPhail Centre was completed and with it, WinSport now offers state-of-the-art hydrotherapy and year-round rehabilitation and medical services for both the high performance athlete and the average individual looking to reach a performance goal. The goal of this new centre is to provide a sport institute model including the best equipment, tools and people. 
"The new facility offers an amazing array of tools to serve our patrons, including four hockey rinks, multi-use meeting spaces and a medicine clinic, which features a HydroWorx aquatic therapy pool with an underwater treadmill."

Natasha Slack, WinSport Medicine Clinic Manager
"We have toured a few of the best professional teams' facilities in the US," remarked Kevin Wagner, BSc. (PT), "and were very impressed with what we saw offered through the HydroWorx tubs. We wanted to bring a form of hydrotherapy to our facility that was more than just whirlpools. We have found the combination of relaxation the water provides and the unloading of the joints increases our ability to get athletes into a good movement pattern and back to their sport faster."
The aquatic environment which includes a HydroWorx 750 Series Pool with an underwater treadmill as well as hot and cold plunge pools, provides the benefits of the natural properties of water for rehabilitation, recovery, regeneration and performance training, both for high performance athletes and the general public.
Contact Us
For more information or to get a HydroWorx product for your facility, contact us today!