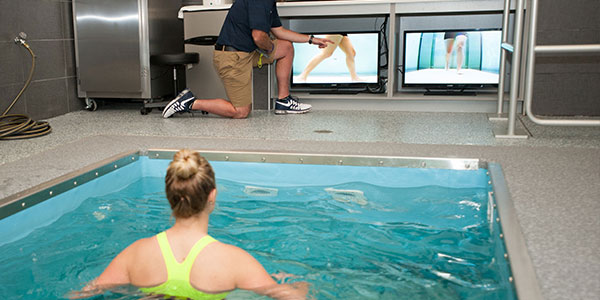 With HydroWorx's exclusive underwater video monitoring system, patients or athletes can watch their progression during their workouts or rehabilitation in the pool. The underwater cameras project the image onto flat screen monitors at the front of the pool, which allow patients or athletes to watch themselves while in the water and make "real-time" adjustments.
A front view and a side view of the cameras are available on the monitors.
This feature is great for monitoring form and to gain function for rehabilitation and sport performance training.
Benefits

Watch yourself progress as it happens — "real-time"

Gain valuable feedback on exercise

Correct gait in consistency

Promotes correct biomechanics

Safety feature
Underwater video monitoring systems are available as an option on all HydroWorx pools. An included flat-screen monitor provides detailed images in real time. In addition to letting patients or athletes watch themselves walk, jog or perform exercises underwater, it's also useful for diagnosing gait problems and biofeedback.
HydroWorx pools also come with an optional technology package that allows for the remote control and computer documentation system which allows for monitoring and recording of pool functions. This can be used for tracking the amount of time spent in the pool for billing or reimbursement purposes.
These convenient features will help clinicians work more effectively.
The Best-Equipped Therapy Pool on the Market Today
Seamlessly integrated technology is only one of the many advanced features found on a HydroWorx pool. From movable floors and underwater treadmills to an exclusive five-year warranty, there's no shortage of reasons why you should choose HydroWorx.
To learn more about the benefits of our therapy and training pools, contact us today to request your free informational DVD. We also hold regular product demos where you can try a HydroWorx pool out for yourself — call and book your spot today.
Go Back to Superior Technology Page