HydroWorx provides features that permit customers to easily manipulate the pools' depth, creating a personalized unweighting environment for every individual who steps on the treadmill surface. This flexibility aids clinicians by strategically unloading the patients or athletes bodyweight for each session or stage of his/her rehabilitation or fitness program.
Zero Depth Access and Infinite Unloading Options (2000 & 1200 Series Pools)
The entire pool floor is fully adjustable in height, allowing individuals to simply stand or sit on the treadmill while it is flush with the surrounding floor and be lowered into the water. The pool depth can reach 6' within 30 seconds, so a therapist can strategically unload 20% to 100% of a subject's weight by raising or lowering the treadmill to manipulate the water depth.
Multiple Water Depth (3500, 750 & 500)
Patients can stand on the pool's large raised rear platform for additional body-weight loading; this permits greater flexibility in rehabilitation and performance activities.
Variable Water Depth (available with the Technology Package upgrade on select models)
A touch of a button on the remote control prompts the optional variable water depth system to add or remove up to 8" of water to attain pool depths ranging from 4'6" to 6'3" (deeper when the pool features the deep well option). This permits clinicians' control over weight-bearing levels during each pool session.
Why HydroWorx?
HydroWorx has been providing therapy pools with underwater treadmills and adjustable water depth as a standard feature since 1998. Professionals in diverse industries — healthcare, sports, senior living and military facilities — have turned to HydroWorx for our innovative designs and proven health benefits. We don't believe in one-size-fits-all solutions. That's why our range of product offerings gives professionals the flexibility to choose the pool that will serve their clients best.
Benefits

Promotes early range of motion

Early initiation of gait training in low impact environment

Improved proprioception

Reduces pain

Improved cardiac function

Improved flexibility

Improved circulation

Increased healing and strengthening of injured tissue
Who Uses HydroWorx Pools?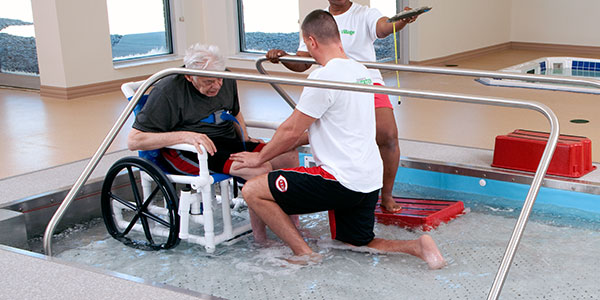 The flexibility of HydroWorx pools — in addition to their long list of sophisticated features — makes them an ideal choice for a number of clinical environments. All across the country, you'll find HydroWorx pools in a diverse range of facilities, including:
Hospitals and physical therapy clinics — Adjustable floor technology makes HydroWorx pools great for patients with mobility issues. Our pools are used in some of the leading hospitals and rehab centers in the country, including the University of Colorado Hospital in Aurora, one of the U.S. News & World Report's "100 Best Hospitals" in the United States.
Senior living communities — Continuing Care Retirement Communities and Skilled Nursing facilities that invest in a HydroWorx pool see almost immediate gains in the health and overall energy levels of their residents. Regular exercise has also has emotional benefits, as older adults gain extra mobility and independence. Our pool's movable floors not only aid with accessibility, but they also allow clinicians to adjust resistance to a level that's suitable to each patient.
Athletic training facilities — At the high school, college and professional levels, HydroWorx pools are helping elite athletes train safer and recover faster from injuries. Our pools are used by the Philadelphia Flyers, New York Mets, Ohio State University and many other prominent athletic organizations.
Engineered Solutions For All Industries
At HydroWorx, we don't throw around claims about our products lightly. The benefits of a HydroWorx pool with adjustable pool floor are supported by a larger body of clinical research than any other therapy pool on the market. In our video library alone, you'll find over 100 case studies made by actual practicing clinicians like you. Additionally, researchers at Texas A&M and Utah State University have completed multiple peer-reviewed studies. Their results support claims that aquatic therapy and training with a HydroWorx pool promotes significantly improved patient outcomes compared to land-based training.
Designed by Professionals, For Professionals
Our investment in research is just one part of the HydroWorx difference. All our products are designed and tested by fitness and rehab professionals — and have incorporated features, such as adjustable pool floors, that allow clinicians the flexibility to develop therapy and training programs tailored to their client's needs.
There's a reason why HydroWorx has remained the premier supplier of aquatherapy equipment. Contact us today for your free informational DVD outlining the full benefits of our products and to learn how you can enjoy a HydroWorx pool for as little as $899 a month.