Peak Performance: Reaching the Pinnacle of Aquatic Therapy Success
It's no secret that the goal of any physical therapy clinic is to offer clients the most effective techniques and equipment, positive outcomes and great service.  That's the reason New York based Peak Performance Physical Therapy chose to partner with HydroWorx to offer aquatic therapy options that fit the organization's philosophy of providing patients with top-notch service and exceptional outcomes.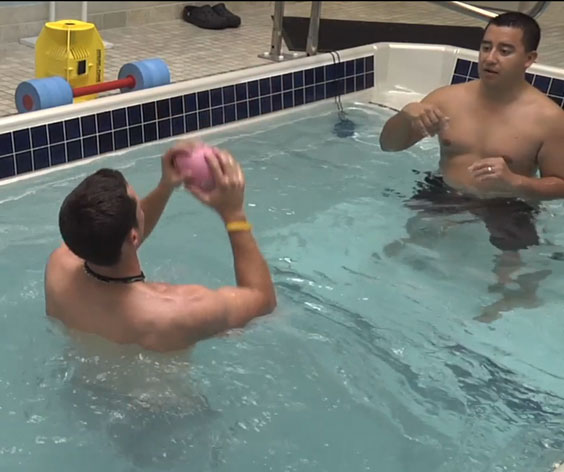 Owner of Peak Performance Physical Therapy, Joseph Sullivan, PT, OCS, CSCS (an HSS Credentialed Advanced Hip Clinician) has been a driving force to get individuals healthier using water-based therapy practices.  With his years of experience working with patients from elite athletes with sports injuries to adults recovering from surgical procedures, he feels certain that the HydroWorx therapy pool that Peak Performance offers is second to none in terms of features and benefits.
During an exclusive interview with our team members, Sullivan pointed out several of the unique aspects of the HydroWorx aquatic therapy pool that have assisted him and his colleagues in their mission to help clients:
The pool shape. Because the HydroWorx therapy pool is wider and longer than other therapy pools, it enables Peak Performance to more fully use the therapy space. The physical therapist are able to treat two patients simultaneously without either patient feeling "crowded".  Owing to such increased efficiency, Peak Performance is becoming busier and busier, and the pool is reportedly utilized to capacity on a regular basis.
The treadmill. The floor of the HydroWorx pool has an embedded underwater treadmill which can be used to simulate land-based walking, jogging and running in a secure, forgiving aquatic atmosphere.  Even patients who have weight-bearing limitations can safely use the underwater treadmill because up to 90 percent of their body weight can be offset by the buoyancy of the water.
The HydroWorx reputation. As Sullivan notes, many professional athletes speak highly about their experiences with HydroWorx products.  This positive international reputation enables patients of Peak Performance to feel like they are getting the best-of-the-best when it comes to physical therapy and aquatic exercise.  After all, if NFL stars and Olympians consistently turn to HydroWorx equipment to get back in the game or perform at their best, there's little doubt that it's a proven technology.
 One patient recently just told me that 'You're going to have to get two of these [HydroWorx pools] soon! – Joseph Sullivan, Peak Performance
With their HydroWorx therapy pool located conveniently at their newest facility, Peak Performance is reportedly looking forward to everything the future holds.  Their goal is to create a state-of-the-art place for patients to comfortably enjoy physical therapy; we believe that they'll only make a bigger splash in 2015, beyond what they've already done!
Peak Performance Physical Therapy, based in Nassau county in New York has been providing services to patients for over 25 years. In each of their 4 facility locations, the 21 physical therapists are providing orthopedic, sport and aquatic physical therapy as well as specialized treatment  for spinal and neck injuries along with balance and gait issues. Peak Performance Physical Therapy in Lynbrook, NY features a HydroWorx 500 Series pool with an integrated underwater treadmill and resistance jets. 
Free Webinar: The Use of Aquatic Therapy for Neurological Rehabilitation
On January 27, 2015 from 1:00pm-2:00pm EST, join Jan Black MS, PT, Clinic Director at NeuroWorx in Logan, UT, as she discusses the value of aquatic therapy for those affected by neurological conditions. This webinar will explore the application of neurological rehabilitation principles in an aquatic environment including locomotor training to accelerate progress and improve outcomes for gait, balance, kinematics and overall functional mobility.