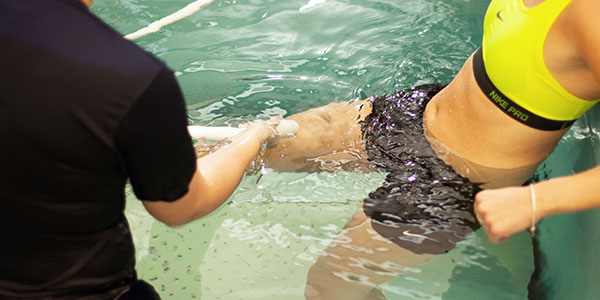 HydroWorx's five or fifteen foot, attachable underwater massage hoses can be employed for scar tissue manipulation, deep tissue massage, and overall wellness enhancement. Harnessing the force of the water jet into a focused stream creates a deep, wide band of pressure for therapeutic, manipulative penetration and myofascial release. This increases flexibility, decreases recovery times, and strengthens and heals injured tissue through improved circulation.
A five foot underwater massage therapy hose comes standard on all HydroWorx pools; upgrading to a larger attachment is an option for clinicians who require it. The ability to provide deep tissue massage to your clients and athletes is a valuable benefit for both physical therapists and athletic trainers.
Underwater Massage and Older Adults
The underwater massage capabilities of HydroWorx therapy pools allow you to gradually adjust the amount of pressure, which can be useful in helping ease the effects of chronic illnesses such as arthritis and fibromyalgia, particularly among older adults.
Reduce Cool Down Times With an Underwater Massage
Both elite athletes and regular exercisers can benefit from adding underwater massage to their regular exercise routine. A deep tissue massage relaxes muscles, preventing lactic acid buildup, reducing soreness and speeding recovery times. Our video library includes several ideas for incorporating underwater massage into an aquatics routine.
Chronic Pain Management
In a study published in the Journal of Pain, Drs. Laura Frey Law et al. found deep tissue massage "is capable of reducing myalgia symptoms by approximately 25% to 50%" (Vol. 9, Issue 8, Pages 714-721). Physical therapists have long recognized the value of underwater massage for mitigating chronic pain; with a HydroWorx pool, you can offer your clients both aquatherapy and underwater massage in a single device.
Case Study
Athletic trainer Dr. Curt Draeger of Gold Medal Motion in Antigo, Wisconsin calls the underwater massage function of his HydroWorx pool "an integral part" of the training he implemented for the 2004 US Olympic decathlon team.
Dr. Drager uses underwater massage to elongate the muscle fibers of his athletes, improving the circulation of oxygenated blood. To find out more, watch the video here.
Benefits
Writing in the Journal of Sports Medicine, Geoffrey C. Goats of the University of East Anglia claims "hydromassage can case deep relaxation, soften and debride scarred or hardened skin, and induce generalized vasodilation that accelerates healing of superficial tissues" (1994; 28:149-152). Other commonly-cited benefits of underwater massage include:
Benefits

Improved circulation

Lactic acid flushing

Muscle relaxation

Scar tissue manipulation

Myofascial release

Deep penetrating muscle massage

Pain management

Improve daily symptoms or arthritic and chronic pain conditions
Who Uses HydroWorx?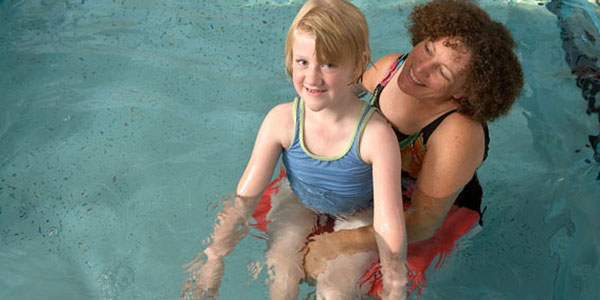 HydroWorx pools can be found in elite athletic centers and rehabilitation facilities alike, where their deep tissue massage capabilities are an important component of training, recovery and management of chronic conditions. Our customers include the Indiana Pacers, Philadelphia Eagles, Dallas Mavericks and several other professional sports teams.
HydroWorx pools can also be found at specialty clinics such as Kennedy Krieger Institute in Baltimore, MD, NeuroWorx in South Jordan, UT and the Franciscan Hospital for Children — New England's largest pediatric hospital, located in Brighton, Massachusetts.
Young or old, professional or amateur, HydroWorx pools benefit users from all walks of life. Find out more about how a HydroWorx pool can help grow your facility by visiting our Customer Profiles page.
See a HydroWorx Pool in Person
The best way to view the benefits a HydroWorx pool can bring to your facility is by attending a demo event in person. We frequently host demos in locations around the country. If you purchase a pool, we'll even reimburse you up to $500 in travel costs when you try the product. Contact our office directly for more information, or to book your spot at an upcoming event.
Can't make it to our next demo? We also offer webinars that provide you with a closer look at the massage capabilities and other advanced features of a HydroWorx pool.
To learn more about HydroWorx massage pools, contact us today for a free informational DVD and a free demo opportunity.
Go Back To Superior Technology Page