The Benefits of Hydromassage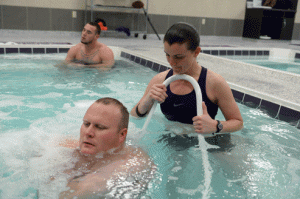 Massage can provide a multitude of benefits, particularly for those who have suffered an injury, undergone surgery or for those with chronic pain conditions.
Commonly noted benefits of massage include:
Improved circulation
Lactic acid flushing
Muscle relaxation
Scar tissue manipulation
Myofascial release
Pain management
Decrease in daily symptoms for arthritic and chronic pain conditions
Using a massage hose in the HydroWorx pool, clinicians are able to provide those benefits to patients and athletes in the warm water. Deep tissue massage using a massage hose attached to resistance jets in the water can provide additional benefits for some people over traditional manual massage. Additionally, it is often more comfortable than a manual massage. Because the surface area of fingers are small, manual massage therapy can often be painful, especially when the area that is being worked is already tender from an injury or surgery. The massage hose combined with the natural properties of water work together to improve circulation even more.  The pressure provided by the massage hose can be varied based on the strength of the jets and the distance from the tissue. This gives clinicians a valuable tool to work on a variety of patients or athletes and achieve the desired results.
Athletic trainer Dr. Curt Draeger of Gold Medal Motion in Antigo, Wisconsin calls the underwater massage function of his HydroWorx pool "an integral part" of the training he implemented for the 2004 US Olympic decathlon team.
Dr. Drager uses underwater massage to elongate the muscle fibers of his athletes, improving the circulation of oxygenated blood. To find out more, watch the demonstration of muscle stripping using the massage hose:
For more ideas on using aquatic therapy for arthritis and joint replacement management, download the tip sheet "Benefits of Aquatic Management for Treating Arthritis and Joint Replacement" here>>