Aquatic Deep Tissue Massage Does the Trick for Muscle Hematoma
A muscle hematoma can cure itself with rest and time. Still, pain can persist and eventually create complications — such as myositis ossificans, where the bruised muscle grows bone instead of new muscle cells. A young patient in the new aquatic addition at Cox Rehab and Sports Medicine in Monett, MO, was not seeing results from rest and was at risk of developing something more serious.
Justice's Case Study
Justice incurred a deep contusion during recreational basketball and was having pain and a significant decrease in muscle strength. With hopes of participating in upcoming baseball tryouts, Justice came to Cox Rehab via referral from his doctor to accelerate his rehab and reduce his risk for complications. Kevin Norris — the treating physical therapist — felt confident that aquatic therapy could be extremely beneficial in this case. Norris saw particular promise in using a massage hose on the HydroWorx 500 Series Pool for deep tissue work on the muscle.
After just one week of therapy, Justice made extreme progress and could participate in the upcoming baseball tryouts — thanks to his successful rehab program.  His pain level dropped, and his range of motion drastically increased. When he came to Cox, he only had 70 degrees of flexion — after three sessions, Justice had achieved 123 degrees and had regained full range of motion by his fifth visit.
How Aquatic Deep Tissue Massage Works
HydroWorx pool models come with a 5- or 15-foot massage hose that attaches to a resistance jet. This hose creates streamlined water pressure that hits the deep muscles within the leg, arms or back, making it more effective than a traditional manual massage.
While we saw that deep tissue massage works against muscle hematomas, it can also benefit other chronic issues like arthritis and fibromyalgia.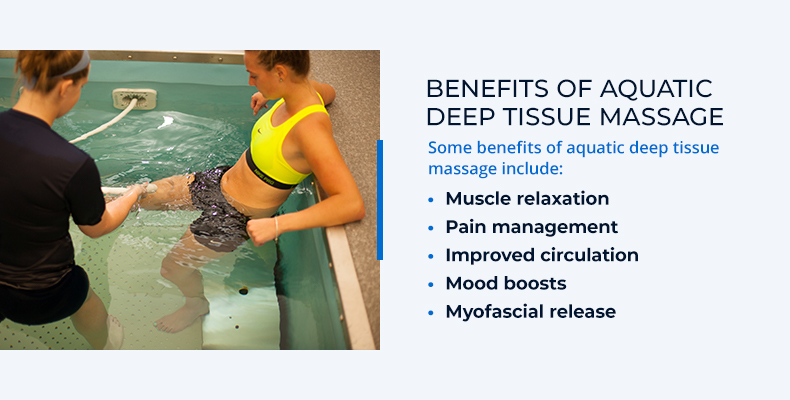 Benefits of Aquatic Deep Tissue Massage
Massaging was a key piece of Justice's treatment, as it played an important role in ridding the muscle of much of the junk that had built up from the contusion. While hands-on massage would have been a viable option, the aquatic massage offered some benefits, particularly making the experience much more comfortable due to his pain level.
Some benefits of aquatic deep tissue massage include:
Muscle relaxation: Deep tissue massages relieve muscle stiffness and pain, providing full-body relaxation — including for the mind.
Pain management: By reaching the deep tissue, aquatic massages can address pain and eliminate any knots.
Improved circulation: Working the muscles can encourage blood flow and circulation throughout the body, influencing healing.
Mood boosts: Feelings of calm and relief can release mood-boosting neurotransmitters, helping patients feel happier and more content.
Myofascial release: Deep tissue massages work as a form of myofascial release therapy, releasing tension and myofascial pain.
Aquatic Massage Jet Pools With HydroWorx
The HydroWorx 500 pool was instrumental in helping Justice get back on the court in time for the next basketball season. Such fast results are desired in many rehabilitative settings, especially for athletes regaining strength following an injury.
With all HydroWorx pool models, aquatic deep massage therapy offers adjustable water speeds based on the patient's body type and level of injury. Additionally, the warm water of these pools can gently relax the muscles for effective results.
The team at HydroWorx has thought of it all. Contact us today for more information on the right pool for your facility.