Aquatic Therapy Proved Effective for Recovering US Army Soldier
The types of patients who can benefit from the healing power of water and aquatic exercise are unlimited. Patients and athletes that have and can utilize a pool for rehabilitation range from young children to professional athletes to aging adults and everything in between.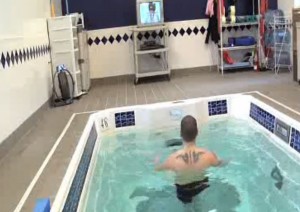 In one particular case, water therapy played an important role in Staff Sgt. Casey Church's recovery as well as his quality of life.
On September 2nd, 2009 Staff Sgt. Casey Church was aboard a Chinook helicopter on a re-supply mission in Afghanistan, when a RPG (rocket-propelled grenade) hit the plane. Casey got the brunt of the hit, tearing all of the tissue and muscle from his mid-left thigh to his right backside. He had to have two immediate surgeries before being sent to Germany where he underwent two more surgeries. Following the first four, he was dispatched home and taken directly to Walter Reed Hospital for another long surgery. Sgt. Church was at Walter Reed Hospital from September of 2009 to May 2010 where he ending up having a total of 16 surgeries.
After completing all of his surgeries he walked (which was no small feat) out of Walter Reed Hospital and began his rehab at Alton Physical Therapy in Alton, IL. Alton Physical Therapy is home to a HydroWorx 500 Series pool, of which Church made good use. For the first 2 and a half weeks after he left the hospital he was not able to do anything on land, therefore he solely utilized the pool for rehabilitation during that time. Without the pool at Alton Physical Therapy, he would not have been able to do any rehabilitation during that time.
Find out more about Staff Sgt. Casey Church's incredible story below:
Physical Therapist, Brianna Overbey, created a very specific rehabilitation program for Staff Sgt. Church. The exercises were all tailored toward increasing muscle strength in his right side as well as improving his gait, which had been greatly affected by the loss of muscle. Before his final two surgeries, they were both focused on preparing his body by building muscle strength and putting on more weight to help him maintain it afterward. Following those final two surgeries (making his total 18) he performed exercises ranging from reverse wall squats to forward planks and using the aqua fins in the pool. All of his aquatic therapy sessions ended with a 10 minute walk on the underwater treadmill at a speed of 2.0mph. The underwater cameras are essential during this time as Overbey was able to correct any incorrect patterns in his gait as well as monitor his improvements from the pool deck. Church's mother quickly noticed changes and improvements in her son after just a short time of aquatic therapy in the HydroWorx pool.
Watch the full pool protocol here!
Interested in learning more about aquatic therapy? Download the Five Ways Aquatic Therapy Impacts Rehabilitation Tip Sheet today>>