"How To" Waterproofing a Post-Surgical Wound
Surgeons, physicians, physical therapists and athletic trainers traditionally hesitate to send athletes into aquatic environments immediately after surgery due to the fear of wounds getting infected. However, according to a meta-analysis published in the Archives of Physical Medicine and Rehabilitation in 2013, early aquatic therapy can be integral to getting athletes back on their feet. Aquatic therapy can increase future range of motion, decrease the chance that there will be scar tissue development and reduce the risk of patients becoming frustrated with their therapy sessions.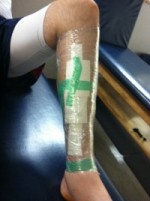 Download the waterproofing tip sheet to learn more.
In a recent video, Randy Cohen, ATC, Associate Athletic Director for Medical Services at the University of Arizona, demonstrated how to securely cover a post-surgical wound before getting in the water. He is recommended by physicians for his quality of waterproofing and his diversity of treating athletes after joint surgery, spine injuries and knee replacements. Randy is able to begin rehabilitation earlier by doing general stretches and exercises in the water such as:
Forward flexion
Hamstring stretch
Squats
Alternating lunges
Hip flexion and extension
Hip abduction and adduction
Knee flexion and extension
Chest press with dumbbells
Tricep extension
Side shuffle
During, the first few visits, Randy figures out what makes the athlete feel better and worse by evaluating the pain level during exercises. He will add aqua socks, dumbbells and other forms of equipment to an exercise to help rate the level of pain. Randy tells his athletes at every session that if it hurts, do not continue executing the exercise.
Request a Free Info Kit     View Our Products     Find a Pool Near You
There are several benefits of early post-operative aquatic therapy, including:
Increases mobility of muscles and joints safely without forcing them to bear weight before they are physically able. This can reduce pain during and after rehabilitation.
Positive outcomes early in the rehabilitative experience, encouraging athletes to continue with their therapy.
Reduces scar tissue around the joint or surgical sites, thanks to improved blood flow; thus, the joint is not hindered later due to a build-up of tissue.
Allows an athlete or active patient to maintain cardiovascular fitness levels during the recovery process, leading to easier transitioning later.
Watch the video as Randy demonstrates wound waterproofing:

To learn more about the advantages of early post-operative aquatic therapy, download the waterproofing tip sheet today.>>


Page Updated on: July 9, 2020