How to Encourage Wellness and Fitness in Your Senior Living Home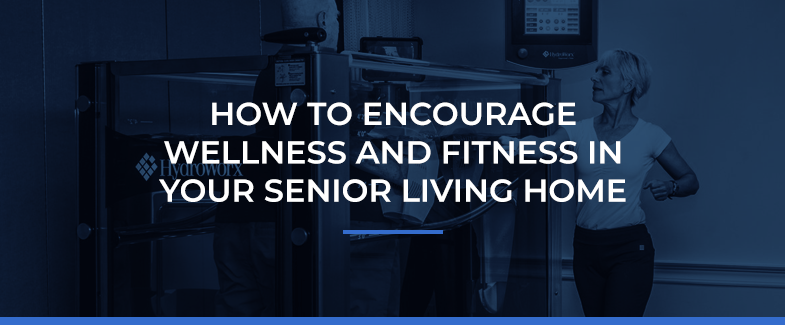 Exercise, nutrition and preventative health measures are essential for people to stay healthy, and this is especially true for seniors. In senior living facilities, wellness programs are an essential feature, targeting seniors' all-around health to help them keep illnesses and injuries at bay. A significant challenge for senior living executives, however, is figuring out how to design wellness programs in a way that encourages residents to use them.
Jump to Sections:
Some wellness amenities of senior living communities don't meet all the unique needs of residents, while others fail to engage communities enough to use them. In this guide, we'll discuss the benefits of wellness programs, methods for promoting programs in senior living centers and the types of wellness initiatives that work best in senior living homes, including aquatic therapy.
Importance of Wellness and Fitness for Seniors
Wellness and fitness programs in assisted living centers play an important role in the lives of residents. Well-rounded and engaging programs typically offer the following benefits for seniors:
Quality of life: Wellness programs boost the quality of life for residents by helping improve their activities of daily living (ADL's) and health outcomes. The best programs keep seniors active and healthy in all eight dimensions of wellness — physical, emotional, social, intellectual, spiritual, occupational, environmental and financial.
Social wellness: Socialization among seniors is vital. Seniors can easily become isolated, especially if they are widowed or serving as a caregiver for a loved one. Wellness initiatives help seniors interact with others in their community, providing opportunities to build meaningful relationships with other residents and staff.
Cognitive function: Well-rounded health programs for seniors help promote improved cognitive function through healthy eating and varied activities, which are shown to minimize risk factors for dementia and stimulate the brain for long-term cognitive health.
Independence: Improving wellness and fitness enables seniors to be more independent in their day-to-day lives for as long as possible. Overall wellness programs help seniors to be physically, cognitively and emotionally able to take on their days with less assistance, which contributes to their overall satisfaction and quality of life.
Emotional health: Wellness programs offer opportunities for seniors to take care of their emotional health as well as their physical health, as the two are closely tied together. Senior living facilities can improve emotional health for residents through stress-reduction activities, fitness programs and social engagement.
Request a Free Info Kit View Our Products Find a Pool Near You
From fitness classes and nutrition programs to group activities and volunteer opportunities, assisted living wellness programs keep seniors active. These programs are further helped by offering the best senior living amenities on-site, including fitness centers, pools, weekly social functions and religious services.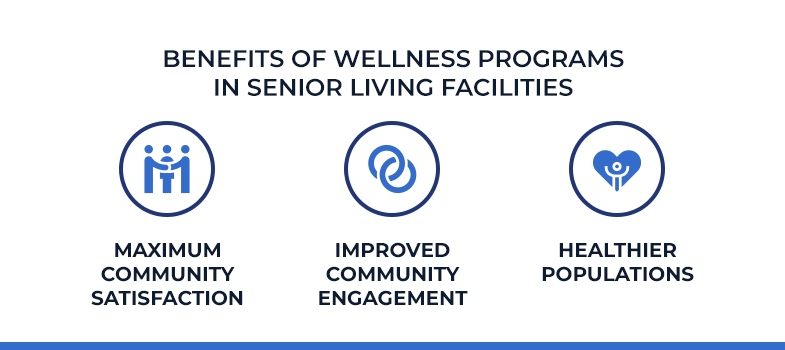 Benefits of Wellness Programs in Senior Living Facilities
Another reason to focus on providing quality wellness programs is the benefits they offer facilities themselves, such as:
Maximum community satisfaction: Wellness lifestyle offerings have a significant impact on overall resident satisfaction. Community members are often more satisfied when the activities offered focus on a range of wellness factors, including physical, social and emotional wellness. Fun activities also maximize enjoyment for residents and enable new residents to adjust to their community more quickly, which all contributes to overall satisfaction. When residents are happy with their living situation, they are more likely to refer the facility to their friends and relatives.
Improved community engagement: Communities with the best business outcomes promote active lifestyles among their populations. Successful programs offer multi-faceted activities that appeal to a wide range of residents and incorporate wellness activities in some way. By creating these programs and promoting structured routines that encourage seniors from adopting sedentary lifestyles, these communities find enhanced engagement. Not only is this outcome the result of community interest in the programs, but also the improved physical ability of the community to participate by maintaining an active lifestyle. This enhanced engagement helps residents and makes the community more appealing to potential residents and their families.
Healthier populations: Effective wellness programs help residents feel healthy and enable them to live more independently. This independence further fosters a more active and positive community, which in itself promotes health and wellness among the population. When implemented properly, evidence-based wellness programs pay for themselves with enhanced community engagement, increased referrals and more effective care.
How to Promote Health and Wellness in Senior Living Communities
Of course, health and wellness programs have little success if the community doesn't use them. In addition to establishing programs in the facility, facilities need to know how to encourage health and wellness for their residents. Some methods to promote activity within the community are:
Varied exercise and wellness classes:Most communities will say they provide exercise or wellness programs, but these are limited to a small range of options that may not cater to the needs and capabilities of significant portions of the community. This can discourage seniors from returning. Instead, offer a variety of classes and adjust individual sessions to be accessible for seniors with a range of physical and cognitive abilities.
Maximized family involvement: According to the Alzheimer's Association, 80% of senior care is provided by family members or friends, either entirely or in addition to professional care. These family members and friends want to be a part of their loved one's life, so enable them to assist in the wellness journey. Offer seminars educating them about the unique nutritional and exercise needs of seniors and how they can help their loved ones improve their health and wellness. Involving family members helps keep residents accountable.
Exercise incorporation methods: A sedentary lifestyle is a significant risk factor for a variety of diseases affecting seniors, including cardiovascular disease. Encourage residents to stand or move by evaluating their need for mobility assistance, installing standing tables for card games and puzzles and encouraging walking by maintaining quality pathways and sidewalks throughout the community. Additionally, teach residents about ways they can incorporate exercise into their daily routines.
Incentivized participation: Encourage residents to participate in daily activity whenever possible. This can be as simple as making exercise class names more catchy or incorporating a points system for attendance that can be traded for prizes or competitions. Public recognition for participation and inviting family members to join exercise and therapy sessions are also good ways to incentivize attendance.
Make exercise part of the culture: Establish an active culture throughout the community so that exercise isn't just desired — it's expected. Train all the building staff on the benefits of exercise so that they are involved in encouraging daily activity. Create a system for new residents that assesses their physical and cognitive abilities and assigns them specific class schedules tailored to their strengths and weaknesses. Set attendance to more advanced classes as goals for residents who are not yet able to safely attend. By incorporating wellness into the culture, residents get more involved and pay more attention to wellness as part of their daily lives, and even encourage other residents to do the same.
Make wellness fun: One of the best ways to encourage participation in wellness activities is to make them fun. While older adults may not be interested in an exercise class, they may express interest if the class is presented as a social event and incorporates fun activities. Making these experiences more gratifying and enjoyable increases the likelihood that they will continue to participate in the future.
Promoting wellness as part of the culture of a senior living community takes time, and facilities need to tailor these methods to meet the specific needs of their community. However, once the culture is established, it has a powerful effect on the residents, generating contagious energy that can help the community flourish.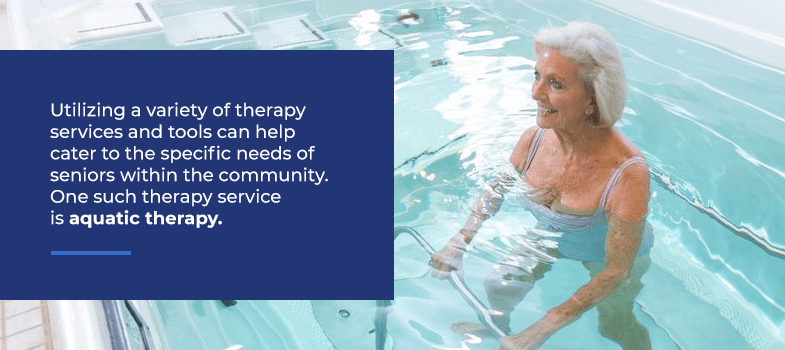 Types of Health and Wellness Programs
Senior living facilities have a range of options in health and wellness programs to choose from. When selected and designed well, these programs can help residents get quality care and promote well-rounded health and wellness. Below are a few examples of health and wellness options available to senior living facilities and how they can benefit the community:
Healthy meal plans: Well-balanced meals are the basis of any healthy living effort, but they are especially important for seniors. In addition to offering comprehensive meal offerings, educate seniors and their families about their unique nutritional needs and offer meal plans that support them. You may also consider having a culinary expert and nutrition staff available to help seniors with limitations to find delicious solutions.
Planned social activities: Social health is very important to seniors, who often deal with loneliness that can impact their mental and emotional health. Provide a range of planned social activities that promote engagement and connection, including specialty programs for memory patients. Plan a variety of activities throughout each month, including club meetings, performances from local entertainers, volunteer opportunities and more.
Educational courses: Learning is a lifelong activity, and offering educational opportunities to seniors gives them a chance to explore new skills and interests while keeping their minds active. Connect with local educators and resources to offer a variety of courses, including history, literature, art and creative writing. Chess and book clubs are also a good way to promote learning as well as social activity.
Wellness education: In addition to creative courses, offer courses on senior wellness to residents, informing them about the principles of wellness and their unique needs. Offer regular workshops focusing on the various dimensions of wellness and how residents can implement them in their daily lives.
Worship services: Spiritual wellness is an area that many seniors need in their lives. Offer opportunities for seniors to express their faith and have spiritual support when they need it. Worship services don't need to be limited to religious activities, either — meditation gatherings, volunteer opportunities and even religious text study groups can all provide opportunities for residents to support their spiritual wellness.
Fitness programs: From chair yoga and tai chi to water aerobics and dance classes, having a variety of fitness programs available is essential for senior living communities. These programs help seniors remain active, reduce stress, minimize muscle loss and provide social opportunities. Fitness programs for senior living facilities benefit further when equipped with amenities designed for senior fitness, such as aquatic wellness pools.
In addition to these programs, utilizing a variety of therapy services and tools can help cater to the specific needs of seniors within the community. One such therapy service is aquatic therapy.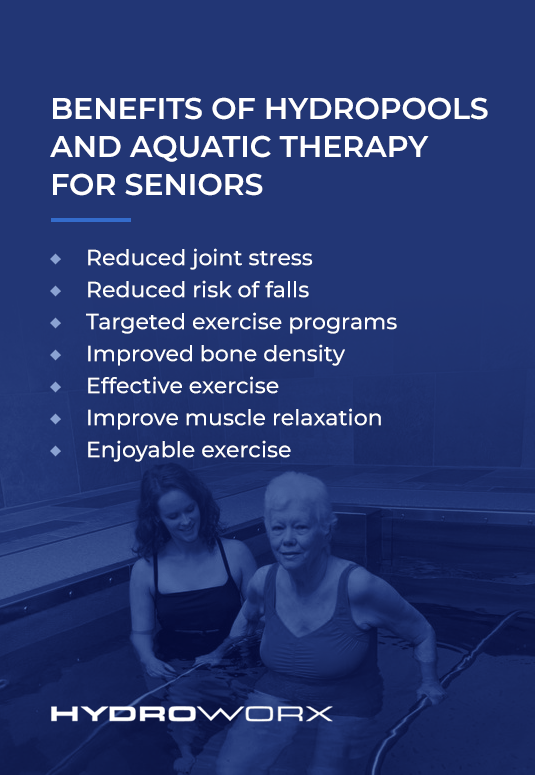 Benefits of HydroPools and Aquatic Therapy for Seniors
Aquatic therapy is an effective program to help anyone exercise in a safe and therapeutic environment. Water aerobics using hydrotherapy equipment are particularly effective for aging adults, allowing them to maintain good health in a comfortable setting. Some of the benefits of water therapy for seniors include the following:
Reduced joint stress: For those with joint issues, exercising in warm water is significantly less painful than exercising on land. By reducing body weight by up to 90 percent, water exercise minimizes the jarring of muscles, ligaments, tendons and bones with each footfall, reducing the risk of injury and minimizing pain while allowing for a greater range of motion. Additionally, the hydrostatic pressure provided by water helps reduce joint inflammation, enhance circulation and improve seniors' awareness of joint position.
Reduced risk of falls: Falls pose a significant issue for seniors — studies show that a quarter of 65-year olds will fall each year, and falls are the leading causes of fatal injuries and non-fatal trauma among older adults. This means falls are a serious concern in retirement communities. Aquatic therapy exercises for seniors both on and off the water treadmill help reduce this risk. Hydrotherapy equipment supports seniors with water and handrails as they exercise, protecting them from falls. Once outside of the hydrotherapy environment, water exercises for seniors carryover to land to improve balance and mobility, enhancing gait patterns, strength and endurance with regular use. 
Targeted exercise programs: Water therapy for seniors can be used to target a variety of muscles through specific exercises. Protected by the water's buoyancy, seniors can walk forward, backward or sideways while remaining safe, and can even stand on a single leg to help improve balance. For those looking for more advanced exercises, resistance jets can pose an increased challenge. Because of the nature of the exercise environment, residents can work out harder without strain. This helps them work toward their goals, while helping them to feel more in control of their lives.
Improved bone density: An estimated 75 million people are affected by osteoporosis in the U.S., Europe and Japan, and osteoporosis causes over 8.9 million fractures annually. Osteoporosis and bone density problems are especially common among senior populations. One of the benefits of aquatic wellness pools for seniors is that they can significantly improve the lives of those affected by bone density issues. Water therapy enables seniors with bone density concerns to exercise without fear of injury, and studies show that exercise can help improve or maintain bone health.
Effective exercise: Walking in water burns up to 3.5 times more calories than walking on land, making it an excellent exercise for weight management. Water-based activities also help to increase metabolism, improve strength, reduce age-related muscle loss and improve cardiovascular health. All of these outcomes pose significant benefits for seniors looking for low-impact exercises to improve their health outcomes.
Benefits of warm water: Exercising in warm water is highly beneficial for the healing process in patients recovering from injuries or surgery. Warm water helps improve muscle relaxation and assists with vessel vasodilation, which helps increase blood flow to speed up the healing process.
Enjoyable exercise: Would you stick with an exercise program that felt painful and awkward? Not many would. For seniors living with joint pain or recovering from surgery, many forms of exercise are uncomfortable or painful. Water therapy for seniors alleviates this struggle by providing a nearly pain-free workout that can even help the healing process and leave them feeling better than before. When combined with fun and engaging exercises, this can make the water aerobics experience enjoyable and encourage them to come back again and again — giving seniors the additional benefits of staying active in old age, such as improved flexibility, better sleep and reduced joint pain.
Request a Free Info Kit View Our Products Find a Pool Near You
With these benefits of water aerobics, aquatic therapy equipment is an excellent choice for any senior living facility. By incorporating water therapy options into your retirement community, you can help residents enjoy greater health and wellness.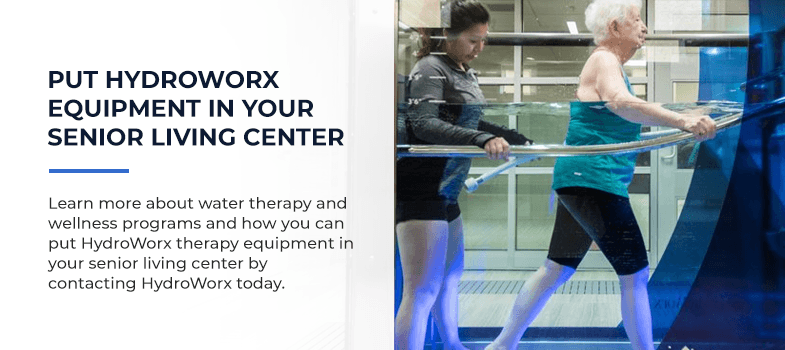 Get Started With HydroWorx
If your facility is looking for quality aquatic therapy equipment, HydroWorx can help. Our aquatic therapy technology, enhanced with underwater treadmills and resistance jets, presents a safe and productive healing environment for seniors in assisted living facilities. The HydroWorx therapy pool is proven to help individuals quickly rehabilitate from surgery and injuries and maintain long-term wellness, benefitting residents and facilities alike. Learn more about water therapy and wellness programs and how you can put HydroWorx therapy equipment in your senior living center by contacting HydroWorx today.
Page updated on February 2, 2021