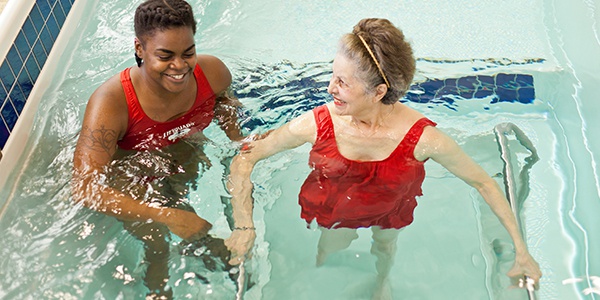 Adding an aquatic pool to your community will benefit your business by producing happier, healthier residents and a strong name in the community for effective wellness programs. Also, by providing residents with an alternative to land-based exercise, their odds of staying active and mobile longer increase, thus increasing their length of stay in the independent and assisted living segments of a given facility. All of these factors work together to heighten a facility's brand, build community awareness and expand profitability.
Jump to Sections:
Fall Reduction
One in three 65 year-olds will fall annually. This statistic rises with age. By 80, one-half of all seniors will experience a fall. This is a serious concern and a costly occurrence for senior care facilities.
Healthy senior adults are well-equipped to enjoy and benefit from intensive exercise and fall prevention programs. Seniors can handle — and even desire — challenging workouts.
Case Study
Lakeview Village in Lenexa, Kansas delivers aquatic therapy in the form of FallProof™ H2O©, utilizing the warm-water HydroWorx 1200 pool to train community members in fall prevention and reduction. Lakeview Villages uses the FallProof™ H2O© and the HydroWorx underwater treadmill for clientele who are transitioning from therapy services into their Living Well program. Aquatic therapy equipment from HydroWorx easily accommodates two exercisers plus a leader, and is much easier for the client to assume different positions and postures in the water. It's meant the difference for many members of the community who otherwise might not be able to safely move on land.
We've found that many people over 62 are very fit; however, they may have had an incident, which caused an imbalance or weakness over time and has led to balance or fall issues. We know it is important to have the proper programs and assessment tools in place to provide our participants with the best plan of action.


Lakeview Village
Jackie Halbin, Living Well Manager, Certified FallProof™ Instructor

Request a Free Info Kit     View Our Products     Find a Pool Near You
The versatility of the program has created incredible opportunities for personal achievement. Because of this program—utilizing the underwater treadmill, video camera/monitor and resistance jets—the facility is able to offer a plan of stopping major incidents of falls before they happen. FallProof™ H2O© program strengthens muscles and increases lean body mass in a way land-based exercise alone does not.
FallProof™ H2O© in the HydroWorx offers a unique aquatic environment for re-learning balance and mobility, which transfers directly to ADLs on land. The pool allows multiple layers into the program by challenging clients with speed, resistance in all directions and water depth—allowing clients to advance to higher levels.
A typical client progression could look like this:
Mastering walking with good posture in an aquatic environment
Walking mechanically correctly at higher speeds
Stopping and starting in a water environment
Changing the gait pattern with speed and resistance
Through this process, the HydroWorx pool's underwater video camera allows the instructor or therapist to watch the client's gait, speed and progression, quickly addressing and managing issues as they arise.
The HydroWorx aquatic therapy equipment also affords core stability resistance and strengthening with the built-in, high-powered jets, which allow physical therapists to change the environment by adjusting the jets through walking, turning, lifting and closed-eye exercises.
Resistance jets can also be used to improve an individual's balance by just standing still. The water resistance challenges proprioception when increased or decreased while having patients stand in all directions (forward, backward, sideways) on both feet and then on one foot, when possible. Adding this turbulence works on reaction time and core strength which are essential for maintaining balance on land.
Increased Independence and Strength
The overall health goal for seniors is to remain independent and enjoy their quality of life. The aim for a senior living community is to provide its residents with quality care while reaching its financial objectives. Offering a way to exercise with less pain — like warm water therapy — gives senior living communities a viable way for both objectives to be accomplished.
Any of the HydroWorx products such as the 2000 Series pool — equipped with the ascending/descending floor — will help improve balance to reduce falls among participants, thus allowing them to remain independent longer.
According to www.longtermcare.gov, the average monthly cost for AL is approximately $3,200 per month for a one-bedroom unit. The average monthly cost for LTC is almost $7,000 (private room), a difference of over $3,800 per month, or $45,600 per year. Offering a way to exercise with less pain — like warm water therapy — increases the number of residents that will participate in an exercise program. The benefits of maintaining consistent exercise regimen can lengthen their independence and a community's profitability. The longer a resident remains in independent or assisted living, the more profitable your community will be.
Clinical Study
The following clinical study demonstrates the effectiveness of an underwater exercise program for those suffering from joint discomfort while exercising.
Purpose: This study examined the levels of perceived pain and mobility in osteoarthritis patients after using underwater and land treadmills.
Method: Nineteen patients, diagnosed with osteoarthritis in the knee, hip and ankle participated in the study. Each participant performed three consecutive exercise sessions on a HydroWorx treadmill and a land treadmill, separating exercise periods by twenty four hours and exercise mode by one week.
Results: Results of this study indicated that patients diagnosed with OA may walk on an underwater treadmill at a moderate intensity with less pain and equivalent energy expenditures, compared with walking on a land-based treadmill at a similar moderate intensity. Patients revealed that pain was 140% greater during land treadmill exercise sessions than during underwater treadmill exercise sessions.
Conclusion: patients diagnosed with osteoarthritis may receive the same aerobic conditioning with less joint pain and greater improvements in mobility by utilizing underwater treadmills opposed to land treadmills. (Utah State University, Underwater Treadmill Exercise as a Potential Treatment for Adults with Osteoarthritis)
When residents are provided with a pain-free or low pain exercise environment, they are much more likely to continue with a program keep their ADLs longer, thus remaining in independent or assisted living settings longer.
Wellness Programs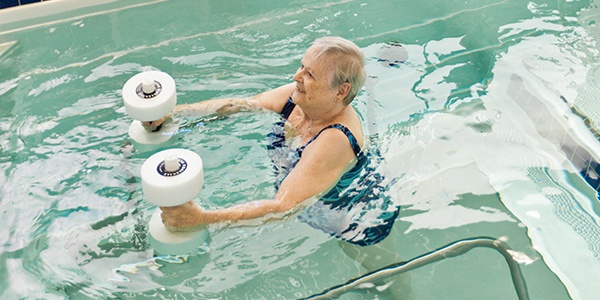 Any given day in the United States over 10,000 people will turn 65. And this will be true for the next 18 years. Many in this growing band of seniors are accustomed to an active lifestyle and wish to continue this lifestyle well into retirement age. They understand exercise is a large part of this independence and they desire to keep working out despite any physical impediments they might face.
Water therapy offers participants a much higher satisfaction rate than land-based therapy alone. Because of building nation-wide interest in aquatic therapy and exercise, some facilities have chosen to open their doors to non-residents and create Wellness Programs. Facilities accomplish this by charging a monthly fee and offering classes and seminars centered around the aquatic workout. These programs result in enhanced visibility in the community, a facility "community" outside of residents who network and refer others to the facility, thus increasing ROI.
In the water, patients are challenged beyond their limits of stability on land without the fear of falling as in land-based training. High-definition cameras underneath the surface of the pool allow patients and therapist to constantly monitor gait, view heal strikes and push-offs, adding interest and confidence for patients.
The floor of the HydroWorx 2000 and 1200 Series Pools is adjustable. This allows a six-foot differential in terms of water level, ranging from 0-6 feet. By starting a client at a higher water depth the participant can slowly gain competence of a given exercise in an environment that gives him better control of their center of gravity, thus increasing positive outcomes of wellness. As the participant improves, the depth moves to a shallower level, to increase the level of difficulty and prepare them for land-based movement. Ability testing can be helpful in determining and addressing specific problem areas.
Multi-use Jet System
There is much more to do on the underwater treadmill than simply walking or jogging; the HydroWorx built-in jets can also be used to build balance and massage.
Build balance: During the training, the physical therapist or clinician can have the participant stand on both legs, then on one leg at a time, while the jets are on. The hand-rails are available for protection and comfort if necessary. This exercise builds confidence that the participant can maneuver around obstacles, walk during un-idealistic circumstances and gain the confidence to increase land-based ADLs and thus improve the qualities of his/her life.
Massage: users of the HydroWorx underwater treadmill enjoy deep tissue massage along their legs, arms and back. It's a great way to cool down, as it facilitates blood flow, reduces edema and keeps users from getting sore the next day.
Pain-free weight loss
Utilizing water's properties of weightlessness — coupled with HydroWorx technology — can be incredibly beneficial to an individual's fitness weight-loss program.
Obesity is a problem in our country, not excluding the senior population. When a person becomes overweight, added pressure on his joints makes it difficult for him to exercise on land, creating a cycle of weight gain and lethargy. With a HydroWorx underwater treadmill and jet system, an overweight person can comfortably and effectively exercise in a safe and healthy environment.
The buoyancy of water assists in de-weighting patients' body mass, decreasing joint stress and making it easier and less painful to exercise. Water levels may be adjusted to create the ideal environment for patients and help them work through a program at various support levels.
Walking or jogging on the underwater treadmill enhances mobility and decreases stiffness—without the pain. Hydrostatic pressure decreases swelling and improves joint position awareness and posturing. Postural corrections can be accomplished with less effort and discomfort.
Clinical Study
The following study explored the efficacy of underwater treadmill exercise in inactive, overweight and obese men and women.
Purpose: This study was conducted in order to explore the efficacy of underwater treadmill exercise training programs by comparing changes in physical fitness, body weight, and body composition in physically inactive, overweight, and obese men and women.
Method: Fifty-seven overweight men and women participated in this study. Subjects maintained dietary logs during the twelve week test period, making no alterations to diet or physical activity outside of the exercise training protocol. Participants exercised three times a week during the twelve week testing period in a HydroWorx pool.
Results: Underwater treadmill exercise training programs performed by overweight and obese men and women in an effective training modality, produced beneficial changes in body composition and improvements in physical fitness. More lean body mass was gained in the underwater treadmill training program compared to a land treadmill training program. Body mass index, percent body fat, and waist-to-hip ratio were significantly reduced in participants.
Conclusion: This study shows that underwater treadmill training is a viable alternative to traditional land treadmill training for overweight users. Underwater treadmill training produces modest reductions in body weight, improvement in body composition, and aerobic capacity in a twelve week period without dietary intervention. The non-weight-bearing exercise reduces pain and risk or injury in overweight and obese people. (Texas A&M University, Comparative Efficacy of Water and Land Treadmill Training for Overweight or Obese Adults)
Studies also show the underwater treadmill and jets will add lean muscle tissue so residents will be stronger and less likely to fall and require additional care. The natural resistance of the water helps to increase lean muscle that will help participants to burn fat at rest. The viscosity (drag) an aquatic environment provides is an excellent source of resistance for strengthening. Patients can improve mobility, strength and function rapidly during the healing process. Stretching in the water using the underwater treadmill support bars will significantly enhance flexibility and balance.
Additional Revenue
Offering aquatic therapy enhanced with underwater treadmill and resistance jet technology can have a significant financial impact to a Senior Living facility. The safe and productive healing environment of the HydroWorx therapy equipment have proven to help individuals rehab faster and stay well longer, benefitting both residents and communities.
Financial impact for CCRC/SNF communities offering HydroWorx technology:
Increased therapy revenue due to increased patients and units billed, increase RUG scores through increased minutes from greater compliance and outpatient therapy opportunities.
Increased admissions and census growth, from good reputation as a true comprehensive and continuous care facility, by proving unique and specialty therapy and wellness programs.
Increased lengths of stay in the Independent Living and Assisted Living components.
Increased private pay services to offer.
Increased revenues from outsourcing pool space and equipment
Financial impact for Independent and Assisted Living communities offering HydroWorx technologies:
Good aquatic technology and programs help residents stay well and independent longer; these individuals will therefore stay within the Independent and Assisted Living facilities longer, maintaining higher occupancy for the facility.
Allows for ancillary revenues through membership and therapy, as well as possible pool space and financing options to outpatient therapy providers.
Increased amenities and programs to offer and generate private pay revenue.
Increased admissions and facility marketability.
Better performing wellness programs, leading to healthier and more active residents with less falls and injuries (both of which can have negative financial impact for a facility).
Becoming the Community of Choice in Your Area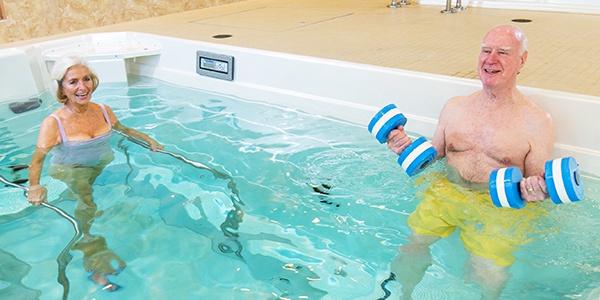 Tomorrow's seniors are more interested in being fit and enjoying their life-styles long into their 80s than their parents or even older counterparts ever were. When selecting a senior living setting, a large percentage of them will look for fitness-geared amenities within communities focused on health and wellness. Innovative fitness programs and strong wellness curriculum utilizing a warm water therapy and aquatic exercise equipment could draw these (very profitable) potential residents to choose your community.
Offering warm water as the safe and low-pain method of rehab and wellness, communities can become the "Community of Choice" in their local area, resulting in:
Increased census and more referrals
Less resident discharges in II, ALF, and ICF, resulting in increased ROI from:

Increased therapy patients and therapy productivity
Increased RUG scores and better patient mix
Decreased ALS for rehab and short-term stay programs
Increased ALS in independent living and assisted living communities
That's why so many have turned to offering unique, technologically-advanced fitness options like the HydroWorx underwater treadmill and jet machine. This type of ground-breaking equipment affords opportunities for facility owners to entice mature adults to enjoy outstanding, pain-free workouts.
Case Study
Country Meadows Retirement Community, Hershey PA
Kate, 94, came to Country Meadows Retirement Community in Hershey, PA with severe back pain. After beginning to work in the water with Country Meadow's team of aquatics experts, that pain disappeared in about a month. Kate's remarks have been echoed by other community members — they want a low-impact, high-return way to challenge themselves and progress toward positive land-based outcomes.
Learning how to use the HydroWorx underwater treadmill to capture the attention of residents — and prospective residents — is vital to produce the desired R.O.I.
The population of America will continue to reach retirement age in record numbers. Intense competition within the senior living sector will continue for decades. Successful facilities must constantly strive to position themselves on the edge of advancement. Adding a HydroWorx underwater treadmill gives Retirement Communities the competitive advantage to provide for the future needs of our growing senior population.
Request a Free Info Kit     View Our Products     Find a Pool Near You
Page updated on: December 11, 2020