How to Explain the Benefits of Aquatic Therapy to Prospective Senior Living Residents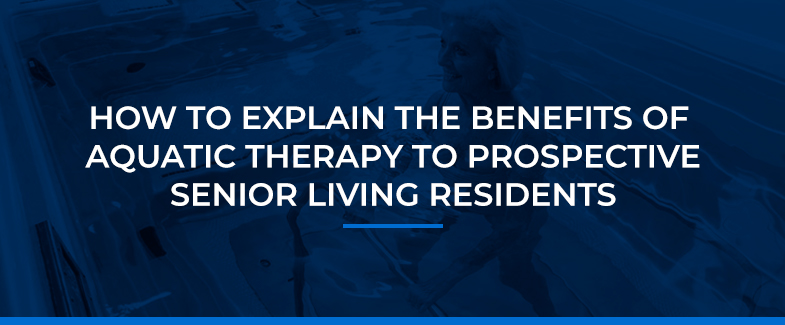 Aquatic therapy provides a safe and effective environment for exercise and rehabilitation in senior living facilities. Therapy pools from HydroWorx are some of the best senior living amenities in independent, assisted living and skilled nursing centers, providing a soothing and fun exercise environment that helps reduce pain, prevent falls and improve circulation. However, it can be challenging to effectively communicate all the aquatic therapy benefits for seniors to prospective residents. Here, we will discuss some essential marketing tips for senior living communities that are interested in introducing aquatic therapy or want to improve the usage of their current aquatic therapy program.
Jump to sections: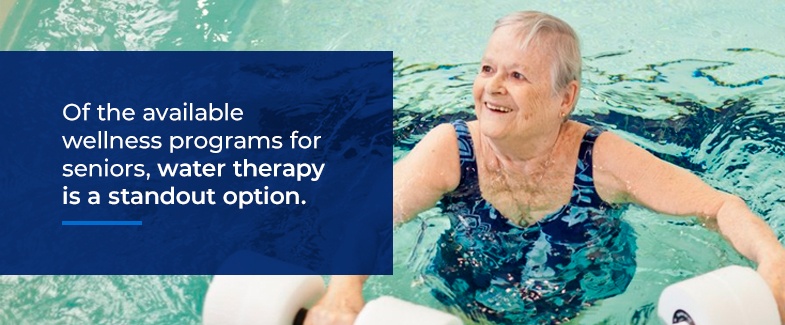 The Challenge With Marketing Aquatic Therapy
In 2015, 9% of the world's population was 65 or older, and that percentage is steadily increasing. Current projections state that the senior population worldwide will grow to 12% in 2030 and 17% in 2050. In this growing population, staying active is increasingly essential to help older people maintain their health and independence. Senior living centers are rising to the challenge with comprehensive, senior-focused wellness programs.
Of the available wellness programs for seniors, water therapy is a standout option. This exercise is advantageous for seniors for its numerous health benefits and ease on the joints. Aquatic therapy equipment from HydroWorx is especially beneficial, with variable jets to provide resistance and messaging properties and adjustable water levels to help patients meet their needs and goals for water therapy. There are also many accessibility options to meet senior living communities' unique needs. Accessibility options from HydroWorx include zero-entry moveable floors that allow for safe access without ladders or steps by raising and lowering the pool floor. There are also several options available for underwater treadmills, including above-ground underwater treadmills, which are ground-level chambers that patients can step or wheel into before adding water.
Aquatic therapy equipment's unique features have sparked a widespread interest in water therapy and aquatic exercises for seniors. Many senior living facilities have implemented it in their communities. On top of the public interest, senior living facilities can also enjoy the potential financial benefits of adopting aquatic therapy pools. Some of the advantages of these pools for senior living communities include the following.
Increased therapy revenue: Aquatic therapy is attractive to patients and involves long treatment terms. Thus, more patients will join in on the program, and each will pay for a complete round of therapy. Additionally, senior living facilities may collect revenue from private insurance services and outsourcing the pool equipment to athletes and other interested parties.
Increased populations: Aquatic therapy programs are attractive to a wide range of seniors and can help contribute to the facility's reputation. Communities that offer comprehensive care and market themselves well may attract more residents.
Improved cost efficiency: On average, the monthly cost for assisted living services is about $3,628 per month, while the monthly cost for long-term care in a private room is $7,698. A difference of $4,070 per month can significantly affect a senior living facility's profitability. Water therapy helps patients exercise with less pain, allowing them to lengthen their independence for longer and helping them avoid entering long-term care.
Increased resident stay: By keeping residents healthy and independent, residents will stay in facilities longer, maintaining higher occupancy.
Request a Free Info Kit     View Our Products     Find a Pool Near You
Given all these factors, it could make financial sense to introduce an aquatic therapy pool into your senior living facility. However, all these benefits go to waste if prospective residents do not understand aquatic therapy and what it can do for them. Unfortunately, there are many misconceptions about aquatic therapy. Prospective residents who do not understand the advantages of aquatic therapy may join the community and not use this amenity, or they may pass over your facility entirely for an alternative option. Therefore, the next pressing question is how to sell aquatic therapy and wellness to seniors who may be interested in your community.
How to Explain the Benefits of Aquatic Therapy and Wellness
One of the most challenging parts of implementing aquatic therapy into a senior living facility is marketing it as an amenity. Not only do you need to encourage current residents to use aquatic therapy and involve staff, but you also need to have effective methods of communicating the benefits of aquatic therapy and exercise to prospective residents.
Fortunately, there are many ways to communicate the benefits and features of aquatic therapy. Below are a few marketing tips for senior living communities.
Host open houses: Host an open house and invite local health care professionals and news stations to attend. During the event, demonstrate the water therapy program and its benefits.
Use social media: Promote patient success stories using pictures and video and post them on your facility's social media accounts.
Work with local health care: Drop into nearby offices of surgeons, physicians and physical therapists to share brochures about your facility's aquatic therapy services. If you make aquatic therapy equipment available for rental by health care partners, be sure to communicate that with them.
Encourage referrals: Create a referral program for your aquatic therapy patients. You can do this by offering a rewards program that gives small prizes for each referral that results in signup.
Create a newsletter: In addition to using social media, create a physical newsletter that includes glowing patient testimonials. Send these out to local physicians and physical therapists. If you already have a newsletter for your community, add a feature piece about your aquatic therapy program in each one, so residents' families can learn about the aquatic therapy program. You can also provide newsletters and brochures to local libraries and community hubs.
Use local news: Reach out to the local news crew to create a segment or article about water therapy and its benefits.
Reach out to local athletes: Build relationships with physical therapists and athletic trainers in your local community. Athletes often use aquatic therapy to help rehabilitate injuries or improve specific areas of athletic performance. Reach out to high school athletic departments, running clubs and local gyms to develop a partnership program.
Visit ideal resident candidates with video: If specific residents are ideal candidates for aquatic therapy, take some videos of your HydroWorx equipment, and use those to introduce the idea. Visiting a resident in their apartment or rooms and sharing the video via an iPad or tablet can help ease any fears or questions they may have about the concept.
In addition to these methods, be sure to educate your current staff and residents about water therapy and involve them in the mission.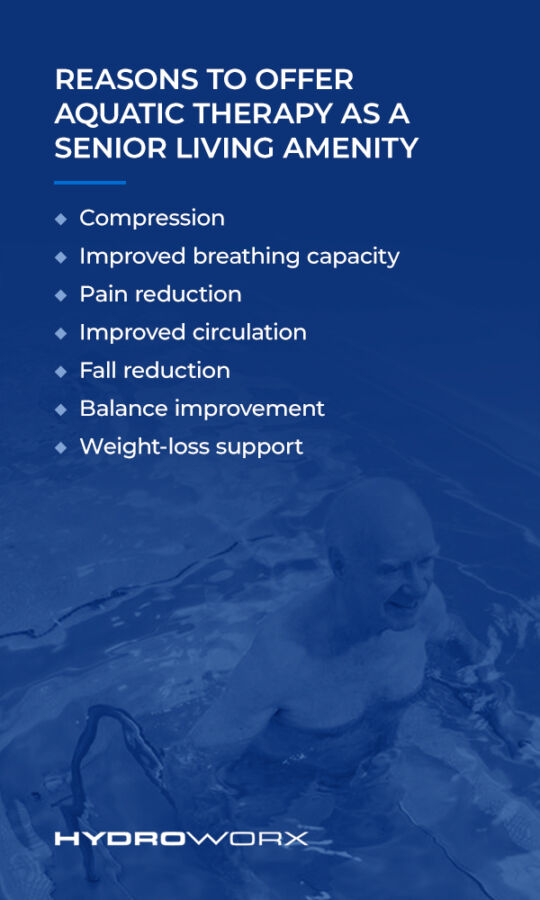 Reasons to Offer Aquatic Therapy as a Senior Living Amenity
When discussing aquatic therapy with prospective residents, remember to focus on its advantages and identify how it can benefit them specifically. To this point, multiple features of aquatic therapy can help unique senior populations.
Compression: The deeper you go into water, the more hydrostatic pressure your body experiences. In a typical aquatic exercise environment, the body experiences about 1.4 psi or 72.4 mmHg of pressure, which is greater than that applied by a standard compression stocking. Therefore, an aquatic environment acts as a useful compression device. Hydrostatic pressure can be a successful tool to use when working with swelling injuries or conditions like edema or lymphedema. The pressure decreases swelling while the patient completes their exercise and rehab programs. 
Improved breathing capacity: When a person submerges in water up to their neck, the hydrostatic pressure applies constant resistance to the chest wall while it expands and compresses with their breath. It helps improve respiratory muscle strength, allowing patients to experience greater respiratory muscle efficiency outside the water. Additionally, by forcing patients to release more air than they would usually exhale and improving respiratory muscle strength, aquatic therapy also increases lung capacity and improve outcomes for patients with COPD.
Pain reduction: By applying constant resistance to the body, hydrostatic pressure continuously signals nerve endings. In response, the nervous system automatically dulls the signals from sensory neurons. It effectively decreases muscle pain, making it easier for patients to move, work out and stretch. This benefit is particularly essential for patients with neurological or musculoskeletal disorders that cause hypersensitivity, such as fibromyalgia, sciatica and chronic pain. It is also beneficial for patients who experience sensory overload, like those with autism or attention disorders.
Improved circulation: Another significant advantage of hydrostatic pressure is its ability to increase circulation. By applying pressure to the body, hydrostatic pressure helps assist venous return, returning deoxygenated blood cells to the heart and lungs to pick up more oxygen. These oxygenated cells then return to working muscles, supplying them with oxygen to help them work better. Increased circulation also helps remove lactic acid from muscles that perform strenuous activity, reducing muscle soreness and swelling after exercise and improving performance during exercise. This benefit is particularly useful for people with circulation issues and those looking to enhance exercise performance.
Fall reduction: One in four Americans aged 65 or older will fall each year, and the statistic rises with age. Falls are the leading cause of fatal injuries and non-fatal traumas for older adults, making fall risk a substantial concern for seniors looking to get and stay fit. Fortunately, aquatic exercise helps prevent falls in and out of the pool — the water cushions users from hard impact, and the improved strength and balance from exercise keep them on their feet on land.
Balance improvement: Aquatic therapy provides an excellent environment for safe balance training. During training, the physical therapist can have the participant practice standing on both legs or one leg at a time while jets are on, challenging their balance. These types of exercises help improve stability, mobility and confidence among patient populations.
Weight-loss support: Aquatic exercises for seniors provide a safe way to lose weight for overweight or obese seniors. By reducing joint strain and improving comfort during exercise, weight-challenged seniors can exercise regularly and improve their health while also losing weight and reducing associated health risks.
Request a Free Info Kit     View Our Products     Find a Pool Near You
Those are the most significant benefits of therapy pools in senior communities, but there are even more advantages. Learn more about the benefits of aquatic therapy for seniors by browsing the HydroWorx website and arming yourself with the necessary knowledge to talk through any questions or concerns with prospective residents.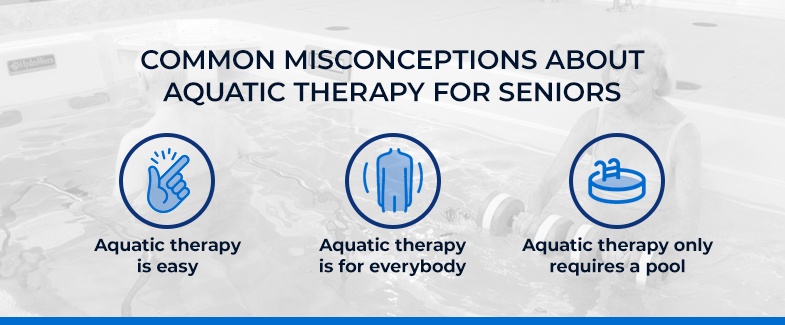 Common Misconceptions About Aquatic Therapy for Seniors
While aquatic therapy is an excellent choice to add to any senior living facility, seniors and staff may not fully understand it. The following are a few of the most common misconceptions about aquatic therapy.
Aquatic therapy is easy: Aquatic therapy is gentler on the joints and is a generally soothing experience compared to land-based treatments. However, that doesn't mean aquatic therapy is easy. Certified aquatic therapists will challenge their patients to complete exercises. While therapists will not push patients beyond their limits to the point of harm, they will still design exercise plans specifically to improve patients' strength and flexibility.
Aquatic therapy is for everybody: While aquatic therapy can be a beneficial experience for many people, some populations aren't good candidates for this type of exercise program. People with infections, open wounds or fevers should not participate in aquatic therapy activities while affected to avoid passing illness to others. Patients with a lack of bowel control may not be able to participate in aquatic therapy unless they can achieve a consistent toileting schedule. Those with cardiac diseases may not be good candidates for aquatic therapy due to concerns with water pressure. Finally, people who cannot swim or have a fear of water may wish to avoid aquatic therapy, though aquatic therapists may work with these individuals to find solutions.
Aquatic therapy only requires a pool: Aquatic therapy does require a pool, but without a physical therapist involved, you're merely exercising in the water. Aquatic therapy requires a licensed health care professional who can identify the patient's needs, recommend and design an exercise plan and guide people through the appropriate movements. Aquatic therapists have the training necessary to lead the therapeutic process, push patients to safe limits and keep them safe during exercise.
By being aware of common misconceptions, your facility can effectively market aquatic therapy to current and prospective residents and prepare yourself to address general questions and concerns.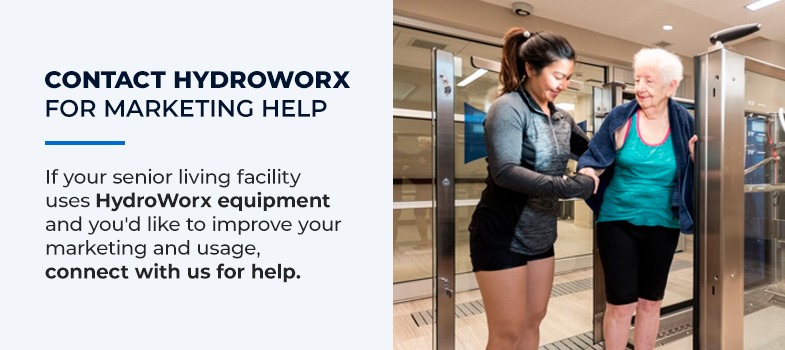 Contact HydroWorx Today for Marketing Help
If your senior living facility uses HydroWorx equipment and you'd like to improve your marketing and usage, connect with us for help. We work with our clients to teach them how to encourage more residents in senior living facilities to use aquatic therapy programs, and we can guide you through all the marketing tools you can use to educate prospective residents. 
Request a Free Info Kit     View Our Products     Find a Pool Near You
To learn more about aquatic therapy, the necessary equipment and how to use it, reach out to HydroWorx today!
Page updated on: February 2, 2021