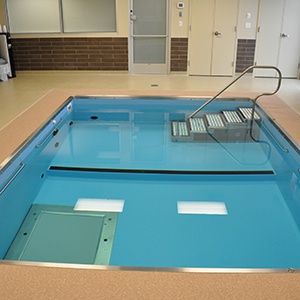 Knee pain is one of the most common patient complaints physical therapists and athletic trainers have to deal with. A growing clinical consensus agrees that low-impact exercises are an essential component of knee conditioning programs, both for patients recovering from surgery as well as for osteoarthritis and other chronic pain sufferers. With a HydroWorx therapy pool for knee rehab, your patients can take advantage of one of the most sophisticated aquatics devices on the market today.
Request a Free Info Kit     View Our Products     Find a Pool Near You
Jump to Sections:
Research Results
Osteoarthritis: Chronic knee pain is one of the persistent and frustrating effects of osteoarthritis. For many patients, it affects their ability to walk and their overall quality of life. Recent research suggests knee conditioning programs containing an aquatic therapy portion have more positive outcomes than wholly land-based PT. A joint study from the University of Florida's Department of Applied Physiology and Kinesiology and the Physical Education and Recreation department at Utah State University found "an acute training period on an aquatic treadmill positively influenced joint angular velocity and arthritis related joint pain" for patients suffering from osteoarthritis in the knees.
ACL surgery recovery: As one of the most common sports-related injuries, athletic trainers and clinicians are quite familiar with the long rehab process associated with a torn ACL. Research by Drs. Mary E. Sanders and Daryl Lawson has found that recovery from ACL surgery can be expedited when aquatherapy is made a component of knee rehabilitation. In a study of 20 patients recovering from intra-particular ACL reconstruction, "participants in the water exercise group noted a greater minimization of joint effusion and greater self reports of functional improvements [as well as] greater muscle girth at the calf and thigh, greater quadriceps strength, and better range of motion."
Comparison to Land-Based PT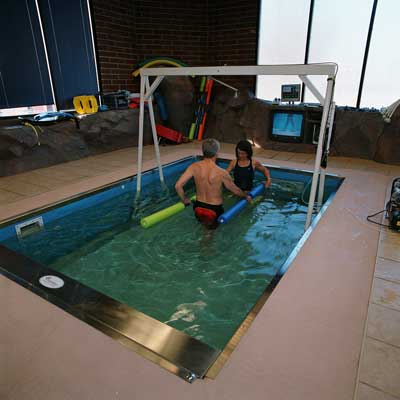 Compared to land-based exercise, aquatherapy for knee rehabilitation has a number of positive benefits:
Increased buoyancy in water relieves pressure on the knee, allowing it to become stronger without the risks associated with high-impact therapy.
Warm water decreases sensitivity to pain and improves circulation and range of motion, making underwater knee rehab ideal for patients with chronic conditions.
In a HydroWorx pool, water resistance and direction can be easily controlled, allowing clinicians to create a level of resistance appropriate to the rehab needs of their patient.
Aquatherapy presents a safe environment in which patients can exercise with a lower risk of re-injury. For patients with severe mobility problems, HydroWorx 2000 and 1200 Series pools feature an adjustable floor for facilitating entry and exit without steps or ladders.
Grow Your Business for Less
Offering aquatherapy for knee rehabilitation opens a whole new revenue stream for your facility. Your clients' recovery times will improve, allowing you to grow your business by taking on new patients. If you've been considering adding a therapy pool for knee rehabilitation to your facilities, but aren't sure if the expense is worth it, please contact HydroWorx today to request your free business plan and ROI calculator.
Each day, over 23,000 people use HydroWorx products at some of the world's top training centers, hospitals and professional sports organizations. Your facility can be the next one to tap into the growing market for aquatherapy — contact our team today for more information.
Request a Free Info Kit     View Our Products     Find a Pool Near You
Case Study
Georgia Physical Therapy, a prominent advocate for aquatic therapy, constantly helps patients recovering from surgeries. "Patients love the pool. People love the pool. Once they get in there I think they feel, 'I could be this much better on land'… There is a little more glimmer of hope," says Bonnie Spears the clinical director and physical therapy assistant at Georgia Physical Therapy. Orthopedic surgeries such as knee or hip replacements are a frightening process for many people due to the rigorous rehab following the surgery. Aquatic therapy gives patients a sense of comfort as they begin the process of rehabilitation.
Claire Rivera was constantly trying to control her intense knee pain and alleviate a serious case of arthritis that was constantly bothering her. She knew something needed to be done and she decided to undergo a double knee replacement in the summer or 2015.
Shortly after her surgery, Claire began aquatic therapy in the HydroWorx 500 Series at Georgia Physical Therapy. At the start, Claire was unable to completely straighten her knee, known as a flexion contracture, which decreased her full range of motion. The full range of motion in a healthy knee is 0° of extension (completely straight) to 135° of flexion (fully bent knee joint). Claire only had about 85°-90° of flexion and was nowhere near full extension.
The specialists at Georgia Physical Therapy immediately began to try to improve Claire's range of motion in the therapy pools. Patients in the pool feel as if they are a fraction of their true weight, due to the buoyancy of the water, so they can exercise without fear of further injuring themselves. Claire also had a history of lower back pain, so it was imperative to make sure she did not aggravate her back while focusing on rehabilitation for her knees. The pool not only helped Claire walk correctly, but she also greatly increased her range of motion without any stress on her lower back.
After months of rehabilitation at Georgia Physical Therapy using the aquatic therapy pools, Claire made a full recovery. The underwater treadmill gave Claire the confidence and capability to once again walk correctly. Looking back on her time at Georgia Physical Therapy, Claire said, "I feel like my knees are 100% and they're more reliable than my own knees ever were. So I'm happy!"