Use Aquatics for Each Stage of ACL Rehabilitation
Rehabbing ACL tears can be a challenge for many reasons and for both the athlete and the athletic trainer. Athletic trainers want nothing more than to help their patients heal and get healthy, but athletes often experience pain and discomfort daily from the ACL tear due to soreness and swelling. Despite the dread of beginning rehabilitation, it is important for the athlete to begin a physical therapy program to regain the range of motion and strengthen the injured area as soon as possible.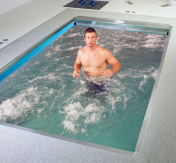 Randy Cohen is the Associate Athletic Director of Medical Services at the University of Arizona and has over 12 years of experience utilizing aquatic therapy to rehab ACL injuries. In a webcast, a few years ago, he shared how to use therapy from just days after surgery to low-impact conditioning after the athlete has returned to sport.
To learn more about ACL rehabilitation using aquatic therapy, download the ACL Recovery with Water Therapy tip sheet.
Common Issues Post ACL Surgery And How To Use Hydrotherapy
Most commonly seen after surgery is the lack of range of motion, knee extension and flexion of the knee. Randy demonstrated numerous exercises and activities to cue athletes to perform within the first few weeks of the therapy program. He suggested incorporating different types of stretches, strengthening exercises as well as walking and jogging to emphasize the importance of strengthening the whole body rather than solely focusing on the knee.
Randy shared that using aquatic therapy often gets the athlete back quicker than on land but the major benefit is when you get them back to land after using aquatics, and they're already functional because of their experience in the water.
It is important to keep the athlete's entire body strong to enhance recovery and reduce the risk of re-injury. In the webcast, Randy demonstrated many exercises but he primarily focused on stretching, core stabilization and active motion including cardiovascular exercises (e.g. walking or jogging on the underwater treadmill).
Choosing Physical Therapy Instead Of Surgery After A Partial ACL Tear
A simple jump stop or sudden change of direction can trigger an ACL injury. The athlete immediately has several thoughts including, "Why did this happen to me? Do I need surgery? When can I play sports again? Am I at risk of this happening again?" However, the hardest question for a clinician to answer is "When and in what capacity can an athlete return to sports after an ACL injury?" It is a tough question because the severity of the injury and the recovery period is different from case to case.
In the United States, it is estimated that there are over 200,000 ACL related injuries each year and more than 100,000 ACL reconstruction surgeries performed every year. The common causes of ACL injuries include (but are not limited to):
Overextending the knee
Landing from a jump incorrectly
Rapidly changing directions while running or turning
Direct contact or collision involving the knee
Ultimately, it is up to the athlete (in conjunction with the doctor and family members) to decide what treatment option, including surgery, would be best for them.
One athlete experienced a partial ACL tear and decided to not have surgery. While deciding where he was going to begin therapy, his head football coach, Josh Shaw, at Cherokee High School in Canton, GA, suggested Georgia Physical Therapy because of the great experience his wife had there previously. Josh stated, "It is not just the high-tech equipment, it is the communication and feedback that I received from Chad on how my players are doing. He genuinely cares about our players."
Once, the athlete got his therapy sessions scheduled throughout his summer break, he was ready to get his knee feeling better! He had an ambitious goal but the athlete was aiming to get back to the game by the fall. The athlete began by using the massage hose in the HydroWorx 500 Series which felt great on his knee and then began running on the underwater treadmill.
Hydrotherapy Recovery Program For ACL Surgery Recovery
Randy always suggests waiting until the swelling gets controlled before beginning therapy. Once the athlete's swelling is at an acceptable level, begin by using a recovery program, like the one below, for an ACL patient. Continue to gauge the athlete's gait during the program by giving them cues to make sure they're demonstrating all the techniques that they weren't using due to the tear.
Warm up on the underwater treadmill by jogging. This begins giving the athlete confidence right out of the gate after surgery by enhancing the range of motion, getting the heart rate up, experiencing "sweat therapy" and reducing the swelling without the added load.
Begin by asking the athlete to demonstrate exercises such as: flexion of the foot, high knee walking, knee flexion, heel up to your butt, butt kicks, hip motions – extension and flexion and calf raises. Suggest to the athlete to watch themselves on the camera to make sure they're executing the exercises properly based on cues from the Athletic Trainer.
End the 10-minute program by walking or jogging on the underwater treadmill followed by extensive stretching.
Request a Free Info Kit     View Our Products     Find a Pool Near You
Randy mentions multiple times in the webcast how athletes regain their confidence when rehabbing on the underwater treadmill. For the full webcast with more protocols of each stage during ACL rehabilitation, progression timelines and exercises to return to play, view the video below.
Cast Study: Kelvin Benjamin
It's hard seeing a player get injured, especially early in the season. Kelvin Benjamin, former wide receiver for the Carolina Panthers, knows this pain all too well as he suffered an ACL and lateral meniscus tear during a preseason joint practice with the Miami Dolphins.
Benjamin broke off into a one-on-one passing drill with quarterback Cam Newton. As Benjamin attempted to speed-cut into an opposing player, his knee buckled. For the first time ever in his career, he was carted off the field, uncertain of what his future in football would be.
Along with Benjamin, 37 other NFL players tore their ACL before week 1 of the regular season that year. According to the American Academy of Orthopaedic Surgeons, there are more than 200,000 cases of ACL injuries each year with approximately 100,000 of these knees reconstructed annually. Increasingly, aquatic therapy is being harnessed to help generate remarkable rehabilitation breakthroughs previously thought impossible by traditional standards.
Benjamin was back in the Panthers' facility full-time within a week of surgery. To start, two athletic trainers pushed down on his leg, straightening it past the point of comfort, in order for him to regain extension in his knee. In addition to land therapy, which was limited early on due to weight-bearing status, Benjamin exercised in a HydroWorx 750 Series therapy pool. In the pool, he held on to a metal bar and lifted his knee up and down repetitively. For people who have just suffered a tear, aquatics can be used to intervene against further injuries and side effects — such as the loss of balance, mobility and muscle strength. While regular land jogging can "jar" the body, these foot-striking forces are drastically reduced underwater. Over the long term, there is also less burden on the body and reduced risk of injury.
As the season continued, Benjamin was on crutches for six weeks. As time progressed, he was able to start a training regimen that included single-leg balance and strengthening exercises. Four months after surgery, he began jogging on land and cheering his teammates on as they entered the playoffs.
Case Study: How One Facility Uses Water To Prevent ACL Injuries
Over two thirds (70%) of all reported ACL injuries are non‐contact in origin. Some causes of non‐contact ACL injury in field/court sports commonly include the following:
a one‐step/stop deceleration
cutting movements
sudden change of direction
landing from a jump with inadequate knee and hip flexion (at or near full extension)
A lapse of concentration (resulting from an unanticipated change in the direction of play)
Non‐contact ACL injuries typically occur during a deceleration maneuver combined with a change of direction, while the foot is in a closed‐chain position. While the foot is in a closed‐chain position and pronated, the tibia is internally rotated, and the knee is at or near full extension (0–20° of flexion); if the athlete attempts to change direction, the result is an excessive torsional (twisting) force that can potentially strain or rupture the ACL.
Therefore, with everything considered above, a prevention program emphasizes teaching athletes the proper landing techniques. The techniques include, landing softly on the forefoot and rolling back to the rear-foot, engaging knee and hip flexion on landing and with lateral (cutting) maneuvers, avoiding excessive strain on the knee.
Dave Hill, PT and Marketing Manager fo NovaCare Rehabilitation, cannot emphasize enough the importance of developing an injury prevention program for ACL injuries, especially for athletes. One of the ways he does this at his facility is with the use of their aquatic therapy pool combined with land based exercises. Using the aquatic therapy pool eliminates the pressure experienced in the joints when starting initial jumps and landings. The pool also creates a pain-free environment suitable for any and all exercises. In the water, the Physical Therapist or Athletic Trainer can teach proper soft landing techniques because of water's buoyancy and unweighting properties on the individual. The PT can also use the underwater video monitoring system to see if their patients' knees are in the correct alignment when jumping and landing underwater. The other important feature is the patient is totally involved because they can view their legs and landing techniques as well.  The patient does not have to look down at their knees, rather with the HydroWorx underwater camera capabilities, they can view their gait and form right in from of them. This allows for them to maintain proper posture and head position as if they were on a playing field. This biofeedback of viewing themselves and their landing is key to excelling them in a quick progression in rehab.
Hill also says that the natural resistance created by water helps individuals improve their overall balance. Additionally, Hill tells us that the underwater treadmill reduces any joint or muscle strain caused from training. At NovaCare Rehabilitation, Hill and other PT's have created an entire program focused on ACL prevention where they use the HydroWorx therapy and exercise combined with land exercises. Perfecting certain movements underwater, such as landing, twisting and jumping decreases the chance for the athlete to injure themselves on land performing those same movements. Many of the injury prevention exercises are started in the HydroWorx pool from the modified PEP program listed below and then progressed to the full program when ready to aid in ACL prevention in the future.
To learn more about ACL rehabilitation using aquatic therapy, view the ACL Recovery with Water Therapy tip sheet.