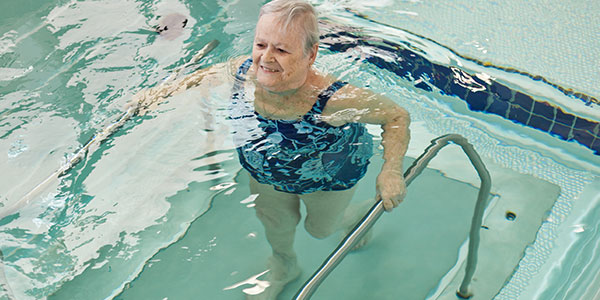 Relaxation is one of the most important aspects of controlling arthritis and fibromyalgia pain. Therapeutic warm water provides sensory stimulation, which encourages relaxation and stress relief. Combining this warm water with our deep penetrating massage system can greatly reduce the stress and pain on aching muscles and joints.
Walking on the underwater treadmill or exercising against the resistance jets can also help manage your pain. When standing chest deep in water, the body is 80% weightless, bearing only 20% of its body weight. This weightlessness significantly reduces the stress on joints and muscles.
Benefits of Aquatic Therapy for Those Who Suffer from Arthritis and Fibromyalgia
Relaxation
Increased joint range of motion
Pain relief
Enhanced mobility
Improve flexibility
Mobility and strength
Removes weight from joints and bones
Strengthens muscles and joints after surgery
Decreased side effects
Additional Resources
Pain Management Health Center (by WebMd) Chronic pain affects an estimated 86 million American adults to some degree. Here you'll find the latest information on chronic pain treatments, as well as natural ways to manage your chronic pain. Plus, get help daily in our online support group.
Back Pain Health Center (by WebMd) Back pain affects 80% of Americans at some time in their lives. Here you'll find in-depth articles about the causes of back pain and back pain relief — from exercises to medical treatments.
Request a Free Info Kit     View Our Products     Find a Pool Near You
Page Updated on: December 11, 2020