Part 2: What's the Right Pool for Your Family and Your Home?
A Four Part Series From Our In-house Residential Pools Expert, Michele Reber
Being with HydroWorx Pools for many years, I have realized a lot of homeowners have some great questions about what to look for when buying a pool- there are so many different models out there, how can you possibly narrow your search down?  This series covers 4 important questions to ask yourself when considering a pool for your home.
Part 2: Where is the best place to put a pool?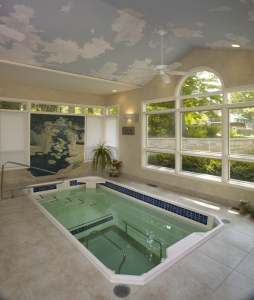 Let's face it- pools are an investment in your future.  When you are installing your pool you want to make sure you place it in an area that is aesthetically pleasing, user-friendly and has easy accessibility.  Many people buy a pool for therapy, exercise, and leisure, so  I almost always recommend having a pool in a 3 or 4 season room . Particularly when the pool is for fitness or therapy, it is important to have it in a location that is usable throughout the year to keep your rehab and exercise consistent.  It's nice to have a lot of windows that give natural lighting, can cut down on heating bills and offer ventilation.  I would also recommend a door to your pool room for safety, as well as humidity control in your home.  (HydroWorx can also recommend some companies that provide 3-4 Season rooms that provide a beautiful setting for your pool- just ask us!)
If you want your pool area to have a spa-like feel there are a few other things you can do to 'spruce it up.'  Adding a nice bathroom with a shower, hanging areas for towels and bathing suits can be a useful addition to a typical room.  You could also add some other simple workout equipment (mats, weights, etc..) to make it more of a fitness area.  Plants always add a nice feel to the room too!
If you prefer to enjoy your pool for some family fun outdoors there are a lot of things to consider.   First of all, I would only recommend this if you live in a tempid climate.  To get the most out of your pool you want to be able to use it year round.  The advantage of installing it outdoors is it minimizes construction cost and gives you a nice environment to enjoy your pool!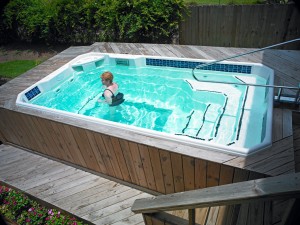 Another thing to consider when designing a space for a pool includes whether you will install the pool in-ground, above ground or partially above ground.  This depends a lot on your current situation.  If you will be designing a new room or backyard space for your pool, we recommend installing the pool in-ground.  An in-ground pool offers the best accessibility for any pool users by eliminating extra decking or stairs that would be needed otherwise.  Particularly for those with certain health conditions or chronic pain, getting into the pool will be the key factor in making it something you want to do regularly.  Above ground pools are best suited for outdoor installations (although they can be done anywhere).  When installed above ground outside, we suggest using marine board for the decking material- marine board is often used on boats and provides a slip proof environment for a pool area.  It also looks like regular decking.  It is important to have a handrail for safety too!
If you have any more questions, please feel free to email me at mreber@www.hydroworx.com
Stay tuned for Part 3 Coming Soon!