Experts Share Value of Water at CSM
We had quite the fun, busy and successful week in Indianapolis for the Combined Sections Meeting of the American Physical Therapy Association. We had an exciting booth with great staff which helped make this trade show successful. We handed out t-shirts, opened the pool up for attendees to try, hosted an event and more! And to top that all off, we had a special appearance from Hydro Man, the superhero who defends aging and fights pain.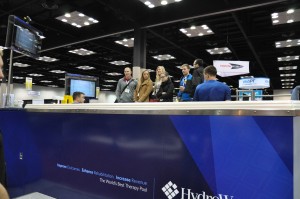 On the second day, we hosted an afterhours event in our booth, featuring four different experts who all shared different experiences with using and integrating aquatic therapy. Over 50 attendees came to the HydroWorx booth to enjoy cocktails and appetizers and to learn more about "The Value of Water."
Veronica Paquette, PT, ATRIC, Owner of Essex Aquatic & Rehab Center in Vermont, spoke first about her experience with integrating two HydroWorx pools into her small practice in Essex Junction, VT. She sees a variety of patient types in her facility and nearly all of them are able to benefit from aquatic therapy. "This [pool] is great not just for post-op patients and athletes, but I also have a lot of people with neuropathy that get in the pool. They cannot walk on land because they have so much pain in their feet. They can't walk to their mailbox, but they can get in and walk 20 minutes on the underwater treadmill." In addition to sharing the benefits of the pool for her large patient mix, Veronica touched on the impact that the pool has had on her practice.
"Before I purchased my pool, it was just me. I was seeing anywhere from 65 to 75 patients a month and I was working two days a week. The minute I opened my doors [after integrating the HydroWorx pools], I had patients five days a week. My business has more than quadrupled over the ten years that I have had my HydroWorx pool. And I would say that within the first year, it more than doubled."
Keith Ori, BS, PT, Co-Owner of Orthopedic Rehab Facilities in Montana, continued by discussing the ROI he's received with aquatic therapy. Keith, who has 7 clinic locations, has been able to generate a 38% profit margin with the pool. "And you can see our profit margin was 38%- I am pretty proud of that! That was a surprise to me! I look back at this and kind of wonder to myself, 'Why did you have such a hard time pulling the trigger?' It was a no brainer." Keith also shared that within the first six months of integrating their HydroWorx pool, they were making a profit, which increased every year thereafter.
"It is a tremendous way to treat your patients, first, and be successful, second. This has been a tremendous asset to our practice as far as taking people who are low level, low functioning individuals and getting them going to higher levels of functioning and better living for themselves."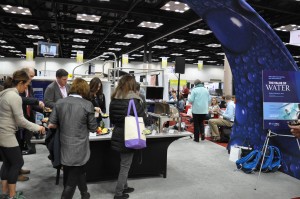 Last but certainly not least, Dr. Dennis Dolny, PhD and Dr. Eadric Bressel, EdD, Research Specialists at Utah State University, discussed some of their recent research findings. They both have been very influential in this field with their cutting-edge aquatic treadmill research. For example, Dr. Bressel shares that he gets asked the question all the time, "Well can't I just use, for example, an unloading device to replicate some of the advantages of using an underwater treadmill? In other words, I can unload perhaps 20% to 30% of my body weight just using a land unloader? But there is a very big difference between the two and it has to do with cognitive health. As a result of our research, we found that people actually cognitively have more brain activity in the water than on land which seems to lead to better cognitive performance in the water." These new research findings are very exciting, because the aquatic environment can be used not only for physical health and rehabilitation but also for mental or cognitive health, which can make an even bigger impact on a patient's overall health.
Following these presentations, Anson Flake, HydroWorx Co-Founder and CEO, presented the first ever Healthcare Excellence in Aquatics award. The first place winner was Pullman Regional Hospital for their innovative therapy program for a 3 year old patient with a brain tumor. This case study was fascinating and tied in very well to research that Dr. Bressel presented about increased cognitive performance in an aquatic environment. Ambyr Henderson, speech therapist, and Tim Williams, physical therapist, combined their efforts in their HydroWorx pool and they say the results were amazing!
If you were in attendance for the Combined Sections Meeting, we hope you enjoyed your time as much as we did. Here are a few photos from the event: