Baseball Fever Strikes Again, and Aquatic Fitness Keeps Players in the Game
Although the weather in the northeastern part of the United States, such as Middletown, PA-HydroWorx's home base- hasn't quite thawed yet, professional baseball players are back on the grass and turf for sunny spring training in the Phoenix, Arizona and Clearwater, Florida areas. As these athletes begin to get back in shape for another season of record breaking batting averages, nail-biter ninth innings and headline-making rivalries, their coaches and athletic trainers are all looking for ways to keep them as healthy as possible.  For many MLB teams, this includes getting players – both healthy and injured – into aquatic therapy pools.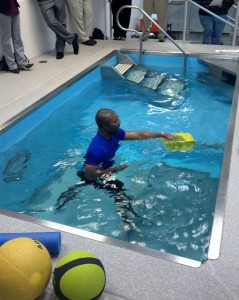 Each team has its own "secret sauce" of aquatic-based cross-training programs and, when necessary, rehab-related regimens.  However, while we can't say for certain which techniques are used on a daily basis, we do know what Murphy Grant, MS, LAT, PES Assistant Athletic Director – Sports Medicine and Head Football Athletic Trainer at University of Kansas recommends. Grant has worked with innumerable baseball players, both in Kansas and around the country, who all wanted to get an edge on their competition, reach their personal bests and recover from surgeries and injuries.
During a HydroWorx sponsored event, Grant demonstrated exercises, specific to baseball players, in the pool. Each exercise focuses on strength, agility, flexibility, speed and/or endurance.  Just a few of the prominent ones mentioned – and the reasons they work so well in the water – include:
Core-busting sets. Standing in the pool, an athlete can tighten and relax his abs up to 100 times as part of a core-building routine. He can also stand against the wall and do constant stomach pulls, essentially keeping the muscles of the abdomen engaged for long periods of time. Plus, those paddle boards or giant blow-up balls can be used to force a "mini-crunch" progression of controlled movement that blasts the abs. Grant's quick to remind all athletes and coaches that the core is the foundation of the player; without strength in the gut, there's a limit on how much the baseball athlete can do on the field.
Water resistance arm workouts. Grant isn't talking about just flailing arms around; instead, a specific movement with the arms is performed repeatedly. This movement can be done with or without assistive devices such as HydroTone handheld bells.  Additional movements, such as swiveling at the waist, can be incorporated to attack other planes of motion.
Shoulder workouts.  Medicine balls aren't just for land; they can be used in the pool with terrific physical responses.  As Grant explains, it's even possible to "throw" a medicine ball in the water against the force of the resistance jets. The jets push the ball back, creating the opportunity for chest passes. Doing a few minutes of this type of intense exercise gets the blood pumping, the muscles moving and the shoulder joints lubed up for land play.
Injury recovery exercises.  Baseball players who have suffered injuries can get their bodies back into playing mode with exercises like one-handed submerging of water "buoys".  These plastic items force the exerciser to push against the buoys' natural tendency to want to float.  By working on multi-planar stabilization of the upper body, the player can comfortably engage injured areas without compromising healing. Additionally, if the injured body part is a hip, knee or foot, the pool can provide a safe environment in which to work a player's range of motion with or without HydroTones, balls or even TRX bands.
There's a whole host of other exercises that can make a difference during this year's baseball season, such as underwater base pulley rows, kettle bell swings and rotations, and box jumps and lateral dips.  Oh, and don't forget that when the underwater treadmill is brought into the picture, it's possible for athletes to skip, run, bound, sprint and much more… all while getting the benefit of a warm water therapy pool atmosphere and the advantages of the aquatic environment's hydrostatic pressure and other natural properties. From spring training in Phoenix to the World Series in Philadelphia, aquatic therapy will remain a crucial component of each team throughout the duration of the 2015 season.
Stay tuned as we keep you informed on the exciting progress that players are making throughout the months ahead.
Watch Murphy Grant's full demonstration below:

View this FREE On-Demand Webinar: Strategies for Treating Low Back Injuries with Aquatic Therapy
View this on-demand webinar presented by Murphy Grant, MS, LAT, PES Assistant Athletic Director – Sports Medicine and Head Football Athletic Trainer at The University of Kansas entitled, "Strategies for Treating Low Back Injuries with Aquatic Therapy." This webinar will provide treatment ideas for using the benefits of hydrotherapy for low back injuries such as Lumbar Sprain, Muscular Strains, Contusions, Sciatica, Herniated Disks, Spondylosis and Spondylolisthesis. The webinar will also offer strategies to develop rehabilitation programs and progressions using aquatic therapy as a medium.