An Interview with Aquatic Textbook Author, Dan Seidler, PT
In case you haven't heard yet, a new textbook was published recently, titled "The Use of Aquatics in Orthopedic and Sports Medicine Rehabilitation and Physical Conditioning," written by leaders in the sport & exercise and orthopedic industries. This textbook represents a new generation of rehabilitation that is informative enough to be injury and sports specific. Dr. Kevin E. Wilk, PT, DPT, FAPTA and Dr. David M. Joyner, MD, FACS, along with noted domestic and international leaders in the field, explore the aquatic techniques and principles detailed in the work, while presenting this scientifically based material in an understandable and user-friendly format. This textbook includes scientifically-based information on the use and application of aquatic methodologies in both rehabilitation and physical conditioning appropriate for everyone from the general population to the elite athlete. We anticipate that this book will help advance the use and adoption of aquatic therapy globally.
To offer an insider's perspective on this new aquatic textbook, we are interviewing some of the chapter authors to learn what makes this groundbreaking textbook a must read for any rehabilitation clinician. For our third interview we spoke with Dan Seidler, PT, MS Executive Director of WSPT Physical Therapy in New York. Siedler is the author of Chapter 7, "Chronic Pain: Fibromyalgia and Other Syndromes." Here is what he has to say!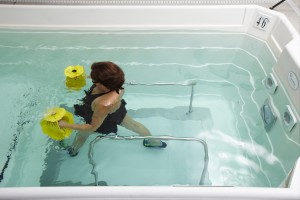 How does it feel to be an author in a textbook?
I feel honored to have been called by Anson [Flake, Co-Founder and CEO] and Kevin Wilk to be an author in this book. I really appreciate that they believed my knowledge base would be helpful for this textbook.  
Have you ever written a book before? Plans for another in the future?
I actually self-published a book on ergonomics back in 1999. As of right now, I have no plans for a future book, but certainly open to it.
Who was this book written for/intended for? 
This book was written for Physical therapists and health care professionals as well as sports medicine professionals and athletic trainers. For my particular chapter, which focuses on treating patients with chronic pain and fibromyalgia, I geared it more towards clinicians who would be treating those patients.
What effect do you think (or hope) this textbook might have on the field of orthopedics and or sports medicine rehabilitation? As far as I know, this book seems to be the widest ranging, mass-published book on orthopedics and aquatic therapy for sports therapy and physical therapy. This book certainly opens the doors to aquatic therapy and sports therapy and for a lot more PTs. Many PTs that I speak with have very little experience with aquatic therapy, which means there is a large opportunity there and a great deal of room for education.
Questions about your chapter/topic:
What will readers learn from this book (or your specific chapters)? 
Most importantly, readers can learn how aquatic therapy can be helpful with chronic pain and or fibromyalgia. Aquatic therapy in a therapy pool is really one of the best modalities for both therapy and exercises for treating these types of conditions.
Your chapter was focused on "chronic pain". When did you first start treating patients with chronic pain/ fibromyalgia in the water and why? 
We installed our HydroWorx pool in 2008 and they [patients] just started coming to us. We marketed a little bit to some doctors and general public before the pool opened, and then the doctors started to send patients with these conditions to us from the very beginning. Once we began treating these patients in the water, we realized how perfect that environment is for them and now, anytime I speak with a doctor or pain management professional, it's the first thing [aquatic therapy pool] I mention.
What benefits do you see to treating patients with fibromyalgia in the pool versus just treating them on land? 
The patient can do a lot more in the water with less pain, and less residual pain. They are able to tolerate more during a session in the pool compared to traditional land-based therapy and they tend to have less pain afterwards. Also, there is more compliance with aquatic therapy. The patients tend to stick to the program and enjoy coming back for each therapy session.
Can you share a specific patient story that shows the impact & success of using advanced aquatic therapy technology to treat chronic pain vs land therapy? 
We had a patient who suffered from chronic pain. We were actually treating her before we had the pool and she had left for several years. When the pool went into the new facility, she came back. I initially put her on a full aquatic PT program, following the basics of the protocol we used for the book (chapter 7). She had her good and bad days and gradually progressed to an intermittent program of aquatics and land. Over a 3-4 month period she progressed fully to land with an emphasis on functional activities. In the final month she would do an occasional pool day if she was really not up to exercising on land. The elements of the program that she found most valuable were the ability to exercise in water with minimal residual pain, the relaxation/floating techniques in the pool and the gradual progression to functional land exercises. Prior to her pool program, she was very inconsistent with her therapy. She frequently missed sessions due to pain. That was reduced significantly with this program and she participated consistently with few interruptions in the continuum of her care. She's just one example of so many patients who've benefited from the pool after other unsuccessful bouts of PT and other treatments.
How do you see the use of aquatics changing rehab in the future? 
In places where aquatic therapy is possible, I believe it will become more and more a part of the landscape of physical therapy.
Excerpt from Chapter 7
"The physical therapist has many tools to guide patients in their management of Fibromyalgia. None has proven to be more effective than the therapy pool. The properties of water create a comfortable environment for patients with severe chronic pain to relax, move, and exercise with significantly reduced symptoms. During that time, they are able to comfortably exercise more vigorously than on dry land. Aquatic therapy is one of the most effective means of imitating an exercise program and helping patients with FM to be compliant over the long term. The warmth of a heated pool helps lubricate joints and loosens muscles. Patients find it easy to move freely and tolerate longer bursts of exercise with minimal residual soreness or increases in being in a heated pool and performing aquatic exercise tends to last for hours."
Order your copy of this new textbook today!