3 Places for the New HydroWorx 300 to Make a Splash
Do you have underutilized space within your facility and are unsure what to do with it?
The HydroWorx 300 Series was designed to take up a minimal amount of space allowing it to easily fit through a 36" doorway and be placed in virtually any physical therapy clinic, senior living community or sports medicine facility. With this self-contained underwater treadmill device, adding aquatic therapy to your current rehabilitation and performance programming has never been easier.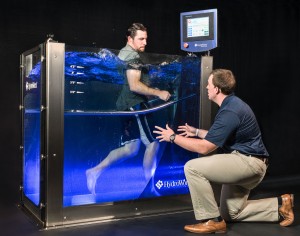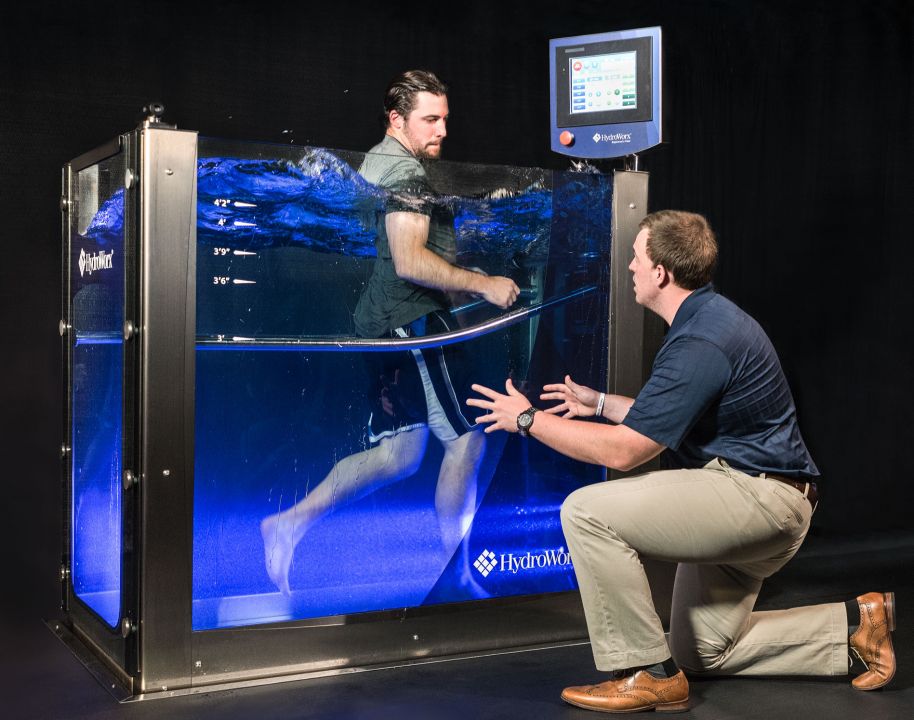 Envision the various places this construction-free product could go in your facility. Complete with the technology that makes HydroWorx unique– like our integrated underwater treadmill, resistance jets and hydromassage, the 300 is made with 316 marine grade stainless steel and tempered glass.  Along with it's operating components (water tank and filter system), it only requires a 180 square foot area all while fitting through any standard 36″ door.
3 Locations the New HydroWorx 300 Will Make a Splash:
The Underutilized Floor Space or Room in Your Private Practice Physical Therapy Clinic: Often physical therapists are restricted in what they can include in their clinics due to their limited amount of space, or are unable to perform construction in a leased space. Fortunately, the 300 Series requires a small footprint which means it can be placed right on your treatment floor or in an adjacent room. With the 300 close by or in line of site, a PT or PTA can treat multiple patients at a time.  Clinic owners can now offer their patients an advanced rehabilitation tool to decrease rehab time frames, increase muscle strength and improve functional outcomes without adding staff at convenient financing rates.  Email us to learn how you can take advantage of this year's Capital Equipment Tax Incentive with the HydroWorx 300.
On the Deck of the Static Pool in Your Senior Living Wellness Center: Requiring a small footprint, senior living wellness and recreation facilities can easily include warm water underwater and resistance jet technology next to their larger static pool or in the wellness center where residents gather for exercise. Ease chronic pain, arthritis or achy joints with warm water therapy and multi-planar movements of the 300 underwater treadmill.
The Corner of Your Athletic Training Room: Athletes can reap all of the same rehab and training benefits with the 300 Series as they would with a HydroWorx pool. If you've deemed hydrotherapy not possible due to limited space, the small footprint of the 300 gives clinicians the ability to offer an unweighting treadmill device with the benefits of warm water therapy almost anywhere in your training room.  This system offers athletic trainers and strength & conditioning coaches a way to accurately simulate land-based activities in all directions such as walking, retro-walking, jogging and sprinting with underwater treadmill speeds ranging from 0.1 to 10 mph despite space and construction budget limitations.
"From the moment I first saw the HydroWorx 300 I knew it would be a cool new product. Having primarily used a HydroWorx 2000 Series pool for most of my training up until now, I was skeptical that this smaller, compact unit could match its performance.   I was very impressed by the solid feel of the treadmill – I would not  have been able to tell the difference between the smaller, portable unit and the larger, built-in model.   The area inside the walls is perfect for one runner – I never felt constrained by the smaller size and was able to run at whatever speed I wanted as well as perform the various drills I usually do in the 2000 Series.   Overall I could not have been more impressed by this new product- it seemed to be perfect for teams or individuals who can't accommodate a built-in unit but still want access to a HydroWorx treadmill." – Nick Berra, Elite World Masters Runner
Having all of the advantages of aquatic therapy under your roof has never been more possible!
Learn more about the HydroWorx 300 Series today!


Page Updated on: March 26, 2020