You're Invited to a HydroWorx Event during APTA-CSM
We are proud to be exhibiting at the annual Combined Sections Meeting of the American Physical Therapy Association in Indianapolis, IN. We have a lot of exciting things planned during the event, February 5-7, in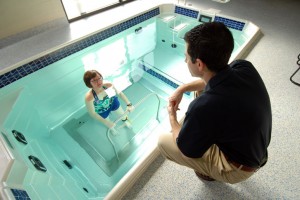 booth #1310. Our booth will feature one of our world class therapy pools with an underwater treadmill, which will be available for demonstrations throughout the show. Don't forget your bathing suit and towel to try it out! All attendees who demo the pool will receive a HydroWorx dri-fit t-shirt. Additionally, we are giving away free HydroWorx t-shirts (while supplies last) for all physical therapists who fill out our short market survey.
If you are interested in learning more about "The Value of Water", we would like to invite you to attend our educational event on Friday, February 6th at 5:00pm.
This after hours event will offer cocktails and hors d'oeuvres while our distinguished experts discuss their experiences with starting a successful aquatic therapy program- including financial return-on-investment, evidence based research, functional patient outcomes, facility design and more. Our speakers include:
Keith Ori, BD, PT, Co-Owner of Orthopedic Rehab Facilities in Montana
Veronica Paquette, PT, ATRIC, Owner of Essex Aquatic & Rehab Center in Vermont
Dr. Dolny, PhD and Eadric Bressel, EdD, Research Specialists at Utah State University
JOIN US
Friday, February 6, 2015
HydroWorx Booth #1310
Indianapolis Convention Center
5:00pm to 6:30pm (The program will begin at 5:30pm)
Attendance is limited for this special event, so you must act quickly. R.S.V.P. by February 2nd to Michele Reber at mreber@www.hydroworx.com if you are interested in attending. The first ever Healthcare Excellence in Aquatics award will also be presented during this after hours program
We are looking forward to seeing you in Indy!