Youngest Oregon Project Athlete Trains Hard on Land and in Water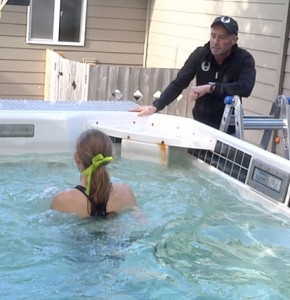 She may be the youngest athlete that the Oregon Project, headed by world-renowned distance runner Alberto Salazar, has on its roster, but Mary Cain is no newbie to athleticism. She quickly rose to stardom during her high school years, possessing phenomenal speed and astounding teammates as well as competitors. Of course, she worked hard, too, which is something she continues to do under Salazar's careful and pragmatic coaching. And like her Oregon Project colleagues, such as gold and silver medalists Mo Farah and Galen Rupp, she cross-trains in their HydroWorx pool.
After Cain joined the Oregon Project in late 2012, she caught the public's eye at the 2013 World Championships in Athletics, held in Moscow. She placed 10th, an incredible achievement for the youngest middle distance runner ever to compete for the United States. As part of team USA, she got the opportunity to experience elite running at its finest… something that most high school students (Mary graduated in 2014) never have the chance to do. More successes followed on the heels of these accolades, including snagging a gold medal in the 3000m race at the 2014 World Junior Championships in Athletics. There, she ran a personal best of 8:58:48.  A self-described "curmudgeon" with a fast wit and winning smile, Cain is focusing hard on the huge prize that awaits in 2016: The summer games in Rio.
Before she gets the opportunity to compete in South America for her country, there's little doubt that she'll be logging plenty of miles on the Oregon Project's underwater treadmill. She has known the HydroWorx pool almost as long as she's known Salazar and uses it as a regular part of her weekly training. This will enable her to gain the advantages that have led other runners to medals, honors and big dreams:
Safe cross-training.  Cain runs more miles in a week than some casual runners will in a year.  However, she isn't super-human. Her joints, tendons, muscles, ligaments and bones take a beating with every footstep. In the water, she'll be cushioned by buoyancy, enabling her to increase her mileage and boost her endurance without risking repetitive-stress injuries.
Increased lean muscle mass.  For runners at Cain's level, having bulk isn't part of the plan: It's lean muscle mass that gets you to the front of the pack. Researchers at Texas A&M University have tested the HydroWorx's ability to improve lean muscle mass for athletes, and have discovered that it's a powerful way to get leaner overall.
Improved speed.  The water presents a unique amount of resistance for runners, especially when they are submerged to their xiphoid process (chest) areas. Unlike the feeling of running on land, running in the water forces the arms and legs to work harder. This may be one of the contributors to HydroWorx being linked to increased VO2 max in athletes like Cain.
The sky is the limit for Cain, although she's wisely starting with her feet firmly planted on the ground and on the underwater treadmill. To learn more about this up-and-coming phenom, check out our exclusive video of her training hard in the HydroWorx and her thoughts on how using the underwater treadmill will affect her performance.

Learn more about how underwater treadmill running can impact fitness training and view sample workouts in the book, "Underwater Treadmill Running" by Alberto Salazar and Dr. Dennis Dolny. Download your free book here.