Young Spinal Cord Injury Patient Makes Strides with Aquatic Therapy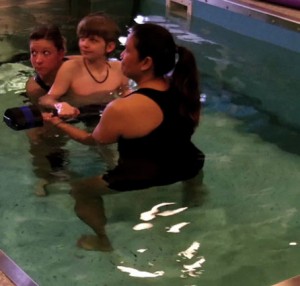 Spinal cord injuries come in all different forms. Depending on where and how the spinal cord is injured, the result can be quadriplegia, paraplegia, minor nerve damage and everything in between.  For one young patient, the diagnosis was originally paraplegia, but he has made significant progress and is now considered an incomplete spinal cord injury: L1 and L4.  Previously wheelchair bound, Ronnie has gained major headway thanks to the progressive therapy he is receiving at Freeman Health System in Joplin, MO.  When he arrived at Freeman, 8 months prior, he was barely able to transfer from his wheelchair to a mat. Now he is walking around school with his crutches and backpack! Not only that, but he's preparing to walk in a local 5K soon. His attitude and determination combined with the rehabilitation he is receiving, are certainly contributing to his success.
His team of therapists work on many skills using land  therapy and water therapy.  In the water, they are focusing on increasing his right hamstring contraction and control. He is able to ambulate with bilateral upper extremity support using a floating long dumbbell with assistance in order to achieve full knee extension on the right side. Ambulation is done forward, backward and side-stepping. Additionally they are working on step ups and step downs leading alternately right and left, as well as swimming above and underwater. Doing this therapy underwater allows the patient to focus on gait training skills without the effects of gravity.  At approximately 30% of his body weight, his therapists can assist in teaching the right hamstring to contract and training his muscles to do what they need to do to regain function.
See Ronnie's story and pool therapy below:
Watch more Spinal Cord Injury case studies, like this one, in our video library>>