Work smarter, not harder: A lesson for the therapist and the athlete, found underwater.
The following is a post written by, Mike Studer, PT, MHS, NCS, CEEAA, and President and co-owner of Northwest Rehabilitation Associates, in Oregon.
Are you fully utilizing the clinical and economic benefits of marketing your aquatic program to local high school athletes, triathletes, competitive runners? Are you potentially missing clients that are engaged in athletics for the pure fun and health benefits? Evidence from the professional ranks, the Olympics and rehabilitation literature reveal that aquatic programs led by physical therapists can contribute to the success of competitive athletes and people at all of these levels.  The practicalities of marketing and implementing these programs – by third party reimbursement, private pay, consultative, or even as a contractor – can be a daunting barrier to implementing the evidence.
Four practical suggestions to help the practicing clinician with a the financial application would be: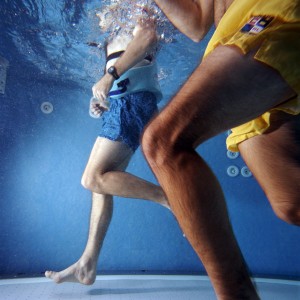 Offer pre-paid punch-cards with a discount or a free-visit after 10 paid
Advertise the opportunity to buy a session for a loved-one as a gift
Work with a local triathlon club or running club to offer discounts for members
Provide student discounts, advertised at local athletic competitions
Here are some proven angles that you may not be fully utilizing in your program marketing:
For the competitive high school athlete:
Insure that your local athletic training staff are aware of your underwater treadmill and the benefits of aquatic therapy for an early return to competition after strain and sprain. Provide a free in-service at the start of Cross-country and track season with athletes and staff.  Welcome parents to attend.
Prior to entering an important meet, be it cross country or track, remind the local high schools that your underwater treadmill is available for use to maintain conditioning and reduce the stress of impact in training.
For the avid runner and triathlete:
Contact your local triathlon or running club and offer to host them for an exclusive in-service with a complimentary trial of your facilities.
Consider offering a free trial of the pool to some of the local elite marathoners for use during a taper or recovery week.
Create discussion about your aquatic program, and specifically highlight the Olympic examples of Galen Rupp and Mo Farah. It is difficult to refute their success, using the underwater treadmill as a key element in training. The discussion, energy, and respect for your therapy services will do nothing more than grow as a function of these efforts.