Will the Cup End Up at "Home?"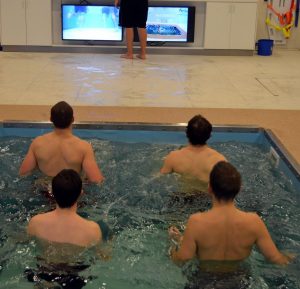 Every four years, the planet's single biggest sporting event hurls into our living rooms gorgeous smiles and fist-clenching drama. Since mid-June, 32 teams have battled it out. When it's over, 64 matches will have been played in 12 venues located in 11 cities in Russia.
England's Resurgence
A bright spot on the world stage this year has been England's national team, which faces Croatia Wednesday night in a semi-final match. Four years ago, England lost early to Italy, then Uruguay. To intensify a frustrating outing, during the loss to Italy, England's physiotherapist suffered an ankle dislocation on the side of the pitch and was immediately flown home to England for treatment. Not the best tournament showing for an ordinarily solid team.
But 2018 has proven to be a stellar tournament for The Three Lions, and we are cheering our customers on again this year.
St. George's Park National Football Centre
St. George's Park National Football Centre is the English Football Association's national football centre. The facility opened in 2012 with the aim to make St. George's Park the sporting destination of choice for English coaches, players, administrators and officials. The football centre is the training base for 28 England teams and acts as a focal point for coaching and player development. The 330-acre campus at Burton-upon-Trent, Staffordshire, also houses hotels, office space, conference rooms and 12 football pitches. Wembly Stadium in London still hosts England's major football matches.
One of the centre's core elements is a 75,000 square foot rehab and sports medicine centre containing a high-tech aquatic center including a HydroWorx 2000 aquatic therapy system. This pool offers players, coaches, and others in need of physiotherapy, a moveable floor to adjust water depth for progression of load, underwater treadmill for gait reeducation, and resistance jets for progression of intensity.
Why Aquatics Training helps Football Athletes
Football (American soccer) is one of the most physically demanding sports because of its large playing field, extended time without breaks and massive number of dynamic changes of direction (up to 1,200 per game). Common aquatic exercises for this sport's training and rehabilitation include balance and explosive power drills, muscular and speed endurance, and strength training.
While these are typically performed on land, there are times when different environments are needed, either for rehabilitation or to maintain fitness without loading joints. Performing these motions in the water vs. land provides many benefits, including reduced inflammation (due to hydrostatic pressure), pain relief, enhanced mobility, improved balance and added resistance through water's natural property of viscosity. The warm water used increases kinesthetic awareness of body to promote relaxation of joints and muscles.
Having a fully-equipped sports medicine centre enables England's teams to keep injured players within the walls of St. George's Park for the world's best medical treatment.
In a matter of days, 2018's winner will be crowned at the Luzhniki Stadium in Moscow, Russia. Each of the four remaining teams (France, Belgium, Croatia, and England) hopes its preparation and training has been enough to propel it to victory on the world's largest sporting stage.