What's the Right Pool for Your Family & Your Home? Part 1
A Four Part Series From Our In-house Residential Pools Expert, Michele Reber
Being with HydroWorx Pools for many years, I have realized a lot of homeowners have some great questions about what to look for when buying a pool- there are so many different models out there, how can you possibly narrow your search down?  This series covers 4 important questions to ask yourself when considering a pool for your home.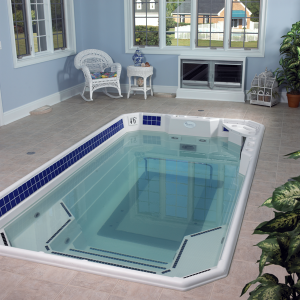 Part 1: What are important options to consider when purchasing a Pool?
What are important options to look for when purchasing a pool?  This is probably the most important question to ask yourself.  Are you using the pool for therapy? Exercise? Or just for a leisure activity?
Most people who are purchasing a smaller pool for their home are using it for a combination of exercise and therapy.  It's important to not only consider what you are looking for a pool for today, but also how you may use it as you age.  Pools offer different features/options that may or may not be important to you.   Some questions to ask yourself are:
Are you using the pool for recreation and fitness or therapy?
Is there a specific condition/injury you are combating?
Will you be doing a lot of water walking/running?
Will you be doing a lot of "lap" swimming ?
What options/aspects of a pool are most important to you?

Is relaxation/massage therapy an important option for you?
If you're intent is for fitness and recreation, we recommend finding a pool that allows you to run/walk and swim, provides plenty of space for underwater exercises  and also allows you to enjoy some down time with your family.  An area where your family can relax and enjoy the "spa" aspect of your pool makes it fun for everyone.  My kids love running on the treadmill and then sitting back with the spa jets to relax and hang out.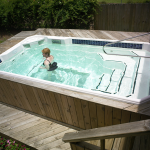 If you are looking to use the pool for rehab or therapy of a chronic condition or injury, be sure to find a pool that includes capabilities that allow you to advance and progress your therapy/conditioning as your situation improves. Features such as an underwater treadmill and underwater cameras offer ways to focus on your gait and form and to monitor your progress.  Walking on a treadmill underwater is the best way to mimic your everyday gait without the pain and stress on joints. This can speed up your recovery time and allow you to see how you are advancing over a period of time.  A massage system can flush out lactic acid after a session on the treadmill and promote recovery of your muscles and joints.  Resistance jets can provide a mechanism to work on balance training in a safe environment.  Be sure to also have some space for doing underwater exercises.
On our website, you will find
a few research studies
that provide a bit more detail about the cardiovascular and muscular benefits of running on an underwater treadmill along with exercising underwater.
I always recommend trying out multiple brands of pools to see which one best fits your needs.  If you can't try a pool- do your research!  HydroWorx provides a Video Library that you can view online to see the different features of the pool.  HydroWorx also has a "Try Before You Buy" Program that actually reimburses you up to $500 for trying a pool.  (if you end up purchasing a HydroWorx Pool for your home).
Most importantly, think about how you will use your pool over the next 10 years- you may run on land today, but in the future wouldn't it be great if you could still run- in the water?
If you have any more questions, please feel free to email me at mreber@www.hydroworx.com
Stay tuned for Part 2 Coming Soon!