Webinar Recap: Upper Body Rehabilitation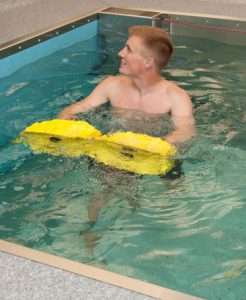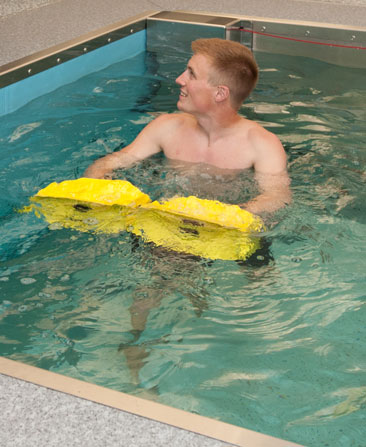 A few weeks ago, we hosted a great webinar from Barry Lippman at Coastal Carolina University in Conway, SC on upper body rehabilitation. In this webinar, Barry provided great framework for upper body rehabilitation based on his use of their HydroWorx 750 Series pool along with plunge pools.
Watch the entire webinar here>>
The key objectives of his webinar were to offer:
A systematic approach to upper body training in the pool
A progression and regression for late term upper body rehabilitation
Ways to use water as a medium for low impact upper body performance strength gains
Effective scapular stabilization techniques to prepare athletes for overhead throwing
How to gain and maintain upper body strength while minimizing residual soreness
The reason an overhead athlete is difficult to manage is because their ideal performance enhancement zone is smaller than most athletes. To help manage that ideal line of performance, Barry notes that synergy is the most important piece of the puzzle. This means making sure everyone is on the same page with every athlete. Another piece is individualism: every athlete is a little bit different and they need to be treated different.
Barry shared 5 principles along with some sample exercises using video for an athletic trainer to take the blueprint and create individualized routines:
Warm up. Before even starting any activity in the water, there are a multitude of natural positive effects on the body with immersion. This includes some gentle arm motion (don't use forward motion to avoid overuse), massage and cardio work to stimulate physiological effects.
Maximize Supportive Properties of Water. Athletic trainers can Maximize the supportive properties of water (motion is lotion) to generate big broad movements. This is usually used early in a rehab case and to begin all recovery sessions after the hardest throw day.
Incorporate T-Spine ROM. This is something that is often forgotten but extremely important. Understanding the difference between mobility and stability joints underlines this importance.
Get Multi-Speed. It is important to use multi-speed work to get the most out of the water for progression using the water resistance.
Use Water to Increase Time Under Tension. The benefit is in increasing time under tension without increasing joint shear stress. Barry uses oscillation training in the water to improve stabilization.
Streamline Flow vs. Turbulent Flow. Move as much water as possible, by generating waves and bubbles in the water to increase resistance for progressions.
Barry also provided a slide with some great exercise ideas for each of these principals. Watch the entire webinar here>>