Webinar Recap: Sprint Work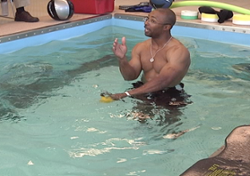 As part of the Spring Sports Medicine CEU webinar series, Murphy Grant, who is the Sr. Assistant Athletic Director at Wake Forest University, presented on how to build a sprint work program that ensures athletes are consistently becoming faster and stronger. Murphy discussed the components of speed, the benefits of using water and multiple ways that water can be used.
The components of speed that Murphy presented include:
Starting speed
Acceleration speed
Top speed
While talking about speed, he also emphasized the importance of being able to change the direction of your motion quickly. This is important for many athletes because it is a skill that is needed for most sports. Murphy shared that water provides natural resistance which makes changing speed and direction more challenging than on land, representing a more effective exercise.
Murphy also discussed what should be included in a sprint work aquatic therapy program and how to build the program from the ground up. He stated that a program should include:
Pain-free range of motion exercises
Strength exercises
Sports-specific exercises
One of the last concepts Murphy reviewed during this session was the benefit of using water in conjunction with land exercises. He states that water helps to:
Decrease the chance of injury
Prevent the development of muscle imbalances
Correct existing muscle imbalances and joint dysfunction
Improve posture and correct postural distortion
Enhance strength, power, and flexibility
Throughout the presentation, Murphy provided in-depth information and with the use of video, he showcased what types of protocols should be included in a sprint aquatic therapy program with focus on how to do each exercise.
Watch the full on-demand webinar here>>