Wave of the Future
The following post has been summarized from the article, Healing Waters, featured on pages 57-61 in the March 2013 issue of Aqua Magazine, written by Angelique Caffrey.
Is it possible that turning to water for therapy is becoming a new trend? Well according to the article, the recognition of water's healing power for therapy and aquatic exercise surfaced sometime prior to the rise of the Roman Empire.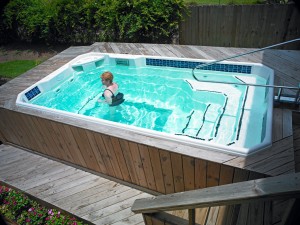 Water has proven and continues to demonstrate its power to help people of all shapes, sizes, ages and abilities to heal physically, psychologically and even socially. As a result of these benefits, facilities and homeowners are choosing to add aquatic therapy pools, whether for new construction or renovation, more frequently.
Why is this becoming a rising trend? It's all in the science.
A study from the University of Idaho determined that minor changes in water depth can significantly influence the cardio-respiratory variables as well as the perceived efforts of those who walked on an aquatic treadmill.

The University of Wisconsin, a five-week study followed participants who consistently used an underwater treadmill for aerobic exercise and aquatic resistance training. The results proved that subjects felt better physically and psychologically during the 5-week period.
At Texas A & M University, research was conducted on overweight and obese mean and women to determine if an underwater treadmill exercise training programs would work as an effective training modality. After those 12 weeks, the participants showed reductions in weight, improvement in body composition and increased aerobic capacity.
Read more about the many published aquatic therapy research studies. 
In addition to the research that has been conducted, the properties of water help to further emphasize its amazing healing powers. Benefits ranging from the buoyancy of the water, which can off-set a person's weight up to 80% and eliminate pain, to the freedom of movement, to the added resistance water creates, cause rehabbing and exercising in the pool to be a powerful option. One specific population that has a high interest is the Boomer generation (76-79 million people) who are beginning to experience a variety of health conditions. These health conditions have resulted in physicians looking for remedies and new forms of treatment.
In addition, desiring to look and feel younger as long as they can, Boomer men and women are clamoring for ways to stay active. They've discovered aquatic exercise is effective in staving off the onset of many ailments, thus reducing medical expenses and time spent with doctors responding to health issues after the fact.
The feeling of wanting to reduce medical expenses and increase activity is becoming more popular among all ages. How can it not be when water has been proven, scientifically, to give therapy patients and exercisers a euphoric feeling of rejuvenation after a workout or rehabilitation session? Their bodies are still getting the physical benefits of movement, but they are not experiencing any of the negative outcomes. Therefore, users have reported feeling refreshed even after being in aquatic therapy pools for long periods of time.
Though it might seem too early to make prediction, evidence seems to indicate that pools for residence and commercial use are trending as the "wave of the future," and its all because of the Power of Water. 
Page Updated on: March 31, 2020