Could Water Be the Road to PT Differentiation?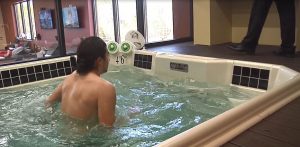 Chad Luth, PT, MT, the founder of Georgia Physical Therapy & Sports Medicine Center, has no doubt in his mind that his investment in water has played a huge role in setting apart his multi-site practice. In fact, the clinic's signage proudly notes that out of the five advanced aquatic therapy pools in northern Georgia, he owns three.
For Luth, four key factors have solidified his belief that choosing a HydroWorx 500 Series wasn't just a solid investment, but a competitive game-changer:
Versatility. In a given day, the Georgia Physical Therapy & Sports Medicine Center team sees a variety of athletes and non-athletes needing everything from sports conditioning to more standard rehabilitation. Total hip replacements, total knee replacements, fibromyalgia—the list of ailments, conditions, and situations is vast. Incredibly, around 50 percent of the people the practice treats are ideal candidates for hydrotherapy.
Consistency. Most of Luth's facilities are open about 12 hours each day. With up to 55 patients coming through their doors, the physical therapists at Georgia Physical Therapy & Sports Medicine Center have the chance to rely on the pool to meet patients' needs accordingly. Knowing the warm water therapy pool is available, they can base their patient sessions on considerations such as diagnosis, functionality and individual independence. Some people need an hour of treatment, others just 10-15 minutes of underwater treadmill activity to reduce lactic acid build-up. For all, the pool remains a constant, viable solution.
Comfort. In an industry notorious for cancellation rates of around 15 percent or more, Luth can depend upon cancellations to hover as low as eight percent. Why? The pool offers a unique, welcoming environment with its soothing warm temperature and reduced pain atmosphere. Paired with great clinicians, it's a winning way to keep people engaged and excited about their physical therapy.
Return on Investment (ROI). When Luth dove headfirst into his partnership with HydroWorx, he expected a strong ROI. What he saw was a phenomenal 35-40 percent increase in business as he marketed to physicians, sports teams and many others his competitors could not service. Not only was he able to leverage his onsite advanced pool to gain more referrals from a wider number of referral sources, but he could see multiple patients at once in the same pool session. As he explains, the uptick in patients more than pays for the pool maintenance.
Want to hear more about Luth's belief that buying a HydroWorx for his clinics was, as he notes, "the single best choice" he's made? Check out our exclusive video with him here.