Water, A Happy Medium for Stroke Patients
The following post has been summarized from the recent article, "Water Is the Way for Stroke Patients," written by Erin Allen, MSPT, MSCS and Barbara Cacia, Wellness Coordinator for Pieters Family Life Center. The article was published in Physical Therapy Products on May 14, 2014.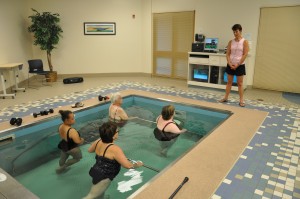 According to a report from the Data from the Centers for Disease Control and Prevention, stroke kills almost 130,000 persons in America each year, making it a leading cause of death. Thankfully, not every stroke is fatal. About 665,000 individuals survive a stroke, but have to live with the effects, which can often be significant. The variety of after-effects caused by strokes combined with the varying ages of the patients create quite a challenge for physical therapists and wellness directors to find effective treatment and rehabilitation methods.
Aquatic therapy is one medium that has proven effective for stroke patients at Pieters Family Life Center in Rochester, NY. This facility has invested in a warm water HydroWorx 2000 Series pool to accommodate the needs of their stroke patients as well as many others. Their therapy pool, with a height-adjustable underwater treadmill floor and resistance jet technology, provides the opportunity to work with patients who have lost certain abilities caused by a stroke.
Not only is the water a soothing environment, it is also consistently forgiving. The natural buoyancy of the water offsets the patient's weight, making his or her fear of falling over less likely, as well as less psychologically worrisome. As the patient progresses, the level of buoyancy they experience can be adjusted by moving the floor of the pool.
The therapeutic environment of a warm water therapy pool allows stroke patients to start moving again in hopes of performing daily tasks again. Performing exercises in an aquatic environment is essentially pain-free allowing patients to be more relaxed and comfortable to challenge themselves. For one patient in particular at Pieters Family Life Center, land therapy was just too hard and painful. Aquatic therapy opened the door for her to begin making progress in a more "forgiving" environment. Her husband could also don bathing apparel and join her during her sessions to allay her concerns and provide immediate support. Eventually, she came to call the therapy pool atmosphere "holy water," a reference to what she felt had been a miracle and blessing for her. Today she is walking on the underwater treadmill for 25 minutes at a time and performing more day to day activities.
In addition to increasing muscle strength and performing exercises, aquatic therapy is beneficial for helping stroke patients "retrain" their brains. In a pool, many areas of a patients brain are stimulated by the immediate response of the engaging physical activity; therefore the patient's brain can re-establish connections.
Stroke patients may not return to the highest levels, but with a lot of aquatic and land therapy, individuals can see great progress in their function and daily lives.   
Watch how aquatic therapy proved beneficial for Lois, a stroke patient at Pieters Family Life Center:

Upcoming Webinar: Aquatics for Wellness: Creative Ways to Engage Participants
On June 25, 2014 from 12:00pm to 1:00pm EDT, Barbara Cacia, BS Ed., Wellness Coordinator at Pieters Family Life Center, will be presenting the webinar, Aquatics for Wellness: Creative Ways to Engage Participants. Explore many different approaches to wellness during water exercise that will have people leaving with a positive outlook and feeling good about themselves and their bodies. Match participants to the class that is best for them so they participate in safe exercise routines that will allow them to live a full life. You'll also learn creative ways to engage your participants with conversation that promotes the well behaviors essential for their success–during and after your programming.