Water Exercise Helps Patients Reduce Need for Opiates
The statistics are sobering: According to the Centers for Disease Control and Prevention (CDC), about 40 people die each day in the United States directly related to overdosing on pharmaceutical painkiller overdoses. That number doesn't include the millions of Americans who regularly abuse prescription opiates. These figures have led the CDC to issue new guidelines regarding the distribution of these substances, the first guidelines of their kind. However, individuals suffering from chronic pain still need a practical, reliable way to manage their discomfort. For some, natural pain management in the form of low-impact, high-intensity water-based exercises may be the answer.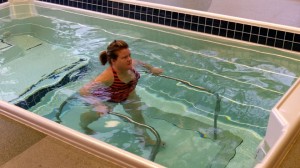 Rehab and exercise in therapy pools from HydroWorx have been routinely used as alternatives to taking higher and higher doses of opioids. Patients who find working out on land to be too difficult and uncomfortable are soothed by the warm waters of a therapy pool. Additionally, their bodies are relieved of weight-bearing thanks to water's ability to offset about 80 percent of a human's weight when submerged to the chest. Another favorable aspect of being in a HydroWorx pool environment is the compression that water provides, surrounding joints, muscles and tissues and providing a sense of massage and relief.
What types of conditions respond well in a therapy pool? Warm water therapy has helped people living with the pain caused by arthritis, fibromyalgia, bursitis, lower back pain, shingles, nerve damage and many other health issues. For instance, at Pieter's Family Life Center, a patient named Mary was able to reduce her pain medicine for her cerebral palsy after continuous therapeutic exercise routines in the facility's HydroWorx pool. Best of all, she has gained mobility, energy and muscle strength at the same time, allowing her to maintain her independence and safely go about her normal activities, which include driving a car and volunteering.
Another example of patients benefiting from warm water therapy is the case of Kathy, who was unable to pursue aerobic activities because of asthma and rheumatoid arthritis. Since being given access to the HydroWorx pool at the Robert L. Sharp Health and Fitness Center at Jenks High School, she's been able to use the underwater treadmill for water therapy to become active again. Before using the therapy pool, she was in pain all over, which led to her gaining weight and becoming less active. Now, she relishes her time in the pool because it allows her to jog comfortably, which has had positive consequences for her on land, such as Kathy's being able to speed up her metabolism and drop pounds successfully.
There's no age limit on water-based therapy and exercise, as 85-year-old Scotty discovered. He had been dealing with chronic pain and stiffness for years until his introduction to the HydroWorx pool at Summit Place Senior Campus. As a result of his pool protocols, he noticed an increase in energy. He's also feeling safer in his activities of daily living.
There's no doubt that chronic pain can be an extremely debilitating experience for any person. Yet rather than relying on opiate-based painkillers, people are beginning to seek alternatives like warm-water therapy pool rehab and workouts. As research and anecdotal evidence has concluded, consistently engaging in movement in a pool can reduce a child's or adult's dependence upon medicine. That's something to keep in mind for anyone whose life has been disrupted by physical discomfort.
Learn more about the benefits of warm water for arthritis, chronic pain and joint replacement by downloading our free tipsheet.