Water. A Perfect Place for Children.
Recently we visited with Carrie Barlow, Physical Therapist at Franciscan Hospital for Children in Boston, MA, where she shared why water is the perfect environment for therapy with young children.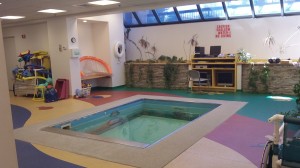 Barlow has been with this children's hospital for 15 years and the HydroWorx pool has been there 9 years. Franciscan Hospital is a Pediatric facility that sees and treats children with special medical needs. This facility is primarily a rehabilitation hospital, where they see a variety of patients on a daily basis. The first patient group is children that have received treatment for an injury or surgery at an acute hospital and then require rehabilitation, where they come to Franciscan Hospital for those needs. They also have a pulmonary program for NICU preemies, who never go in the pool! Thirdly, there is a Day school that is associated with the hospital for children with significant physical, intellectual and mental disabilities to spend the day at the rehab center. All of these kids will use the HydroWorx pool as a part of their school physical therapy too.  Finally, they have an outpatient program for those that need PT services for injuries or disabilities in the local area as well.
Why did they decide to add a HydroWorx Pool at Franciscan Hospital for Children?
The facility and all of the physical therapists knew they wanted to add aquatic therapy, but knew an ordinary pool would not suffice because of the variety of patients and specific needs they require. They felt the HydroWorx 2000 Series pool was the perfect fit for their facility because of the fully adjustable floor, underwater treadmill and resistance jets. They can have a 2 year old patient in the pool and then just 10 minutes later, a 6 foot 2 individual in the same pool, which is very important for the variety of children they serve. Additionally, because of the features of this pool, they are able to treat wheelchair bound children. With a waterproof wheelchair, the child can be wheeled right on the floor and hold on the handrail and be lowered all the way into the water.
As you can imagine, it is difficult to have children willingly want to 'exercise' or want to do therapy. Therefore the therapists at Franciscan try to make all of the activities fun so they enjoy it and don't realize they are strengthening their muscles, increasing overall mobility, and receiving aquatic therapy!
Learn more about the pediatric aquatic therapy at Franciscan Hospital for Children in the video below.


Carrie Barlow also discusses two specific cases where patients of hers experienced significant improvements from receiving aquatic therapy.
The first is about a little girl with Brittle Bone Disease. As an infant with brittle bone disease, the smallest movements such as picking her up could fracture a bone and put her in a cast for weeks. As she grew, she wanted to learn how to walk. Unfortunately, everyone was terrified of her learning to walk because the chances she could fracture a bone or multiple bones was very high.
Therefore, this little girl learned how to walk in the pool!  Hear her full story below!
The second case story is about a 16-year old boy with Cerebral Palsy (CP). He had always struggled with walking, so surgery was the next step. After having a femoral derotational osteotomy, he was non-weight-bearing for a few weeks but his surgeon then wanted him to begin walking immediately. The safest and easiest place to do this was in the water.   By gradually increasing his weight-bearing from 25% to 50% and so on, he was able to improve his form and is now starting to walk again on land!
Hear his full story and next steps in the video below.