Warm-Water Therapy: Relieving Chronic Pain & Improving Limited Mobility
The following blog post has been summarized from the recent article, "Improving Chronic Pain and Limited Mobility with Water-Based Therapy," written by Barb Cacia, BS ED, and Elizabeth Grzeskowiak, PT from Pieter's Family Life Center in Rochester, NY and published on January 23, 2016 on Physical Therapy Products Online.
According to the Institute of Medicine of the National Academies, about 100 million Americans are currently dealing with chronic pain. At Peiter's Family Life Center, operated by Heritage Christian Services, many patients seek relief from different forms of chronic pain like arthritis, back pain, fibromyalgia and numerous other diagnoses. These patients have to find the best way possible to minimize their daily discomfort and keep their pain from taking over their life. Patients can try to manage and mask their pain through over-the-counter and prescription medications. Another option is to reduce their pain to endurable levels with the numerous benefits of warm-water therapy. Individuals who choose to use warm-water therapy to manage their pain also have the opportunity to build muscle strength, which takes pressure off of joints and absorbs shock during any movement, with minimized effects of gravity.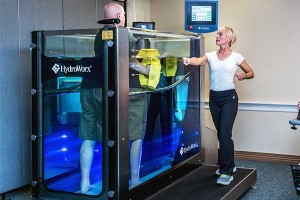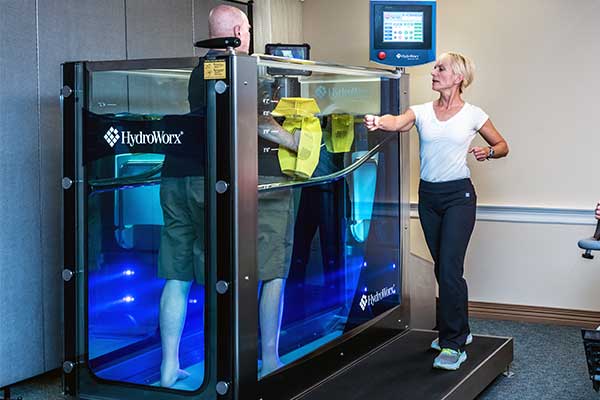 Warm-water therapy is known for its advantages for patients experiencing acute or chronic pain and limited mobility. As a result, many physical therapists consider aquatic therapy to be an integral part of their practice. Setting therapy pools to warmer temperatures, within the 85-94 range, can help patients with improve flexibility and mobility. The main goal with aquatic therapy is to get the patient to be moving as freely as possible, because the more freely they move within the water, the more they can subsequently move on land.
At the Peiter's Family Life Center, patients have access to an advanced HydroWorx therapy pool. This therapy pool has a variable-depth underwater treadmill that doubles as the pool floor, two resistance jets and a massage hose. The treadmill allows the patient to work on their gait and mobility during their therapy session. Along with the treadmill comes the viewing monitor, which gives therapists a way to observe the patient's movements underwater. The variable-depth floor is extremely beneficial to physical therapists because it gives them the control to monitor and change the water depth depending upon the difficulty of the rehabilitation desired.
The biggest obstacle to overcome with patients is the predetermined mindset that movement always equals pain. The only way to get past this obstacle is to get them in the water and moving. They will realize that the warm water feels good and there will be less pain associated with movement in the pool. This will create patient confidence and give them a positive outlook towards improving their abilities.
Many studies show that individuals are improving their health at older ages and prolonging their life as a result. One way to do this is by increasing and maintaining lean muscles. Stronger muscles lead to the reduction of pain and reliance on medication, which in turn leads to more independence. This makes warm-water therapy a great option to help adults improve their health and way of life and makes their possibilities endless.
To read the full article click here.
Free On-Demand Webinar Now Available

Dan Siedler, PT, MS, Executive Director of WSPT, recently presented the webinar, "Therapeutic Versatility and Value of Aquatic Therapy," which is now available on-demand. Dan demonstrated the versatility of aquatic therapy and the pool in which he practices it. He also gave examples of several patients who have benefited from aquatic physical therapy at his clinic.