Warm Water Therapy benefits Autistic Patient
The uses and benefits of aquatic therapy continue to grow. From the news article, Alliance growing between autism and aquatics by Mike Peden, we learn of a non-profit organization using the sport of surfing as a fun therapeutic activity for autistic children.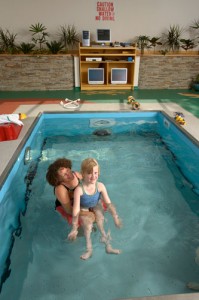 This led to an increased interest for the news team (KABC) to find out more information about aquatic therapy. They visited the California aquatic therapy and Wellness Center in Long Beach, where they found a teenager who is restricted to a wheelchair as a result of muscular dystrophy and autism. This patient has been making use of the HydroWorx aquatic therapy pool.
The 94 degree water creates a comfortable and relaxed environment for patients with mobility problems to exercise more freely and without pain. Another advantage of this form of rehabilitation is that the patient has the complete undivided attention of their therapist. The distractions of other patients in a traditional physical therapy practice are not there, which allows for a more effective rehabilitation session.
Supporters of aquatic therapy suggest that warm indoor pools allow kids to focus and learn better. The parent of this particular patient has witnessed this first hand. She has noticed a significant difference, in a positive way, with her child's attention and focus levels since beginning therapy in the pool.
Using a warm water therapy pool has become a popular treatment for joint or back pain. Additionally, many athletes train in aquatic environments to build strength and stamina for major sporting events. These same advantages apply to people with autism with the belief that participation in such activities can enhance motor skills and lessen the effects of sensory sensitivity, which many autistic people deal with on a regular basis.
Find a warm water therapy pool near you
Also don't forget that October is National Physical Therapy Month!