Wake Up Call With Water
The following post has been summarized from a recent article in Rehab Management. The article, "Rebooting Muscles with Aquatics" was published in the September issue of Rehab Management and written by Lance Walker, MS, PT and Director of Performance for Michael Johnson Performance. 
An athlete's muscles are looked at as mini-computers to many coaches, as they periodically need to be 'rebooted'. Often times, they may require a big wake up call, or 'CTRL-ALT-DEL' to get the muscles recharged and reset. "There are numerous theories in the athletic realm concerning how best to help muscles recover and prepare to be used again, but one that has become a mainstay for professional athletes from every sport is the use of aquatic exercises and treatments."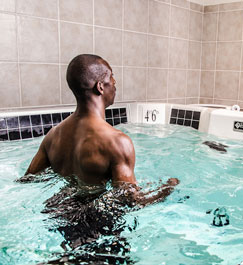 At Micheal Johnson Performance, they focus on three distinct uses of aquatics to help athletes recover faster:
Muscle Preparation
Tissue Regeneration
Active Recovery
In order to prepare the body for an intense day of training, a pre-workout therapy session is extremely effective. By helping the body heal prior to muscle tissue breakdown, the athlete can set the stage for exceptional results. One specific example that Walker discusses in the article is by using a thermal plunge pool. For a 6 to 8 minute session, the athlete can target trouble spots with the massage hose and enable their muscles to warm up in a comfortable, therapeutic environment. This thought process is not a new one, since clinicians have watched seasoned athletes do this type of 'pre-generation' for most of their careers and reap the benefit of reduced muscle soreness.
The next method, tissue regeneration, takes place after extensive conditioning. "Following a static stretching routine and a few minutes on the stationary bike, the athlete will hop into the cold plunge pool up to their necks for 30 seconds. Then the athlete jumps into the HydroWorx ThermalPlunge pool for another 30 seconds and repeats this back and forth contrast for 5 cycles. The athletes' nervous systems are effected, for the positive, with this type of contrasting therapy. Although this process is difficult at first (due to the  'shock' of the cold water), the athlete rapidly experiences the results. Walker says that they can experience results within just a few days and because of that, some of the athletes even choose to increase their cold-warm cycles to seven or even eight cycles.
The third method Walker discusses in this article is using aquatics for an active recovery. A philosophy Walker and many have adopted at Michael Johnson Performance is 'motion is lotion' in reference to active recovery following training sessions. It's the same thing as when an axle needs grease in order to turn the wheel. Without a lubricant, the axle could get rusty. So too, the muscles begin to slow down as they heal from the breakdown of exercise and intense training. This is when they have turned to aquatic therapy and exercise. Typically Walker has his athletes begin in the HydroWorx PolarPlunge pool and then turn to yoga or tai chi. Following that, many of them will walk or jog on the underwater treadmill in their HydroWorx 500 Series pool.
This active recovery takes advantage of water's natural hydrostatic effect that forces blood into returned circulation. In the end, it also leaves the athletes feeling physically and mentally ready for their next intense conditioning workout.
The easiest way to gauge the effectiveness of this type of recovery comes directly from the athletes themselves and their self-assessments. From thousands of responses after thermal and cold contrast therapy, as well as active aquatic recovery the athlete's responses have been nothing but positive.
Perhaps more importantly, of the more than 15,000 training sessions I performed in 2012, I have never seen aquatics fail when implemented correctly.
Learn more about how plunge pool therapy is catalyzing muscle regeneration and recovery with the "Hot and Cold Plunge Pools Tip Sheet."
Page Updated on: April 24, 2020