Visit with HydroWorx at the College Athletic Trainers' Society's Conference!
HydroWorx is on the move this spring and the next stop is Las Vegas for the annual College Athletic Trainers Society's conference held May 15-17, 2014! The College Athletic Trainers' Society offers a variety of opportunities for athletic trainers, physicians and non-members to learn and network with the best in collegiate sports medicine, and including this annual meeting.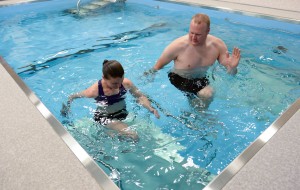 As a proud sponsor of CATS, HydroWorx hopes to meet you in Booth #9 at The Orleans Hotel, Las Vegas!  Top athletic trainers worldwide are turning to aquatic therapy to decrease athletes' recovery time as well as increase strength and endurance. They have found aquatic therapy to be a modality that safely decreases rehabilitation time frames and athletes' pain levels. The results have been so dramatic that, in some cases, athletic trainers and clinicians are beginning to rewrite expectations of outcomes and protocols due to the use of advanced aquatic therapy technology. Meet with HydroWorx's Regional Directors, Chris Lange and Jason King in Booth #9 to learn more about the benefits of aquatic therapy for your athletes!
Additionally, don't miss Murphy Grant, MS, ATC, University of Kansas, on Thursday May 15, 2014 from 3:00pm to 3:45pm. Grant will be presenting a session titled, "Aquatic Rehabilitation and Conditioning Program Development for the Injured Athlete."
We are look forward to seeing you there!

Free Webinar: Integrating Hydrotherapy into a Collegiate Sports Medicine Program
Sign up today or in the booth at CATS for this upcoming free webinar! Join Phil Voorhis,  MSEd., ATC, Assistant Athletic Director for Sports Medicine & Athletic Training at Northern Illinois University, for the webinar titled, "Integrating Hydrotherapy into a Collegiate Sports Medicine Program," on May 29, 2014 from 1:00pm to 2:00pm EDT. In this webinar Phil Voorhis will outline the valuable role that hydrotherapy plays in his university's sports medicine program. He will begin with why he and his team decided to explore incorporating hydrotherapy into their facility and the decision making process that led to the purchase of their pool. He will also describe the day to day management of an effective collegiate hydrotherapy program that treats athletes from multiple sports and how he and his team maximize the use of their pool. Phil will finish with a unique case study of the rehabilitation of an Abductor Longus Avulsion in a college football player.