Valuable Investments for Your Residents and Community
The following blog post has been summarized from the recent Advance for Long Term Care article, Value Based Purchasing for Your Community's Wellness Center, written by Nick Drey. Nick Drey is the Director of Wellness at Walnut Ridge at Clive Senior Community in Clive, Iowa.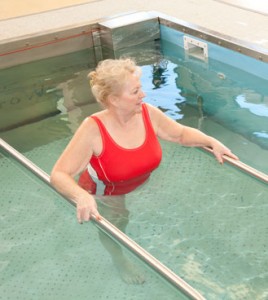 Nick Drey, Wellness Director of Walnut Ridge at Clive Senior Community, shares that emphasizing wellness and providing residents the tools they need to stay independent is the main focus at Walnut Ridge. At the core of their offerings is the wellness and fitness center called 'The Ridge Club' which is made up of a fitness station, two warm-water pools and a room for land-based fitness classes.
The warm-water therapy pools top the amenity chart at Walnut Ridge. Having both a warm-water multipurpose pool and a specialized warm-water HydroWorx therapy pool with an underwater treadmill, resistance jets and hand rails meets many needs for their residents. Individuals who utilize the pool for gait training after an injury, or for wellness or therapy, lose any fear of injury or falling because of the environment. This not only increases residents' confidence but also means they are less likely to cancel or skip an aquatic therapy appointment. Residents are able to get a great workout as a result of using the pool which increases overall strength and muscle mass.
"We also utilize underwater cameras which gives users immediate feedback concerning gait analysis. It's a training tool that no one else in the area has and sets us apart from other wellness clubs and other senior living communities. The fact that both pools are heated to about 92 degrees is a major draw within the community- and a major selling point-as warm-water pools are quite scarce in our area. We have a multitude of residents that have moved into our community simply because we offer warm-water pool."- Nick Drey
Along with their therapy pools, Walnut Ridge features self-adjusting fitness equipment. The residents each have smart keys that are programmed with their workouts. When the key is inserted into the equipment, it automatically adjusts to their appropriate settings.
Each of these amenities and features share one common goal: increasing residents' ability to stay independent longer and reducing falls. Statistics show that one in three 65 year-olds will fall annually and that number increases with age. Falls are often a result of imbalance and weaknesses developed overtime. Therefore as Drey states, it is important to have tools and programs in place to provide members and residents the best plan to improve balance and strength. The underwater treadmill is one of those tools at Walnut Ridge. They are able to create a plan to stop stopping major incidents of falls before they happen by increasing residents' and club members' lean body mass in a way that land-based exercise alone does not.
Additionally, an overall community goal is to continue to grow. At Walnut Ridge, they are able to rent out space in their pool for therapy groups to utilize. This brings in added revenue each month as well as referrals, which equals growth.
As America continues to age, investing in amenities that enable residents to stay active and increase strength is essential for any organization desiring to stay competitive.  
Upcoming Webcast: Aquatic Therapy for the Aging Adult
Join us on September 24, 2014 from 4:00pm to 5:00pm EDT for a webcast streaming live from the HydroWorx pool. Kim Eichinger, Executive Director of Fitness for Country Meadows Retirement Communities, will be presenting the presentation, Aquatic Therapy for the Aging Adult. This live webcast will explain how aquatic therapy and exercise can greatly benefit aging adults.