Utah State University Research: Underwater Gait that Mimics Land
Utah State University is continuing to release studies related to the benefits of aquatic therapy for various populations. Dr. Bressel and Dr. Dolny team up to conduct extensive research on aquatic therapy and underwater treadmill training. They have identified some remarkable findings on aquatic therapy regarding the topic of underwater treadmill walking vs. shallow water walking.
Research provided by Healthline shows that it is common for patients to have gait abnormalities caused by conditions such as arthritis, bone fractures, leg injuries and shin splints. These abnormalities can affect different parts of the body, the entire leg or specific parts of the leg – it is contingent on the patient's condition. These circumstances can be short term or long term depending on the source of the abnormality. To treat walking abnormalities, physical therapy is typically in the plan of care to perform exercises designed to strengthen muscles and correct the motion.
Correcting gait abnormalities is important for those who wish to return to their normal activities of daily living without pain. Oftentimes, physical therapy on land can be too difficult or painful and aquatic therapy is used to decrease weight-bearing and pain. Aquatic therapy is typically performed in a large static pool, or in a specialized therapy pool.  There are distinct differences between gait in a static pool and on an underwater treadmill.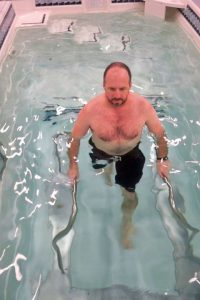 Download the Research Studies book to prove underwater treadmill therapy and exercise can be just as or more effective than land.
In a recent study, Drs. Bressel and Dolny asked volunteers in the shallow water pool and the HydroWorx 2000 Series product to begin walking at a comfortable pace. The participants in the shallow water pool naturally walked at 1.3 miles per hour while participants on the HydroWorx underwater treadmill averaged a little over 3 miles per hour at their chosen comfortable pace. Bressel and Dolny discovered that the participants walking on the underwater treadmill were experiencing walking velocity about 50% faster than those walking in the shallow water pool. The strides on the underwater treadmill reached a typical land speed which averages about 3 xx mph.
The researchers were also interested in evaluating the stride characteristics of the volunteers based on their findings. It was noticeable that the stride was different based on those walking in the shallow water pool and on the underwater treadmill. Strategically thinking, the researchers measured the range of motion at the volunteers' hips and knees to see if there were any differences between the two pools. They found that the underwater treadmill encouraged volunteers to be consistent with their land-based walking motions.
The findings of this study is extremely important to any professional looking to add aquatic therapy into their facility to help patients or athletes adapt better to land-based occupational and physical therapy exercises.
As the researcher's state, "A person can only get good at what he or she repeatedly does. Through shallow water walking may have the word "walking" in its description, the type of walking done in this type of environment does not appear to produce the correct posture, gait and range of motion to carry over into a land-based environment; the type of walking in the HydroWorx does."
To gain more knowledge about the findings of the research, water the underwater walking video:

Are you interested in more aquatic research? Download the Research Studies book to prove underwater treadmill therapy and exercise can be just as or more effective than land.