Use Warm Water to Keep Players Healthy: Opening Day of Baseball
It's time to play ball! The 2017 Major League Baseball regular season has arrived with three games yesterday, 13 more Opening Day games today and a calendar that includes the debut of a brand-new ballpark in Atlanta. Opening week is filled with intrigue and drama as teams begin the season. One of the games yesterday took place at Dodger Stadium, the home of the LA Dodger's and a HydroWorx 750 Series and hot and cold pools.
Some of our favorite teams are devoted to aquatic therapy for cross-training, supplemental training and injury prevention. Keeping players healthy is one of the biggest predictors of success for the season and teams that use science and technology to do so gain an edge by keeping their well-paid athletes on the field.
In a recent webinar, Ryan Bitzel, MPT, Rehabilitation Coordinator for the San Diego Padres shared his knowledge about treating injured players over the years at the Padres' Arizona-based Peoria Sports Complex spring training facility. The facility includes HydroWorx plunge pools and a 500 Series therapy pool with underwater treadmill, which Bitzel uses every day for his athletes.
View the webinar on-demand here.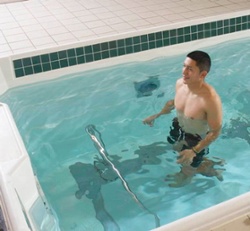 Common baseball injuries occur in the shoulders including those who have been through superior labrum anterior and posterior (SLAP) repair surgery. The most common concern after surgery is stiffness and re-injury during land-based exercises. Many athletes experience these concerns and as a result perform with less intensity. This is where warm water therapy comes in to play for athletic trainers and physical therapy professionals. Using water allows for athletes to heal more efficiently and safely.
Ryan states, "The natural resistance that water provides has been very effective in getting our athletes started on their shoulder strengthening exercises at an earlier timeframe. During the early stages of rehab, we put them in the water and start with a couple of basic shoulder cuff strengthening exercises. Making figure eights and external rotation exercises in the water while standing promotes earlier strengthening through full range of motion for our athletes. Also, simply walking on the underwater treadmill helps the muscles to relax."
Ryan also uses the variable-speed resistance jets to treat shoulders to give athletes a little bit of resistance by turning on the jets and controlling the amount of water flowing from the jets. He suggests starting the athletes off with light resistance and then progressively get a little bit stronger and give them something to kind of "push" through.
There are many warm water exercises that can make a difference for your athletes during the upcoming season, such as underwater base pulley rows, kettle bell swings and rotations as well as box jumps and lateral dips.  Oh, and don't forget that when the underwater treadmill is brought into the picture, it's possible for athletes to skip, run, bound, sprint and much more, all while getting the benefit of a warm water therapy pool atmosphere and the advantages of the aquatic environment's hydrostatic pressure and other natural properties.
Learn more about how aquatic exercises can enhance the rehabilitation of shoulder repair surgery here.>>