Update on Elite Oregon Project Athletes
Last week, the IAAF World Championships took place in Moscow and many tuned in to watch the dramatic finishes and races. HydroWorx users Mo Farah & Galen Rupp certainly made a splash at the championships. Reigning Olympic champion Mo Farah won the men's 10,000 meters, crossing in 27 minutes, 21.71 seconds. Galen Rupp, Farah's Oregon Project training partner, had the best ever finish for a US runner at Worlds, placing fourth in 27:24.39. Oregon Project teammates Dathan Ritzenhein was 9th and Cam Levins finished 14th.
"He was the best last year and he's still the best this year," Rupp said of Farah. "I think he's just done a great job of continuing to work hard and he keeps putting himself in position to where he's able to win these races."
The 5,000 final was on Friday, August 16th. Farah won this race as well making him a double world and Olympic champion. Rupp placed 8th in the race. It's great to see these Oregon Project teammates and underwater running believers compete on the world stage!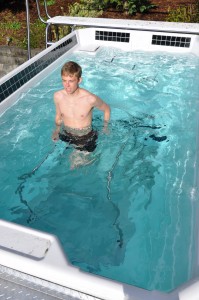 Take a look at a few other recent accomplishments by the dynamic duo:
Galen Rupp
USA Outdoor champion 10 km (28:47.32)
Runner up in 5,000m (14:54.91)
6th at Prefontaine 5,000m (13:08.69)
2nd at Oxy HP 1500m (3:36.98), DNF in 5,000m
1st at Boston Terrier Invitational one mile (3:50.92)
2nd at Boston Indoor Grand Prix 3,000m (7:33.67)
1st at Stockholm XL Galan (7:30.16AR)
Mo Farah:
New Orleans Half Marathon- 1st place
World Championships 10,000m 1st place,
World Championships 5,000m 1st place
Recently we caught up with two new members of the Oregon Project team, Tara Erdmann and Luke Puskedra.
Tara is a newer member of the Oregon project running club and certainly is making her mark.  Below is a video of her talking about her use of the HydroWorx pool during her training. Stay tuned to watch this girl make a splash this coming running season!
Luke is a former University of Oregon runner, who also recently joined (February 2013) the team. Puskedra placed 4th in the 10,000 meters at last year's NCAA championship, and ran a PR of 27:56 while placing eighth in the event at the Olympic Trials in June. In January 2012, he ran 61:36 in his half-marathon debut in Houston. He placed 17th at the world half-marathon championships in October. We also got Luke's thoughts on being a part of the Oregon Project and training in the pool- see the video below.
"I'm really looking forward to joining the Nike Oregon Project and training under Alberto," Puskedra said. "I think it will be a smooth transition, as my coach at Oregon, Andy Powell, has learned a lot from Alberto, and I've already been doing some of the same workouts as the guys in the group."
Take a look at two of the newer members of the club!